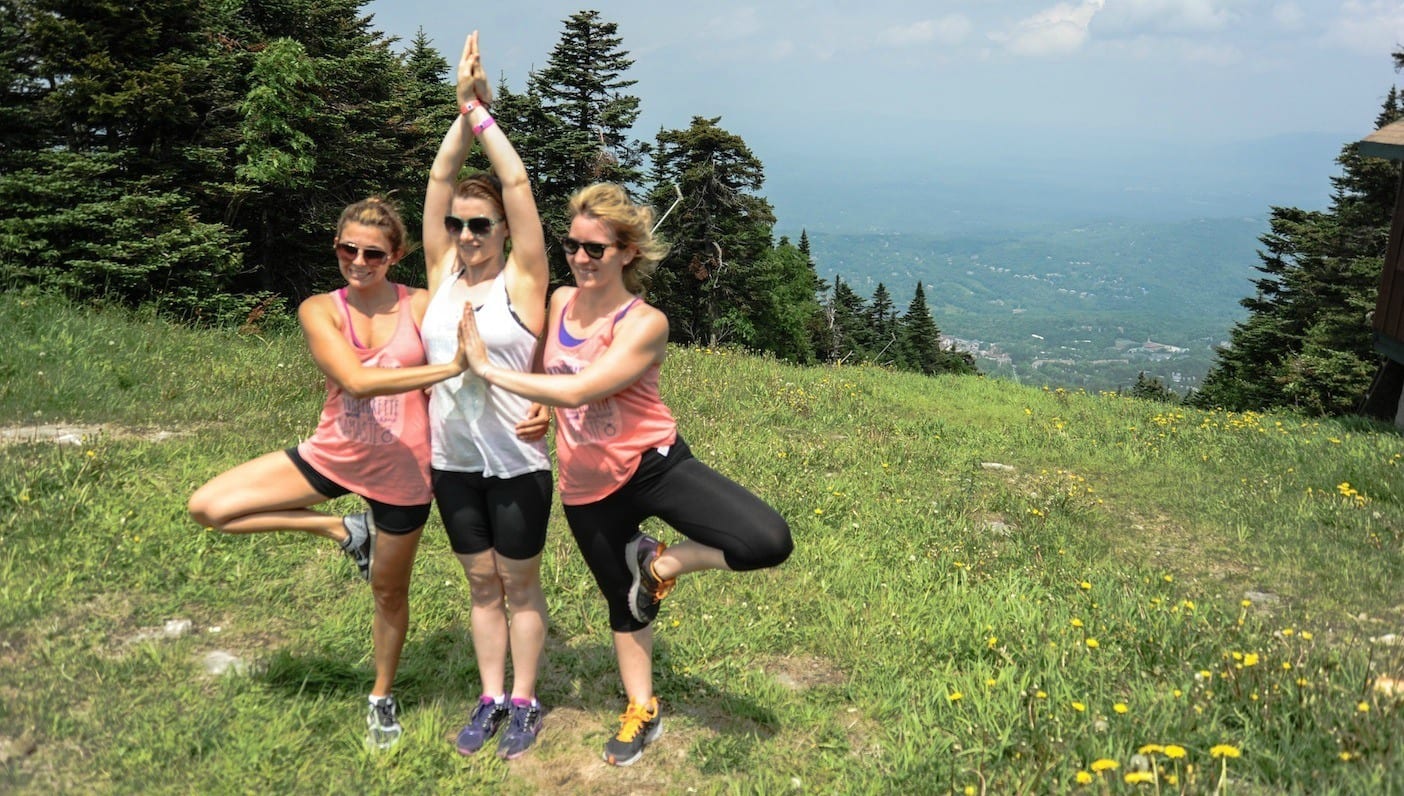 Photo by Maria Gotay
Festival season is in full swing as summer fast approaches.
Long sun-filled days beg for us to leave the office, head outside, play—stop and smell the roses. Sometimes, though, life gets in the way. Much as we may want to kick off our shoes and go frolicking through the fields at a festival—it isn't always possible. Thankfully, there are a myriad of ways to indulge in festival-esque experiences right at home. So put on that "out of office" reply, set your phone aside, and  and give yourself (and your friends!) the DIY festival experience you so deserve.
Whether you've got time to take a full weekend off, or just a day to spend with your tribe, here are some great ways to bring the wonders of Wanderlust wherever you are. From yoga at sunrise to a trip to the farmers market for a healthy picnic, to a leisurely afternoon with arts and crafts, followed by a sunset restorative yoga practice, the possibilities are truly endless.
The Yoga
Some festivals have yoga at their core (and for Wanderlust this is certainly the case). It's a practice that allows us to connect with ourselves solo on our mats, as well as with our tribe when we practice in groups. Salute the sun and start your day with a sunrise yoga practice. Take it outside: Roll out your mats and yoga blankets—or just go straight for bare feet in the grass (or sand). Use nature as your yoga studio.
If you have a special bond with your instructor, see if she would be interested in joining in on your DIY festival by leading you, or your group, in a private session. Another option? Grab your phone or laptop, hook up some speakers, and try out a class to open the hips, engage your upper body, or stretch your hamstrings from Wanderlust Hollywood instructor Chad Dennis. Or, maybe, this is your time to shine! If you've completed your teacher training and have been dreaming of teaching your own yoga class, take this as an opportunity to share your love of yoga with your tribe.
Maybe you'd like to try a completely new and invigorating form of practice. If you have a friend who's willing to give it a go with you, try your hand at AcroYoga. Another fun and challenging option involves incorporating a hula hoop into your practice. Hula hoop yoga is sure to be one of your new favorite activities. It's a great workout with an inexpensive prop and it's guaranteed to have you—and your tribe—laughing and smiling the whole way through.
The Adventures
With a body warmed up from yoga practice, you're ready to take on some new and exhilarating adventures. Experiencing nature and enjoying time outside are undoubtedly key elements for happiness, good health, and of course, festival fun. Turn off your phone and take off on an outdoorsy adventure to reconnect with the world around you.
Have bike, will travel? There's nothing quite like the feeling of flying full speed down a hill on your bike. The wind in your face and the absolute inexplicable bliss it brings is reason enough to head out for a ride right now! Grab your helmet, two wheels, and best pals and head for the hills.
If you and your tribe come alive in the nighttime, opt for a hike in the moonlight. You'll find that the trails are much less congested at night, and you'll be tapping into a heightened sense of awareness. With darkness blanketed around you, your senses will, without a doubt, be on a whole new level (Not to mention the stargazing will be otherworldly). If the mood strikes, you can even stop, drop, and yoga on the trail beneath the moon and stars.
Of course, for the water lovers, there's really no better time than summer to dive on in and try a new water activity. A day spent standing and balancing on the water could be just what the doctor ordered. Stand up paddle board yoga has quickly become a favorite of water and yoga lovers alike. Rent a paddle board and head out on your own, with some friends, or find a group class nearby—some locations even offer moonlight paddle sessions.
The Food
At this point, you and your tribe deserve a hearty, healthy treat—and nothing brings people together quite like good company and good food. Some festivals, like Wanderlust, offer farm-to-table "family" meals to unite the masses over quality eats. So bring together your nearest and dearest for a festival-worthy feast.
Take a field trip to your local farmers market with your friends to score some locally sourced produce. BBQ up some fresh corn on the cob, or keep things simple with packed lunches and snacks for a picnic in the park. It's important to keep this in mind: You don't have to be a master chef to pull this off! Almond butter and apple slices are easy to whip up, and they're always sure to please. You'll need plenty of healthy eats—and water—to fuel you through your festival.
Take this time to regroup and relax. Reflect upon the day, go around the table and talk about your favorite activities, and maybe even discuss options for the following day, or your next festival. Express your gratitude for all things: each other, nature, the experiences of the day, and the feast that has made your bellies full and happy.
The Creations
With gratitude in your hearts and a delicious meal in your belly, it's the perfect time to wind down the day with some relaxing crafting. Having something to commemorate the experience of your DIY festival—aside from photos and memories—is always a good idea. Festivals often offer creative options to create your own mementos or mindful tools such as malas and mandalas. So grab some supplies, get your creative juices flowing, and get crafting.
Gather up all of those dingy white T-shirts and tanks (and hey, even bed sheets!) that are in need of a revamp. They are the perfect tie dye project! Easy and fun to do, a quick tie dye job will spruce up those shirts and make the old feel new again. Not to mention you'll now have vibrant and colorful additions to your wardrobe.
You could also try your hand at making some jewelry. Not just for summer camp anymore—friendship bracelets will never stop being cute, or fun to make. Take them up a notch from the old-school style by adding in beads and charms. You'll have a hand and homemade memento to remember your festival by. An added benefit? Research backs the benefits of taking the time to stop and craft—some liken crafting to a form of meditation.
During a break on your bike ride or hike, consider sitting down for a moment with a journal. It's not something we tend to do often—taking a moment to stop and write (stopping to text does not count). Amid your adventure find the time to pause and reflect. Write down how you're feeling, what you're seeing, what the moment is like. By doing this, you'll have something to look back on when the moment is gone, and—who knows—maybe it will inspire you to have another DIY festival! If you're a fan of crystals, consider creating a visual journal, like a crystal grid. Head outside to set your crystals out and charge them by the light of the moon. Or grab some leaves and flowers from the trail for a more nature-themed journal entry. Whatever you choose to do, your DIY at-home festival is sure to be a memorable one.
Have you ever had your own DIY festival? Tell us about your experience!
—
Maggie Peikon is a New York native, writer, and sufferer of insatiable wanderlust. An avid endorphin seeker she has a constant need to be moving, seeking adventure in all she does. She is a lover of travel, daydreaming, fitness, thunderstorms, and her dog, Finley. Despite the fact that she has to take medication daily due to a thyroidectomy, Maggie still believes that laughter will always be the best medicine. Follow her musings on Instagram and Twitter.