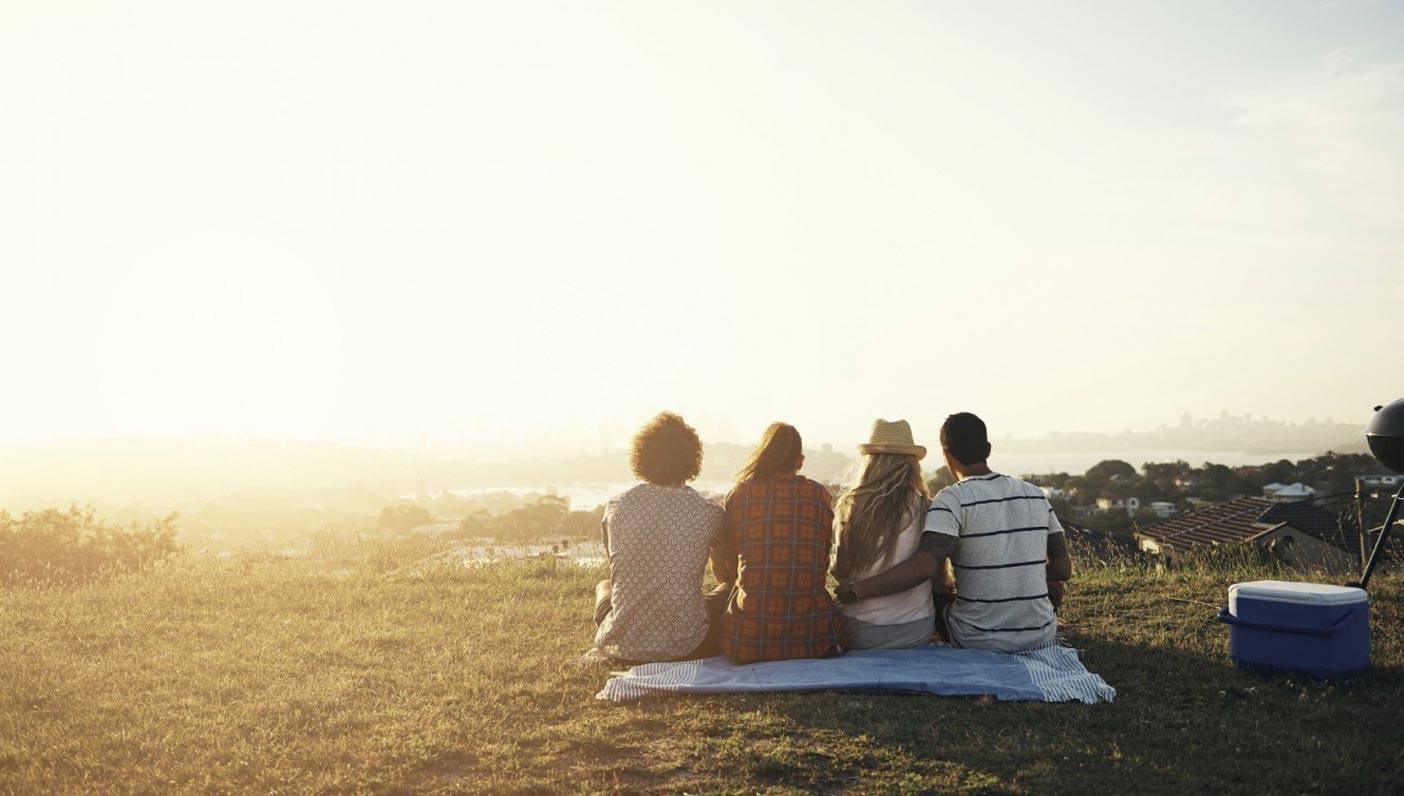 Enjoy a picnic lunch with your tribe at a Wanderlust 108 this year, coming soon to a town near you! 
---
There are a lot of fun ways to eat, but few things triumph the simplicity of laying out a blanket and settling into nature with your favorite friends and a basket of food. The pleasure of picnicking has been celebrated for centuries, dating back to Medieval hunting feasts and Renaissance-era country banquets. Since then, the leisurely pastime has blossomed into one of humanity's favorite ways to enjoy a meal.
The History of Picnicking
The act of picnicking was establishing early on in England and France, where individuals would feast before embarking on the day's hunt. The foods consumed were rich, consisting of flakey pastries, hams, baked beans, and more. During the Victorian Era, picnicking flourished, as can be witnessed in the writing of authors such as Charles Dickens and Jane Austen, who used the activity as a setting for social interaction.
In its earliest years, picnicking was primarily an activity for the wealthy, though now it has spread throughout all sorts of communities and cultures. These include things like New England clambakes, Texas barbecues, and New Orleans shrimp boils. Though the foods of picnics have certainly changed, the general merriment surrounding the activity has remained consistent. Picnicking is a way to bring a group of people together in order to relax, socialize, and enjoy life's simple delights.
Types of Picnics
From tailgates to garden parties, the expansion of picnicking has created myriad ways for one to enjoy an outdoor meal. One thing that all picnics have in common is their spirit of culinary diversity and adventure; regardless of location, a picnic includes a plethora of foods that represent the people and their interests. Some of our favorites include:
The Camping Picnic: These are the picnics enjoyed when you're getting some much-needed outdoor time, whether it's a Memorial Day camping adventure out in Yosemite or an afternoon hike just outside the city. A fire is optional, but if you do plan on building one, make room for s'mores.
The Garden Party: Garden parties began popping up in early 20th century literature as a backdrop for the leisurely activities of the wealthy. Now anyone can throw them, even if your garden simply consists of a succulent and a lawn chair. Possible snacks include cucumber sandwiches, lemonade, petit fours, and champagne. Fancy dresses optional.
The Tailgate: Ah, tailgating. If you like cornhole and beer, than this is the picnic for you. Aside from the stereotypical rowdiness of a tailgate, they're great for bringing people together to inspire a sense of merriment, community, and togetherness. You don't have to love football to love a tailgate; my family used to tailgate the act of cutting down a Christmas tree. All you need is a sense of spirit, a car, and some snacks, and you've got yourself the ideal tailgating experience.
The Vineyard Picnic: The only thing better than wine tasting? Wine tasting with a spread of cheese, crackers, fruit, and friends. This activity is the epitome of relaxation, for there is nothing more dolce far niente than an afternoon with your favorite foods and people while lounging among the vines.
The Beach Picnic: An afternoon on the beach is heightened with food. Go for simplicity and stick with the beach staples (we're thinking sandwiches, chips, and cookies), but if you're really feeling like curating a heightened experience, you can snag some burritos from your favorite Mexican joint and whip up a batch of margaritas for a mini beach party. Besides, all that volleyball and sandcastle construction is sure to work up an appetite.
The Road Trip Picnic: When making a cross-country venture, it's often cheaper (and more fun) to picnic than stop at a restaurant. Plan in advance, and pack a lunch or cooler so that you can stock up on portable goodies. Whether you've got Mom's homemade sandwiches or your favorite gas station treats, road trip picnics offer a nice break from being cooped up in the car, and allow you to check out some of the local fauna. Most major highways cater to the Road Trip Picnic, with rest stops and tables sitting in some of the most scenic places.
Throwing the Perfect Picnic
A good picnic only requires three quality ingredients: good people, tasty food, and a solid location. If you've got this down, you can get as creative as you like.
If you feel like going for the all-American picnic, you'll want to include a few classic staples: apple pie, fried chicken, potato salad, deviled eggs, hamburgers, pickles, potato chips, sandwiches, and the like. Alternatively, you could theme it, and celebrate a cuisine from another culture or country. Consider a Middle Eastern picnic, and offer a spread of hummus, dolmas, and baklava. Or celebrate diversity and ask your friends to each bring something representative of their heritage. Your blanket will be filled with colorful foods and allow you to sample history through flavor.
Entertainment can also heighten the picnicking experience. Bocce ball, badminton, and cornhole are simply ways to engage your friends and elongate the afternoon. Grab a guitar and organize an acoustic version of your favorite Beyoncé jams. And remember, you're never too old for a piñata.
Regardless of the food or location, picnics are a fabulous way to inspire a sense of mindfulness and delight your inner child. Not only do you notice the food, but you observe the smallest details of your environment, your friends, and the conversation.
Picnics have thrived throughout the ages for a reason. Though we tend to overbook ourselves, or glamorize "being busy," picnicking reveals the human need to take a break and have fun. As you sit down with your loved ones to enjoy bites of carefully-crafted foods, picnicking encourages you to ease into the moment and allow yourself to enjoy the wonderful treat of relaxation. All you have to do is open the basket.
—
Amanda Kohr is a 25-year-old writer and photographer with a penchant for yoga, food, and travel.  She prefers to bathe in the moonlight rather than the sun, and enjoys living in a state of the three C's: cozy, creative, and curious. When she's not writing, you can find her driving her VW Bug, looking for the next roadside attraction or family diner. She also roams the internet at amandakohr.com and through Instagram.