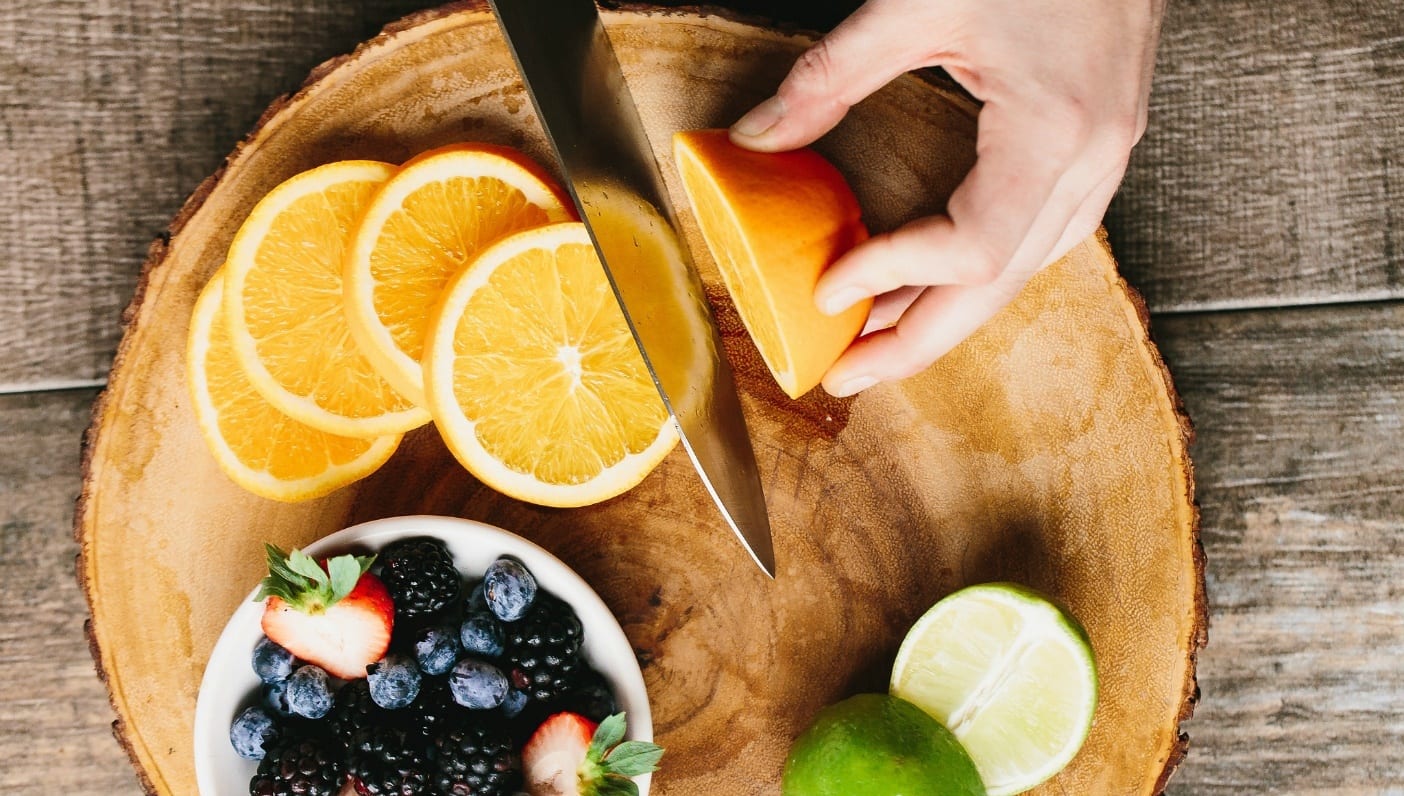 The days are growing longer, our dresses are getting looser, and the invitations to BBQs are popping up every weekend. Summer is coming, and it's bringing some of our favorite simple fruit recipes.
One of the best things about summer is that there are so many delicious foods in season. Strawberries, plums, blueberries, peaches, nectarines, raspberries, cherries, and more: Everything is making an appearance. The dreamy and whimsical nature of a summer night beckons us to our back porches for late night gabs over simple treats, whether that be grilled peaches with vanilla ice cream or a thick slice of rhubarb crumble.
Summer invites us to unwind, reconnect, and celebrate simplicity. The power of nature becomes so intoxicating that we can't bear to stay inside or work late; we just want to soak up the sun and the stars. 
Below you'll find some of our favorite summer fruit recipes, all of which can be made using some of the season's best ingredients. Enjoy at your next garden party, seasonal celebration, with friends, or solo for a sneaky breakfast in the morning sun.
---
Is it just us, or is pineapple one of the juiciest fruits out there? It's bright acidity makes it a perfect pizza topping, and you certainly can't beat eating it all on its own. Pineapple is also an excellent source of manganese and vitamin C and offers anti-inflammatory and digestive properties. (If you ever feel bloated, pineapple is a great thing to add into your diet.)
This recipe amplifies the simple sweetness of pineapple by adding a light dusting of cinnamon and brown sugar and then grilling it to perfection. Grilled pineapple is a divine concoction; the juice is somehow even juicier, and bursting with a tart warmth. It's a great dessert for a backyard luau or a sticky summer night.
Whether you're enjoying it in pie, crumble, or cobbler form, strawberry and rhubarb is a classic summertime combination. This recipe takes the iconic summer staple and whips it into a vegan, flour-free, and protein-packed dessert. Healthy? What? That's just by accident. 
Almond flour and oats provide the protein, with chia seeds added for some healthy fats and fiber. Not to mention the multiple vitamins and minerals in the fruit. With ingredients like that, it's practically breakfast.
Personify simplicity into a dessert and you'll get grilled peaches with vanilla ice cream. This recipe is designed for summer. The warmth and slight char of the peaches softens the sweet ice cream, and the combination of hot and cold creates a delightful sensation for the taste buds.
Not to mention that it's super simple to whip up. Don't let intimidation of the grill stop you either! Becoming a BBQ master can be one of your new skills—and you'll have a delicious dessert to show for it.
You're no longer straightening your hair and you've swapped your bra for a bikini top. Summer means simplicity, and it doesn't get more simple than this sorbet. Using only one ingredient, you can create a refreshing dessert fit for the stickiest of nights. Simply cube a watermelon, freeze, blend, and then freeze again.
It's almost like a more grown-up of way of enjoying your favorite curbside treat. (Was anyone else forced to sit outside and eat watermelon because of how messy it got?) Try with other fruits, like strawberries, if you feel like getting creative.
You don't have to hang with your 6-year-old neighbors at the ice cream truck to get a frozen treat this year; you can make your own. Not only will they taste a million times better, but you'll also be able to add all the healthy ingredients you like. This recipe combines antioxidant-loaded blueberries, your choice of vanilla yogurt (go Greek, go vegan—whatever you like), and a bit of honey to build a tart yet creamy frozen treat.
Eating one of these summer indulgences instantly unleashes your inner child, so be prepared for epic waves of nostalgia. You'll never reach for that prepackaged box again.
—
Amanda Kohr is a 25-year-old writer and photographer with a penchant for yoga, food, and travel.  She prefers to bathe in the moonlight rather than the sun, and enjoys living in a state of the three C's: cozy, creative, and curious. When she's not writing, you can find her driving her VW Bug, looking for the next roadside attraction or family diner. She also roams the Internet at amandakohr.com and through Instagram.