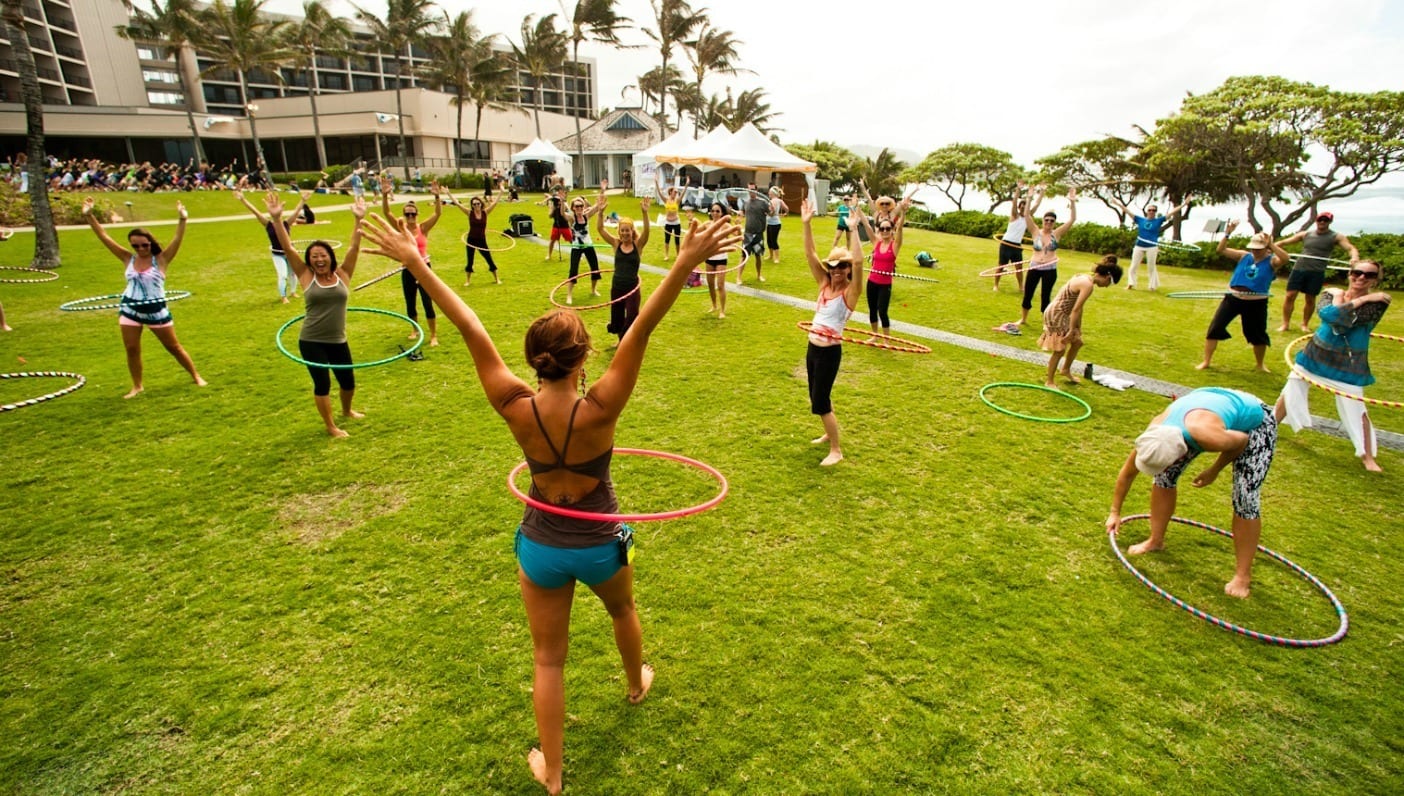 Photo by Ali Kaukas
Hula hooping is a fitness-art hybrid we were introduced to in our youth.
Gathered in a circle holding hands we'd all giggle as we scrambled into and through the hoop before passing it along to make its way around the circle. When the hula hoop came out, fun was sure to ensue. But when was the last time you picked one up and tried to suspend it in the air by swaying your hips back and forth? Do you remember that whimsical feeling?
Many of us haven't tried it since that team-bonding moment at summer camp long ago. Fortunately there's a way to transition this circle-of-fun seamlessly into our adulthood: hula hoop yoga.
Festival attendees know that hula hoops and impossibly talented hula-hoopers are not hard to find. In fact, some events like Wanderlust 108s and Wanderlust Festivals even offer hooping workshops to allow you to hone in on your untapped hula hoop skills.
Why a Hula Hoop Is a Great Yoga Prop
Aside from being incredibly fun, hula hooping is also an incredible exercise. With a focus on balance, flow, and movement it was only a matter of time before hula hoops came with us to our yoga mats. Using a hula hoop during yoga practice can actually help you reach difficult poses. As it turns out, a hula hoop can act as a useful alternative to more traditional yoga props.
On the opposite end of the spectrum, incorporating a hula hoop into your practice can also challenge your body in new ways. Think tree pose while swinging a hula hoop around your hips. Adding a new element to your practice, hula hooping can serve as a great way to invigorate the body and warm up muscles in a new way before heading to your mat.
Practicing Hula Hoop Yoga
If you're a Connecticut native, or live a hoop's throw away from Shelton, CT, head over to the Shelton Community Center to give hula hoop yoga a try. As the Shelton Herald reports, BringtheHoopla LLC will be hosting hoop-infused yoga classes on Thursday nights. And, as yoga instructor Alexandra Capaldo told the Shelton Herald: "Hoop yoga has many benefits. It opens the shoulders, and builds core strength."
Sandhi Ferreira, featured in the Wanderlust video above, is a co-founder of Hoop Vinyasa. According to its website, Hoop Vinyasa "seamlessly weaves together two magical forms of meditation and joy: hula hoop dance and vinyasa yoga." Hoop Vinyasa teachers are spread across the United States. One such instructor, Minty Atherton, a Hoop Revolution and Hoop Vinyasa certified teacher, offers classes and workshops in Dumbo, Brooklyn.
If you're looking for a full immersion into the festival, yoga, and hula hoop life be sure to stay in the know of Pinto Bella's whereabouts. A certified hula hoop and yoga instructor, Pinto offers classes to all skill levels, looking to make hula hoop yoga accessible to everyone. Earlier this April she taught Hula Hoop Yoga Fusion at a hula hoop and yoga retreat at the Hostel in the Forest in Brunswick, Georgia. Just imagine flowing for days on end with hula hoop yogis in the forest…
For the novice hoopers out there not ready to take it to the mat just yet, consider attending an introductory hula hoop class or workshop to get started. If you're a little too bashful to get in front of a class full of people to start out, there are online options as well. HOOPLOVERS offers online courses you can do from the comfort of your home. Hula hoop dancing is another alternative for more ambitious beginners. It incorporates aspects of yoga and could also be an excellent place to start.
Whether you're young or young at heart, an expert or just starting out, hula hooping is a refreshing, lively activity that anyone can learn to do. So, give it a spin.
Can't get enough? Watch the Wanderlust video with Shakti Sunfire below. But be warned: This is not your little sister's hula hoop routine.
Would you try—or have you tried—hula hoop yoga? Let us know in the comments below.
—
Maggie Peikon is a New York native, writer, and sufferer of insatiable wanderlust. An avid endorphin seeker she has a constant need to be moving, seeking adventure in all she does. She is a lover of travel, daydreaming, fitness, thunderstorms, and her dog, Finley. Despite the fact that she has to take medication daily due to a thyroidectomy, Maggie still believes that laughter will always be the best medicine. Follow her musings on Instagram and Twitter.