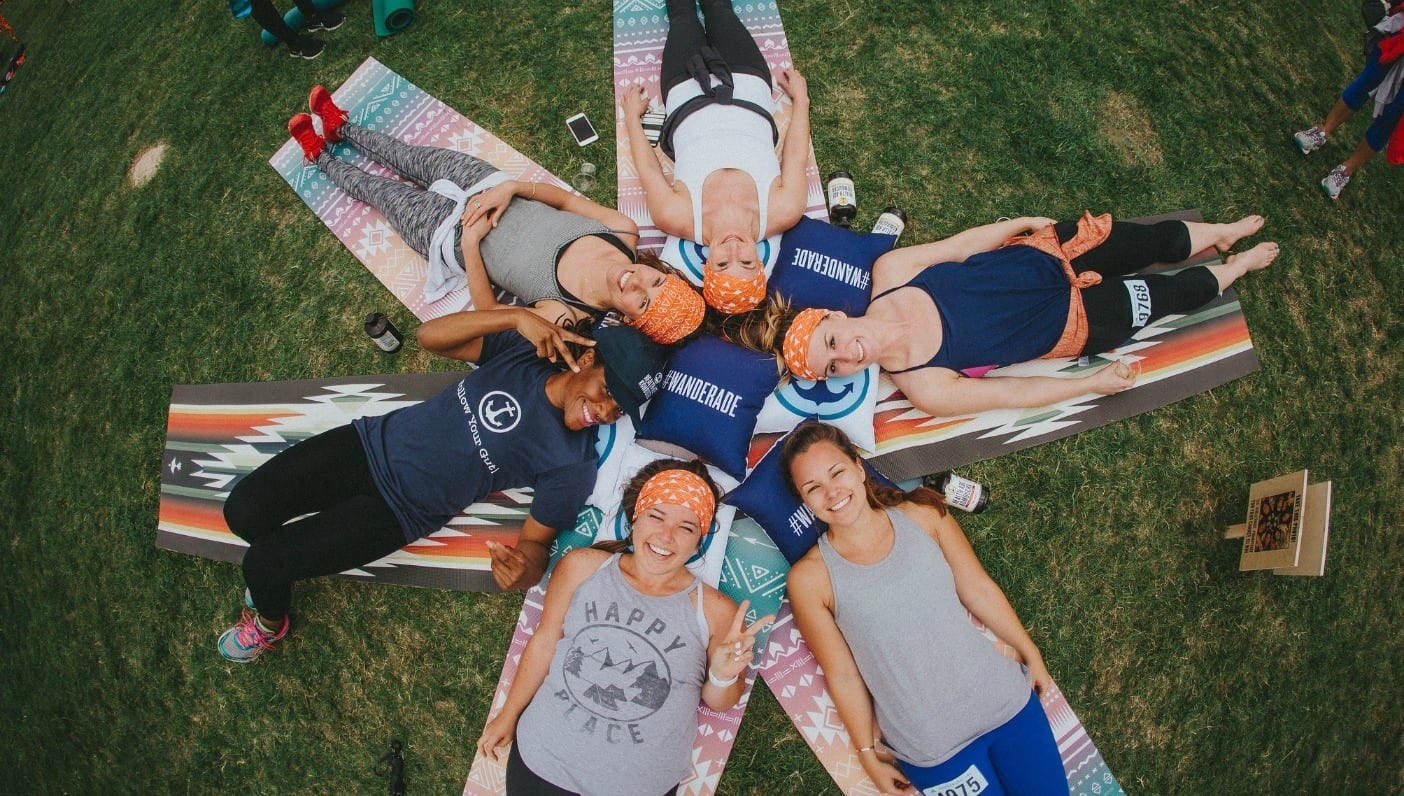 Photo by Wanderlust
---
I've been in "yoga clubs" for over 30 years, but it wasn't official until I moved to a new city and joined a group on social media. This helped further connect me to my tribe and find like-minded people to practice with. In 1990 the trainers I worked with at Equinox dragged me in my neon spandex to meet David Life and Sharon Gannon. I stood alone on my mat, friends by my side, yet detached in their own space. I recognized then for the first time that we humans are an enigmatic dichotomy. We long to be individuals and yet we excel as members of a group. I realized the power of doing yoga with my tribe. Built into our base genetic code is a vibration to connect with others mentally and physically.
We might enjoy a quiet moment, isolated meditations, or wide open, empty trails; but at the end of the day we want to find a group to share our thoughts and feelings. Nothing pacifies the human internal contradiction more than practicing yoga in a group. We are alone on our mat but contributing to a shared experience.
During class with friends we raise eyebrows, wink, or nod to communicate support for an extra second of Crow, a smooth jump back, or a hip-opening Savasana filled with tears. When I'm with my friends in yoga club I feel less defeated at poses that no longer suit my middle-aged body. When I stumble in a balance pose and cause a domino effect of bodies tumbling to the floor, we all laugh together. Yoga club allows us to accept that every practice is individual but sharing it builds cognitive memories that adhere us to one another.
My meaningful relationships have all evolved from towing a friend to a different practice or finding people who tugged me along on their path. Yoga club taught me about places like Kripalu, Omega, YOGASCAPES, and Wanderlust. I've learned about Hatha, Vinyasa, Ashtanga, Acro, Baron Baptiste, Bikram, Jivamukti, Iyengar, Anusara, Sivananda, Kundalini, Yin, and Vin. I owe yoga club a nod for two great journeys into marriage and five fantastic kids. I might not practice every day. My path certainly strays, but yoga club takes me out of the spin cycle of my head and back to my community.
5 Reasons to Join a Yoga Club
1. You Will Go to Yoga
Meeting a group improves adherence. We all need each other's support to make time for our practice.
2. Benefit From the Push-Pull
In a room of like-minded people, experiencing the morning rush or afternoon lethargy, you become more aware of the days you want to push and the days you need to pull back. Friends can remind you to breathe and sit out or spur you on with some healthy competition.
3. Old Dogs, New Tricks
Trying something in class with your friends (like a headstand or backbend), or hearing a great motivational quote from a teacher can bind you to a communal experience that elevates your serotonin (a neurotransmitter that helps regulate mood) and helps encourage gray matter growth in the brain. Practicing yoga with friends also elevates the support you'll feel in a studio. The good vibes may encourage you to try out that pose you've been working toward.
4. Improve Mind Reading
This is not about trying to guess what number another person is thinking from one to 10; it is about becoming more socially conscious. Absorb the small cues from others and raise your sensibility and sensitivity.
5. Feel Less Pain
When we are isolated we feel both emotional and physical pain more intensely in our somatosensory cortex (the main sensory area for touch). Group interaction can even help soften "heartache."
—
Andes Hruby has spent 30 years as a certified fitness instructor in five disciplines and graduated Columbia University with an MFA in writing. The American Council on Exercise accredits her as a Health Coach, Personal Trainer and Group Exercise Facilitator. To better balance her body Hruby began her training in the Ashtanga community under Beryl Bender Birch, David Swenson, and Nancy Gilgoff. Hruby was previously the NBC Fit Guru of Connecticut, and for over a decade was the owner of Studio Blue: Fitness Made Fun. She currently writes a lifestyle and fitness column for ConciergeQ and has been a contributor at: Glamour, Elle, Allure, Cosmopolitan, Marie Claire and numerous on-line zines and blogs. She was featured as one of "20 Female Yogapreneurs to Watch" on YOGANONYMOUS. Find more of her work at andeshruby.com.