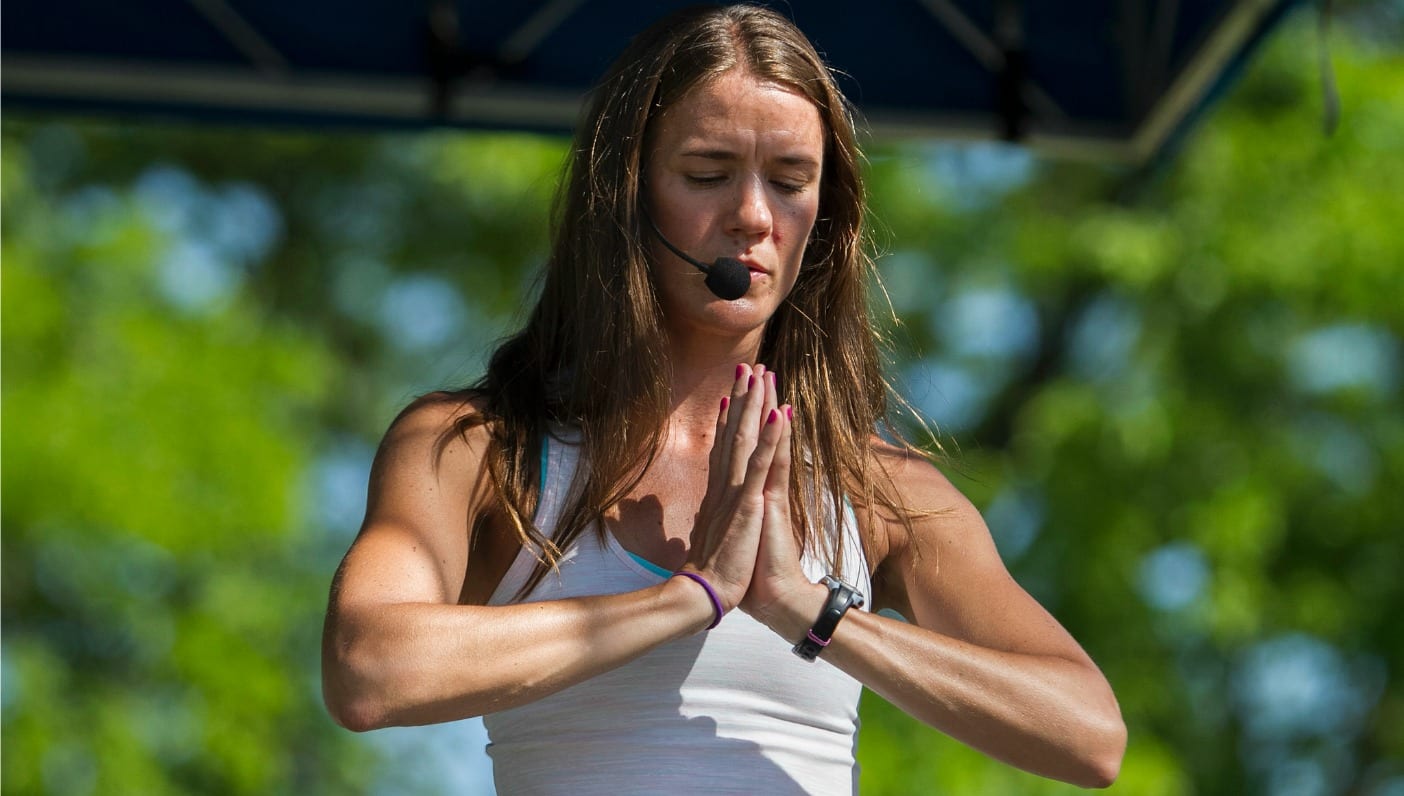 As a yoga teacher, I've learned to do the hustle. Over the years of my quasi-professional life, I've waited tables, worked in offices, written stories and even answered phones. All of which have, in hindsight, served as practice to prepare me for where I am today—a yoga teacher. I've juggled many, many things—and continue to do so—because teaching yoga as a profession is both exhausting and rewarding, though not always lucrative.
Many yogis try (and succeed!) at making their passion their full time career, though not without financial setbacks. Teaching yoga, recently ranked as one of the most sought after careers in the U.S. today by CNN Money, is also one of the least profitable once you move beyond yoga's one percent.
Our friends at YogaDork break it down for us:
This $62,400 is a totally false representation of the real world yoga teachers live in. Beyond that, the list places top pay at $119,000, which is quite a lofty and mind boggling number for the vast majority of yoga teachers out there. So we're wondering, CNN, whose and how many people's income did you take into account? Tara Stiles, Ana Forrest and Rodney Yee?
It's not impossible, of course. You could do it by pulling in a mere $5,200 per month. To do that you could teach three classes a day, five days a week at $75 per class (we're majorly high-balling here – most studios, at least in NYC, pay in the $20-50 range for beginning/mid-level/some senior level teachers). That's about $4500 a month, roughly just $700 short of your monthly goal, which could be filled in by teaching privates, workshops, etc. So that's 15 classes a week – assuming you can secure that many and sustain them – at that improbable respectable rate, plus the other bits of teaching you can pick up, for 52 weeks straight, with no vacations and most likely no paid sick leave, and probably without any type of benefits at all = $62,400 a year.
Fifteen classes a week, eh? Not bad when you think in terms of 15 hours of work, give or take. But what is often misunderstood is the extra hours spent preparing for a class, travel to the class, staying fresh for your students with additional studies and continued education, not to mention staying on top of your own practice. Last week for instance, I taught six public classes and said no to a seventh. I was burnt out. Spent. Exhausted of my reserves with nothing left to offer. That's a reality check right there.
Now, I applaud those who compete in the yoga rat race—running about the city like a chicken with its head cut off, from class to class, a private session to a clinic or workshop, without so much as stopping for a deep breath in between. But how are we supposed to maintain the integrity of practicing what we preach, if this is the case?
NY Mag's The Cut offers more insight:
To make a living, teachers rush from studio to studio, leading as many as 20 classes a week, a system that might sound familiar to poverty-stricken adjunct professors. Recently, a teacher at my own studio, a tomboyish, heavily tattooed 26-year-old who goes by the name Be Shakti, came to class on crutches. She had a hip injury, which she got training for a Spartan Race, a Reebok-sponsored extreme obstacle course. Her doctor told her not to put any weight on it for six weeks. "I subbed out a couple classes, but I have to keep paying bills and rent, and then paying medical bills and for physical therapy and whatnot," she says.
Ordinarily, Shakti teaches seven days a week. Her schedule includes 14 regular weekly group classes, for which she earns $50 each. She often substitutes for other teachers, so some weeks she teaches as many as 20 classes. Four times a week, she instructs private clients as well. She has Obamacare, but no disability or liability insurance. She loves what she does for a living, but it's precarious and draining. "I think burnout is something where, if you are teaching full-time, it's going to happen. It's part of it," she says.
And lest we forget—there are still myriad problems with health insurance for the freelancer economy. I choose to write and edit to provide a little extra cushion to my unpredictable yoga income, and still find myself grappling over the extra $400 it costs monthly for "just-in-case" healthcare. As an individual still considered part of the middle class—despite whether my take home pay after taxes might suggest it or not—like many other Americans, I find the Affordable Health Care Act a welcome improvement, yet still unaffordable.
Is there any hope? All roads point to social media and the rise of the Instagram yoga superstar. A teacher's devout following suddenly speaks louder than a resume and studio contact hours, leading toward sponsors and partnerships, tons of free yoga gear, education and more. But can the practice of yoga and its philosophy really be taught in this regard? Sure, it's a wonderful way to engage with community on a mass scale and use it as a platform to share your messages, but there is a risk of becoming too concerned with striking the perfect asana to gain followers, versus maintaining the sacred art of the practice.
An article in Racked noticed this rising trend last year:
So how does one rise to yoga fame on Instagram? Some say there isn't an exact science but actually, there is: it's the Instagram algorithm used to calculate what goes on the popular page. Based off an estimated formula of likes and comments per minute as well as likes from at least 20 percent of their followers, an Instagram photo will be pulled to the social media's popular page. Irene Pappas, the 23-year-old Instagrammer @FitQueenIrene, with almost 300,000 followers, said each time a post of hers makes it to the popular page, she gains about 1,000 more followers.
"When I first joined Instagram [a year-and-a-half ago], I tried everything to build a following. I used every yoga hashtag, I commented on a lot of posts, and connected with bigger accounts," Pappas said. "I played it smart and looked at it as a business aspect to build my brand."
So why teach—why do we do it? For the thrill of creating a space for healing, for sharing the practice with others and watching transformation occur. This is fundamental to yoga. It's not about followers, fame and fortune; it's about guiding students toward becoming the best version of themselves so that they can teach others to do the same. Whether you're a juggler like me or not, please—teach for love and not the money, and hopefully, enough of that will come in due time.
Photo by Sophia Nahli Allison 
–
Andrea Rice is the Practice and Community Editor for Wanderlust Media. She is also a writer and yoga teacher. Her work has appeared in The New York Times, Yoga Journal, mindbodygreen, Yoganonymous, AstroStyle, and several music magazines. Her teaching style is a blend of her love for music and intuitive movement, with emphasis on core strength. You can find her regular classes at Shambhala Yoga in Brooklyn and connect with her on Instagram and Twitter.