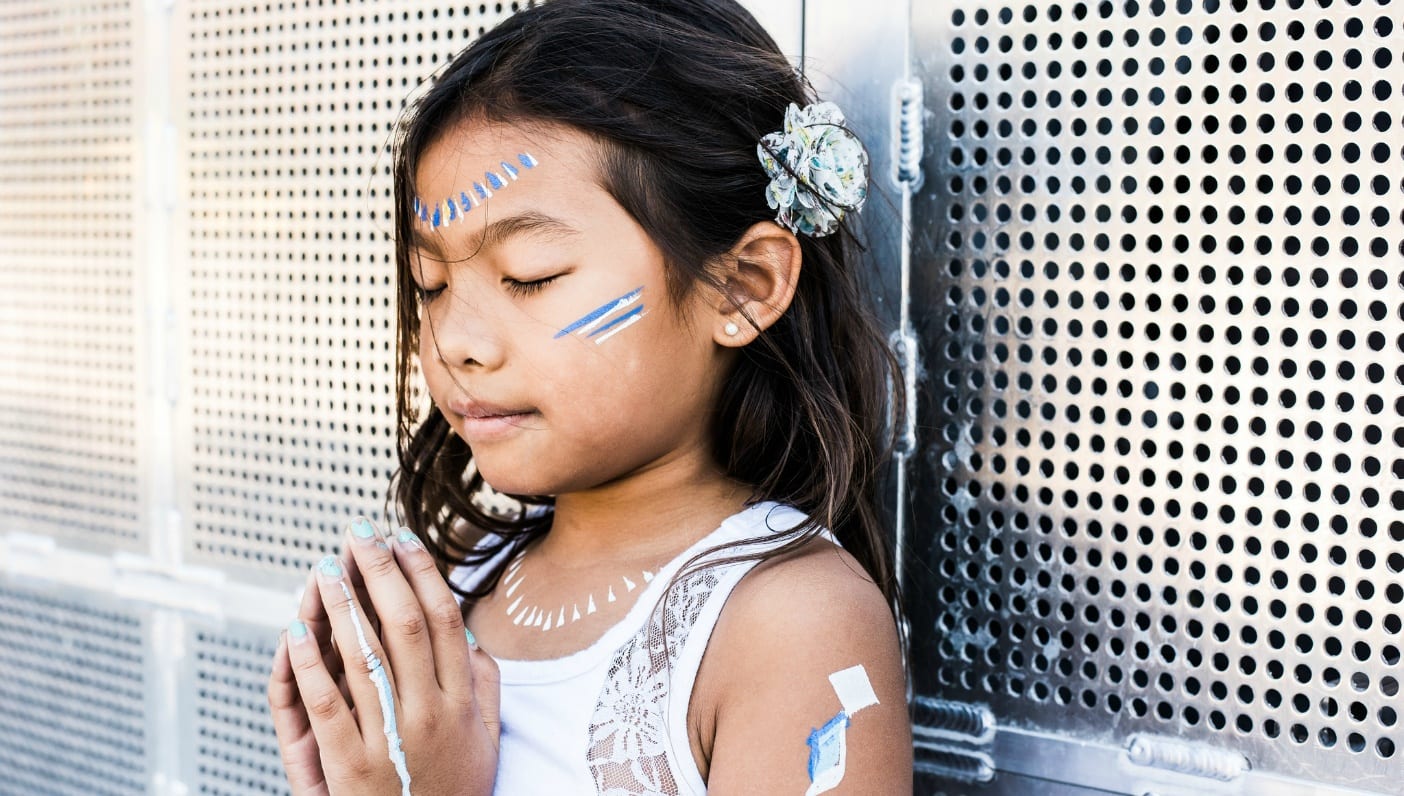 Take your mom—or favorite family member—to Wanderlust this summer! 108 tickets and festival tickets available now.
---
It wasn't until Cynthia installed a traditional South American Temazcal (sweat lodge) on her property that the transformation of the family was officially complete. Cynthia's daughter Stephanie, at least, credits the sweat lodge for a palpable shift in their dynamic. Cynthia raised Stephanie traditionally, but when she started studying native cultures and working with crystals, it opened up paths that took family in new directions. Sitting on the grass at Wanderlust Snowshoe last year, Stephanie says that the path down which Cynthia's explorations led them is now more comfortable for her and her family than the tropes of her small Pennsylvania hometown.
Luna, Stephanie's daughter and Cynthia's granddaughter excitedly interjects into our conversation, pointing out Cynthia's jewelry ("moonstone," she tells me) and asking when it's time to go on the "ride" (ski lift) again. Luna is clearly at home here, surrounded by yogis and alternative living.
To be at Wanderlust, Stephanie says, "is thought-provoking. It's about raising your awareness and being together and kind of comparing notes on life, and then being able to disperse and do that within your own community, your own self, within your own family."
A Family Affair
Cynthia, Stephanie, and Luna aren't alone in sharing their mindfulness practices across generations. Not only can these kinds of activities radically shift family dynamics for the better, yoga can actually bring families closer together as well. In turn, this provides a solid foundation for kids to grow into healthier, more conscious adults. As Deven Sisler writes, "Yoga can help alleviate growing pains, build self-trust, self-awareness, ability to focus, balancing skills, confidence, and release anxiety." This, Deven says, helps to develop the next generation to be holistically-balanced grown-ups.
Jane Emerick brought her young family to Wanderlust Whistler a few years ago, and worked with her daughter first to develop a simple practice before attending. "Part of my personal practice has become sharing yoga with my children and instilling something beautiful and strong for their future," Jane writes. "My kids love yoga—and they're not the only ones. The festival was a chance for them to expand their own relationship with their practice. For the children of yogis, yoga is a creative form of expression and a safe space for them to imitate their greatest hero: you."
Starting Mindfulness Young
As Cynthia and Stephanie know, it's never too early to introduce kids to the idea of mindfulness and mindful living. There's no shortage of child-and-me yoga classes popping up across the country, and the benefits are widely touted. According to the Harvard Health Blog, a publication of the Harvard Medical School, yoga and mindfulness programs have been proven to improve mental and physical health among children. It's why many schools now implement mindfulness programs into their curriculum.
Nicole Cardoza, a former public school teacher in New York City and founder of Yoga Foster—an organization that seeks to bring these types of programs to interested teachers—has seen these benefits first-hand. "Even with just 10 minutes of yoga integrated a day," she writes, "our teachers are reporting marked improvements on focus and attention during the school day, contributing to both academic performance and collaboration between peers. I love when our teachers tell us that their students are taking a moment for breathing exercises when they get upset, or all do a quick yoga break when the class needs a pick-me-up."
Honoring Awareness
Cynthia is proud that she made the decision to shift her life path toward one that encouraged exploration, questioning, and awareness. "As a mother and a grandmother," she says, "I guess my fulfillment has been… that I gave my daughters permission to do that." As Jane noted, a mother is most often a hero in a child's life, and her encouragement of alternative or mindful living can truly be the inspiration that leads children down an intentional path.
Jane writes that in this way, Wanderlust Whistler was a particularly special moment. "While my daughter and I had practiced yoga together at home," she writes, "we had never been to a yoga class together. But that day at Wanderlust, as we laid next to each other in Savasana, holding hands, I realized yoga is something we would share forever."
Do you practice with your family? We'd love to hear your yoga story. Share in the comments below!
—
Lisette Cheresson is a writer, storyteller, yoga teacher, and adventuress who is an avid vagabond, homechef, dirt-collector, and dreamer. When she's not attempting to create pretty sentences or reading pretty sentences other people have created, it's a safe bet that she's either hopping a plane, dancing, cooking, or hiking. She received her Level II Reiki Attunement and attended a 4-day intensive discourse with the Dalai Lama in India, and received her RYT200 in Brooklyn. She is currently the Director of Content at Wanderlust Festival.