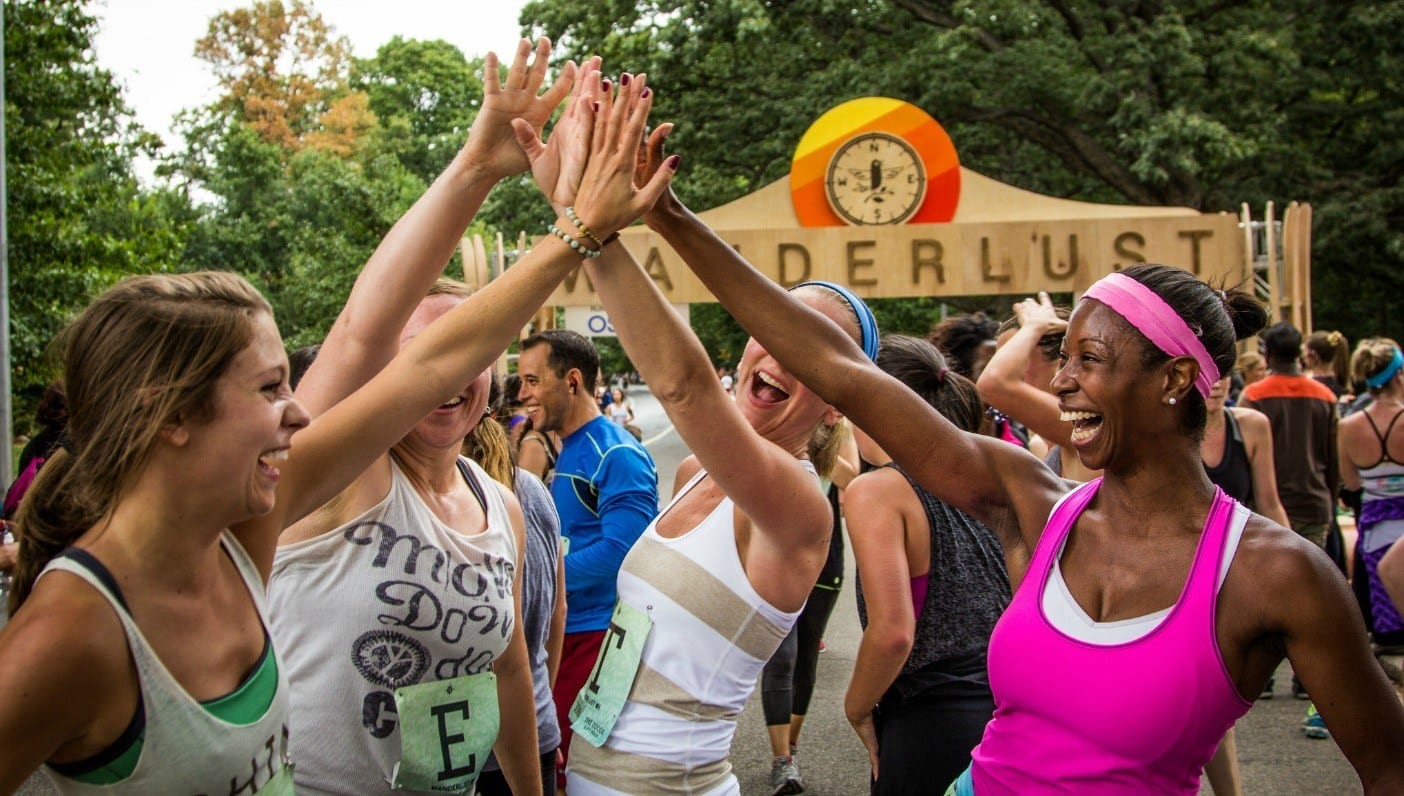 Imagine if every time you went for a run you were able to feed a hungry child who has fled a war torn country like Syria or South Sudan through the World Food Programme. Imagine if every time you went for a walk or a bike ride, you were able to make a donation to Habitat for Humanity or the World Wildlife Federation. The future is here: Charity Miles, an app for your smartphone, donates money to good causes by tracking how far you move. When a runner hits a mile, she's earned 25 cents to the participating charity of her choice. When a cyclist clocks a mile, he's earned 10 cents for one of his.
Created in 2012 by New York-based lawyer Gene Gurkoff, Charity Miles has since accrued upwards of 1 million users. The organization has garnered nearly $1 million in charitable funds and counting. Users can tailor contributions by selecting from a list of over 30 charities. The best part? Since each donation is paid for by corporate sponsors, it's 100 percent free to you—all you have to do is the legwork, literally.
Read more from Fast Company:
Gurkoff claims the platform offers advantages over other types of cause marketing. "In most cause marketing arrangements, the company gives a bit to charity and spends 7 to 10 times [more effort] promoting it. The promotion is what drives the return on investment, not the charity," he says. "We are trying to reverse that ratio and generate the marketing R.O.I. that companies want from ordinary advertising. This enables them to repurpose their digital media budgets—money that never ever would have gone to charity—for social good."
Charity Miles itself takes 50% cut of the money raised, with some of that going to a fund to cover the possibility that people will earn more for charities than is available from sponsors. "We cap our overall liability at 50% of our revenue, which works out because we generally have a 50% margin on our engagements," Gurkoff explains.
So far it's worked out because the money's matched up front. 
Big business backings include Johnson & Johnson and Humana. Additionally, Wanderlust Festivals has partnered with Charity Miles to jointly donate $60,000—on top of a partnership at Wanderlust 108 events. All 108 participants will be encouraged to download the app before running the 5K. It's an incredible opportunity to go the extra mile and race for something bigger than yourself.
Yoga on the Outside
Whether we run, cycle, box, swim, or practice yoga, physical practice helps us to better serve the external world, as well as our physical bodies. How we show up for others starts with how we show up for ourselves. If we are not whole on the inside, we cannot make ourselves emotionally available to the world around us. As Seane Corn, a renowned yoga teacher, Wanderlust presenter, and advocate for social justice has said, "To heal the world we must first heal ourselves."
The idea of exercise as a means of service to others can easily get overlooked, because it can come from a desire to get fit, to be healthier, to become happier. Yet when we are happier, we're able to turn that positive energy outward again, and share it with everyone we come into contact with. The great thing about an organization like Charity Miles is that we can help people worlds away, just by doing something that we love—by engaging in an activity that makes us feel better, first.
In yoga, we can think of this as a practice of Seva, a Sanskrit term that means "selfless service." This dates back to ancient India, when Seva was incorporated to foster personal spiritual growth while simultaneously contributing to the improvement of the surrounding community. The key to Seva is doing the inner work by dropping the ego's desire to receive something in return—like a reward or even a pat on the back. Seva is the fundamental act of giving without needing to receive.
Here in the West, many of us exist in a world where exercise is a luxury, and are blessed with the good fortune of the freedom to have myriad lifestyle choices. Karma encourages us to use our liberties wisely by selflessly giving back anywhere we can.
If there's an app for that, all the better.
—
Andrea Rice is the Practice and Community Editor for Wanderlust Media. She is also a freelance writer, editor and yoga teacher. Her work has also appeared in The New York Times, Yoga Journal, SONIMA, mindbodygreen, and other online publications. You can find her regular classes at shambhala yoga & dance center in Brooklyn, and connect with her on Instagram and Twitter.