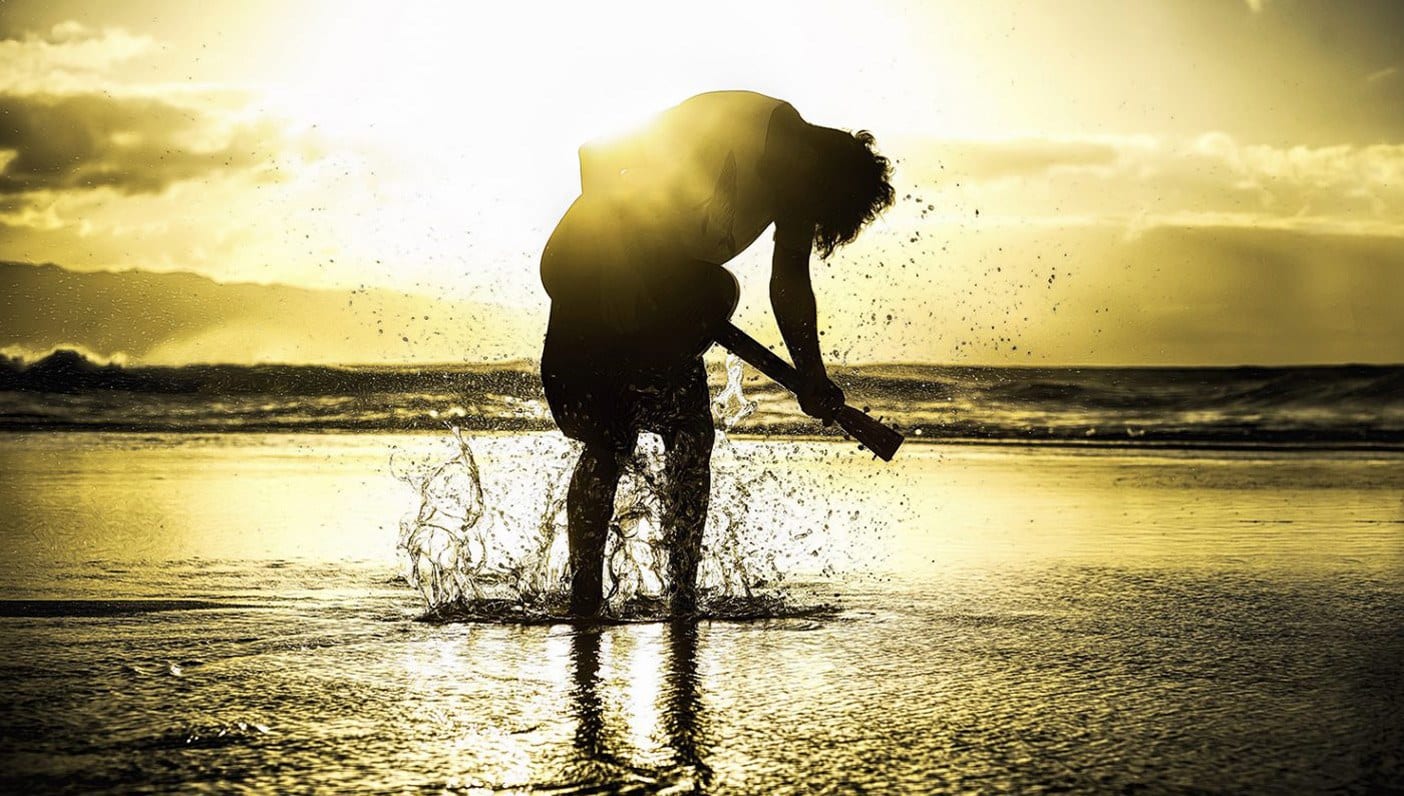 Catch RootHub at Wanderlust O'ahu this February! More Info | Get Tickets
---
O'ahu-based singer-songwriter RootHub believes that music has the ability to explore the interconnectedness of all beings.
His music has been coined "Life Music," and it emphasizes the intimate relationship we have with our surroundings, with each other, and with ourselves. "All of my music is rooted in truth," he says. "It's all built upon this human experience. I feel things deeply. I feel compelled to express them in song."
RootHub's love of music is all the more enthralling because he was born without auditory sense. In one of his songs, he sings, "when I was a little fragile child / The spirits yes they spun me round and round / I couldn't hear a whisper of anything around except the sound of angel's hammers coming down." When he was two years old he underwent a surgical procedure that enabled him to hear for the first time. "I remember the sound of the metal of the bathtub faucet, the rushing of the water, and the sound of my own voice screaming out in fear. That must have been the beginning." He describes his memory of this time as an impressionist painting. The details are murky, but he does recall vividly an overwhelming flood of sound.
"As soon as I could hear, I was hooked on music," he says. "Growing up in LA there was such a broad spectrum of influence. Hip hop, punk, electronic, country, tejano, classical, pop, metal, R&B…you really couldn't go anywhere without being exposed to something new at that time. I had no boundaries. I was like a sponge. I listened to whatever turned me on." When he was 14 his father gave him his first guitar. This was a turning point. "I finally had a tool for expression with sound."
The way he describes it, making music is as vital and nourishing as eating and breathing. He commonly makes up songs on the fly, even singing over the phone during our interview. He accesses memories through song, singing as he retells a story. He believes there is an innate music within everyone that connects us, and seeks to capture this in his soul-baring music. "We're all born with the rhythm of our mother's heartbeat and that tells us our first story. Then our own heartbeat comes next. So we've been making music and singing with each other for eons."
RootHub moved from his birthplace of LA to Hawaii in 1995. The move had a profound effect on his view of music. The energy in LA was a lot more success-driven. In Hawaii, he was able to find his own voice without the inhibiting stress of trying to "make it." There wasn't the same sense of competition, which allowed him to truly hone in on his own practice without fear. An integral component of Hawaiian culture is Kanikapila, or jamming. People commonly gather and create music for the experience rather than for the end result. This, he notes, is a lot like yoga, which is why the shift toward mindful music was such a natural one for him.
"In order to allow a song to belong to everyone, you have to walk the line between telling your story and telling everyone's story."
We speak of David Bowie, Lou Reed, Leonard Cohen, A Tribe Called Quest, Sharon Jones, and Prince. "When I was young I really loved the Muppets and all of the music they made on that show. That's how I first heard of Blondie, Alice Cooper, and Johnny Cash." As a teenager he got into punk, metal, and hip hop. His influences are vast and eclectic, but there is a common theme that binds them together. "I think the honesty and grit of…those artists really stuck with me. I find the unflinching nature of their work inspiring."
When he first began writing his own music, he would often walk along a trail into a secluded valley where he could experiment with his own sound. Being in nature, he says, helps him feel fully present and tune into the moment. Although he was alone physically, finding his voice through the lens of other musicians he admired helped him feel a deeper connection to the world around him. It's a lot like the C.S. Lewis quote, he says. In the same way that "we read to know we are not alone," we play and listen to music to relate to others, and in turn find ourselves.
Now writing has become second nature. He always has music on his mind. The most challenging part, he says, is making music that can reach everyone on an intimate level. "In order to allow a song to belong to everyone, you have to walk the line between telling your story and telling everyone's story."
RootHub has played festivals around the world, including Wanderlust, Burning Man, and Hawaii Yoga Festival. We discuss the art of performance and he tells me the best advice he's ever received about being on stage. "I had a trusted friend tell me, 'Take the leap of faith and look everyone in the eye.' That was a game changer." For a long time, he says, he unconsciously put up a protective wall between him and his audience, fearing that they were somehow taking something from him. Over time he realized that just the opposite was true: "People can set you free." The audience is offering themselves to you. There's a mutual engagement.
RootHub has meditated on this and learned to find grounding no matter the circumstance. "I usually write 'I AM HOME' on the top of my set list. It reminds me that no matter where I am, I am in my body and I am doing exactly what I came to earth to do." You never can know what will happen at a performance, and this can either be the most challenging or the most exciting aspect of the show. "There is magic in any performance if you ask for it," he says.
These days, RootHub travels the world playing shows and teaching others how to tap into their innate sound. He cofounded a workshop with close friend and yoga teacher (and fellow Wanderlust presenter) Erica Jago, who he met through a mutual friend at Burning Man. The two began collaborating on weekly yoga classes set to live music on the North Shore. This opportunity transformed RootHub's approach to music. "I began mirroring the teachings and the rhythm of the breath and movement through spontaneous melodies and lyrics," he says. Erica invited him to accompany her at a retreat she was leading in Bordeaux. But she had one condition: RootHub would have to consider something that he would like to teach. He thought about "thinking things into being" and the countless creation stories that begin with sound. He composed a workshop that would create a safe space and allow people to connect through sound.
"There is magic in any performance if you ask for it."
"The workshop surprises me with miracles every time I am fortunate enough to let it fly," he says. Halfway through the first workshop, he recalls, "Erica and I looked into each other's eyes and were blown away by the magic that was happening." Once people feel comfortable to experiment with their own sound, the creation process opens up. Ego and pretense are stripped away so that true healing can occur. "By the time we complete the workshop there have been tears, laughter, sonic trust falls, stories, and the songs. Such miraculous songs being created in the moment for the sake of expression." There is no pressure, only an opportunity to "send our signals out into the physical world, activating our creative nature, and waving to the future from a magic place."
—
Jillian Billard is a poet, yoga teacher, cellist and avid wanderer. A native New Yorker, she is often caught daydreaming of sprawling green fields and mountains. She trained and received her ashtanga yoga teacher's certification in Goa, India and works at Laughing Lotus Yoga Center in Brooklyn. You can often find her with her head buried in a book, doused in lavender. Follow her on her (very newly developed) Instagram page for class schedules and updates at @jillboyoga.