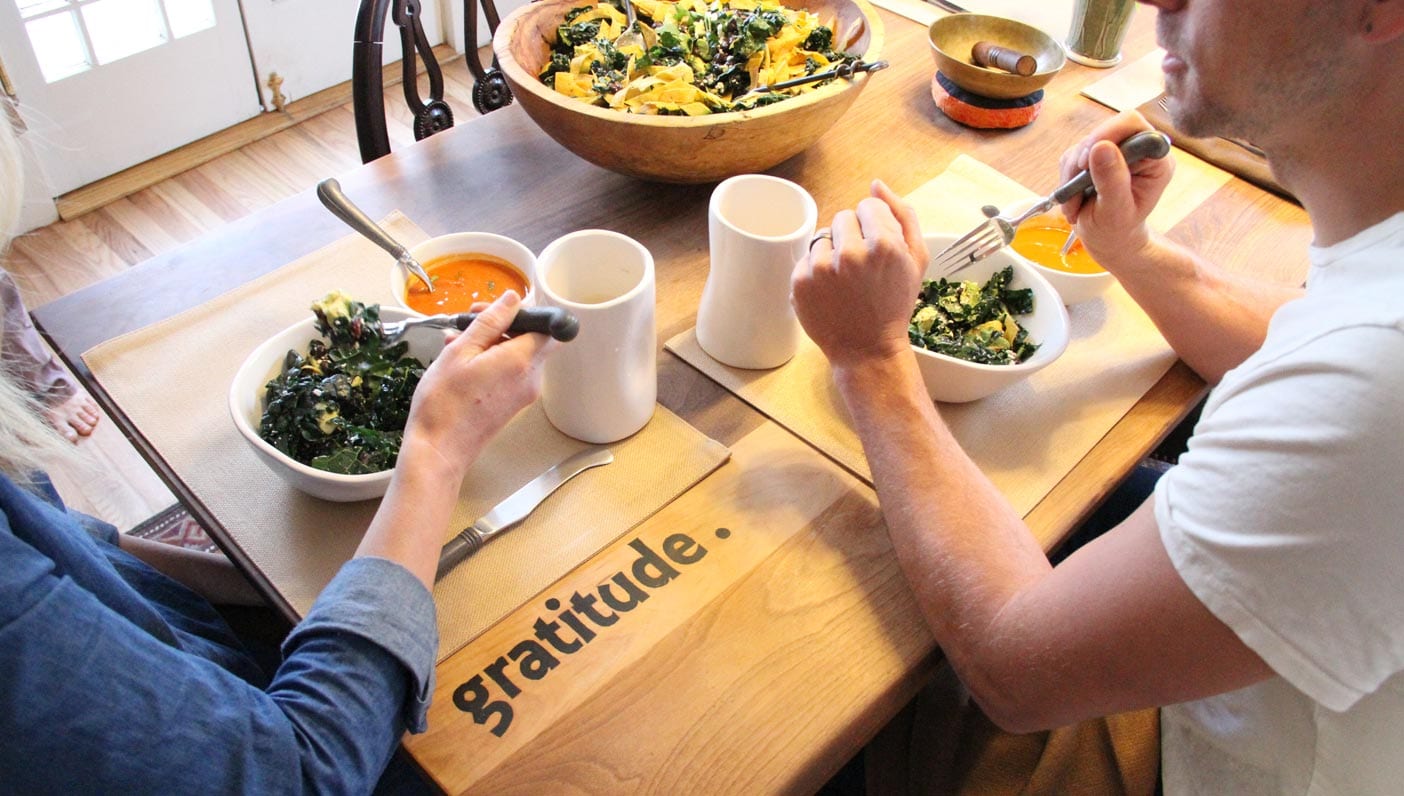 Photo courtesy of Emily Hightower
I ached for nourishment after my premature birth, incubating under lights with a bottle of formula. As a child, food made me itchy, sick, and full of cravings. Being told that food was inherently "good" or "bad" if it made me "skinny" or "fat" confused me further. When I was 15, I lost my dad to suicide, and subtle emotional eating began to fill the voids. In my search for deeper spiritual happiness, I followed rivers and became a mountain medic, a yogi, and a nutritionist. I discovered how yoga's wisdom could heal my food patterns and that buying local, organic food gave me a way to protect the rivers and mountains that healed and protected me. I found my path.
Now, as a mother, I have created a 12-week course called Off the Mat Into the Kitchen to share the path I've found and pass on a healthier planet to our son. Off the Mat Into the Kitchen applies 10 yogic principles—called Yamas and Niyamas—to food, showing a way through the maze of misinformation, lifestyle diseases, environmental degradation, and self-loathing that are endemic in society. This refreshing philosophy trusts that when we align with our true nature, we do good things for the world.
Yoga is encoded with five Yamas for moral observations in society and five Niyamas for personal steps we can take toward harmony. Each one goes deeply into our values and Samskara, or past canyons of habit, allowing deep healing without external pressure or dieting. We fall in love with the miracle of our bodies and become balanced, powerful, present, and giving with food. We get real about our patterns, stoke our commitment to practice, and study and engage with the essence of life through food. Our actions become aligned and healing for both our bodies and our world.
Taking yogic values into our kitchens, we rekindle the soul of food as a way to connect with ourselves, each other, and with life. Have you ever had a Holy Food Moment, the kind where you have to close your eyes and breathe in the orgasmic taste? Or felt the glow of making real food with friends? Like asana, this practice frees up space to enjoy life. It's not about perfection; it's about practice.
Yoga's wisdom can guide you to integrate lifelong nourishing food practices that align with your yogic soul.
The shift to thinking about food the yogic way has been supremely gratifying for me. I came from a mentality that I needed to buy low-calorie, processed foods to fake out my insatiable appetite. I've learned to trust my internal appetite and meet it with the real thing. It's easier to eat the amount that meets my needs when real food meets my needs! Fat-free, fake food leaves us feeling incomplete.
As yogis we have a unique vantage point for being change-makers in modern food. Our practice infuses gratitude for life, empowers responsibility for our health and happiness, and gives access to the natural force that compels the seed to sprout, the compost to fertilize, our spines to pulse, our cells to metabolize. Eating connects us with the whole world. You can grab food made from countries you've never been to, and support or destroy forests and farms you might never see just from your coffee cup. You can eat without realizing your impact to your health or others. Or you can chew into the truth of your daily life; that you are connected by your food to the world we share. Your choices can support your cells, your connection to family and community, our rivers, air, and soil. What's good for your cells is also good for our world. You have power, promise, and choice in food—a force of life, healing, and connection. Yoga's wisdom can guide you to integrate lifelong nourishing food practices that align with your yogic soul. From this radiance you can model and teach others to do the same.
Off the Mat Into the Kitchen is a lifelong, shared practice. I'm hosting monthly dinners with a sacred circle around each Yama and Niyama to fuel my practice, program, and forthcoming book. By weaving this practice in community I've healed emotional eating, am reaching my ideal weight, and feel moments of Iswara Pranidhana: that bliss through nourishment that is the birthright of embodiment.
Join me for the next training this February or for free resources to nourish your journey!
—

Emily Hightower founded Ondalu to empower people to make holistic decisions for their health. Her integrative programs have helped thousands of people including Wounded Warriors, Teens, and Women in Crisis using yoga, nutrition, and nature. Emily guides in person, on retreat, or by Skype and is based in Carbondale, Colorado, with her husband, son, chickens, and huge dog.