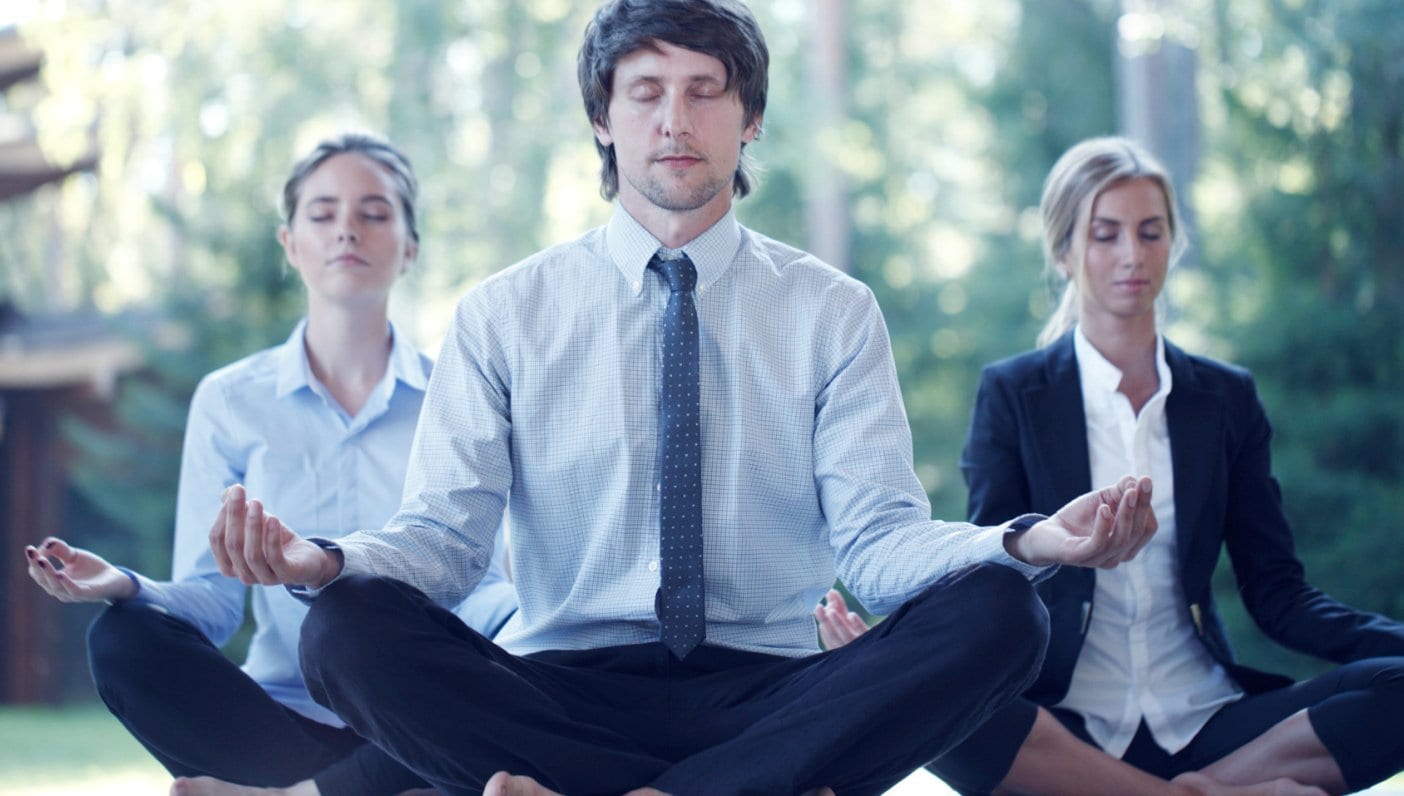 As Big Business tycoons and CEOs around the world embrace meditation to improve their leadership skills and achieve professional goals, the practice has now become a—cha-ching!—billion dollar industry. Much like the ancient practice of yoga is highly sought after in the West, mainstream meditation has shed its robes and patchouli—and is no longer typecast as a new age practice for hippies or monks who've renounced the world. What was popularized by the Beatles in the 1960s and 70s to achieve a high without psychedelic drugs is now being used as a tool to achieve optimal wellbeing without prescription drugs or addictive opioids.
Meditation has seeped into our schools, our homes, the workplace and beyond—as more people strive for less stress, improved health, and better balance in their lives, as studies only continue to show its seemingly infinite host of benefits. According to research conducted by IBIS World, by the end of 2015 global revenue from meditation surpassed at least $1 billion. What's more is this does not include profits grossed by the 1000+ mindfulness and meditation apps available—with Headspace alone toppling $30 million in earnings and over 6 million user downloads.
Forbes has more:
This year 22% of employers will offer mindfulness training—typically priced between $500 and $10,000 for large-group sessions—a percentage that could double in 2017, according to a forthcoming survey by Fidelity Investments and the National Business Group on Health. The non-profit Search Inside Yourself Leadership Institute, a mindfulness training program incubated at Google, grew revenue more than 50% last year by offering two-day workshops (up to $35,000 for 50 people) to dozens of other Fortune 500 companies, including Ford and American Express.
This is all wonderful news… but a skeptic cannot help but wonder if the explosion of mindfulness is helping busy worker bees boost their happiness levels and alleviate stress and anxiety—or rather, molding them into highly efficient, corporate robots?
Johann Berlin, CEO of the TLEX Institute (Transformational Leadership for Excellence), brings mindfulness training programs to corporate offices. In a recent interview with the Harvard Business Review, he said that, "Most of our new clients are not sold by mindfulness as a novelty. They want to see how these approaches are truly beneficial to existing priorities like retention, talent advancement, innovation." He said that one Fortune 25 client in particular, uses mindfulness to achieve a relaxed state of mind in order to approach leadership with more agility.
But some worry that the rise of mainstream mindfulness—often dubbed as "McMindfulness"—ignores the fundamental intent behind a meditation practice: What is described by Buddhist teachings as a "pure awareness" state of being. It is often argued that the meditation is being used as more of a productivity tool, rather than as a practice to develop empathy and peace of mind. Think of it this way: If we were to examine Buddhist tradition and philosophy, meditation would teach us that we are enough; we have enough; we are content. But mainstream meditation as a practice can help to streamline our productivity so we can achieve more with total efficiency, clarity—but also of course, with a lot less stress.
The difference between, "Look at me, I am meditating," and simply meditating—allowing yourself to just be, ought to be considered. So the question arises as to whether or not this is a good or bad thing.
Charlie Knoles, a renowned meditation teacher and director of The Veda Center, said that every organization offering meditation requires money—whether that's mindfulness training programs at major corporations, at state prisons, to underserved and at-risk youth in schools, or to veterans with chronic pain.
The demand within the meditation marketplace is vast and diverse—and it is evident that every facet of the industry arguably needs funding. Just like the economic boom that surged with yoga's popularity, meditation is being packaged, marketed, and sold at a competitive price point. We can choose to either frown upon the commercialization of a practice that serves millions of people for the better—or embrace it as positive, global change.
"If it ever becomes tempting to sell out my values because someone is waving a big paycheck at me then I have an elegant solution: Meditate," Knoles said. He pointed out that as more mindfulness programs get funded, more meditation teachers will actually be able to make a decent living for themselves. "Every day I practice a technique that makes me feel fulfilled inside, whether I'm rich or poor," he said. "Money, like everything in the outer world, is always changing… I'll keep practicing and teaching meditation whether I'm a billionaire or a pauper and I'll love it just the same."
—
Andrea Rice is the Practice and Community Editor for Wanderlust Media. She is also a freelance writer, editor and yoga teacher. Her work has also appeared in The New York Times, Yoga Journal, SONIMA, mindbodygreen, and other online publications. You can find her regular classes at shambhala yoga & dance center in Brooklyn, and connect with her on Instagram and Twitter.