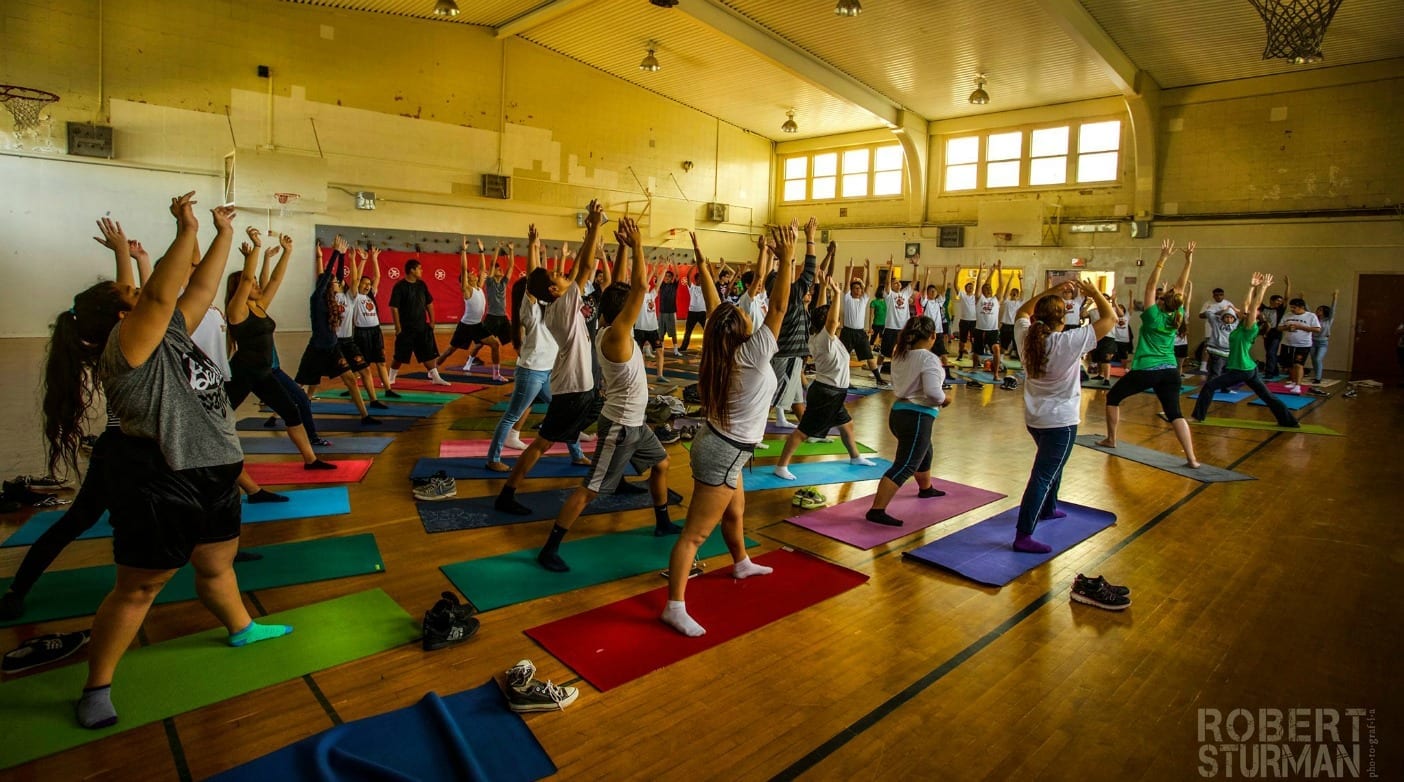 Yoga has become a powerful tool utilized in schools around the U.S., the U.K., and beyond, to help shape the young and often stressed out minds of today. Improved test scores, self-esteem, physical performance, and a healthy body image, are just some of the many benefits the practice has to offer the formative years of youth. Plus, they seem to really like it.
More than 1.7 million children now practice yoga, and several nonprofits have begun offering the practice to underserved communities whose families might not be able to afford it, and to at-risk and incarcerated youth. Many of these children often have to grow up too quickly, under stressful and even dangerous circumstances. Yoga and mindfulness practices can help with anger management and stress, to foster a safe and healthy space for communities to develop.
In Reno, NV, Hannah Bias, founder of the Urban Lotus Project, has brought yoga to youth centers like the Eddy House since earlier this spring, where she's built a following among young people.
In a recent interview, Bias told KOLO TV:
"We work with with at-risk and underserved youth, offering these classes to those who otherwise wouldn't have access to these types of classes and this type of healing."
"The students get so much out of it, they respond so well to it. Yoga is not just for adults, it's not just for the people that can afford to go to a fancy studio, it's for everyone."
In mid-November in Washington D.C., the National Kids Yoga Conference at George Washington University is being hosted by the nonprofit, YoKid, to draw awareness to the benefits of youth yoga, specifically those in underserved communities. Michelle Kelsey Mitchell, a co-founder for YoKid, told Washington's Top News of the immense stress that children who live in poverty endure.
A local reporter for wtop has more:
A little girl named Precious has a big grin as she balances on one leg.
"It makes me feel calm and it makes me feel happy," she says.
Over the years, YoKid has shifted its primary focus from teens and tweens to younger kids, with classes held in school gyms, community centers and other venues.
The nonprofit recruits volunteers with yoga skills to help, and provides extra teacher training. Fees for classes are adjusted according to income, with some families paying nothing at all.
There are also several organizations in Los Angeles alone, like UpRising, Youth Yoga, and Y.O.G.A. for Youth. They're bringing the practice to high schools in at-risk communities and to juvenile detention centers, often at no cost to the educators.
Earlier this year, over 40 yoga teachers and volunteers from Youth Yoga offered yoga to over 350 teens at various schools in the Los Angeles Unified School District, the first of its kind. A class at Lincoln High School in East L.A. is pictured above.
UpRising Yoga works similarly, its emphasis to help steer incarcerated teens toward a better path of well-being. The program was founded four years ago by Jill Ippolito—who spent her teenage years in and out of juvenile hall and battling addiction—before she found yoga herself and began teaching it.
She recently spoke to attn.com and said she hopes that yoga will eventually been seen as a "healing modality instead of an activity."
Here is an excerpt from that interview:
One of the kids thanked me after she got out. A while back, we had someone come in and take pictures, and she was the one who did this incredible backbend. I had pictures of her. But when she got out, she said, "I just turned 18. I've been doing yoga, and it's the only thing keeping me sane and keeping me going and grounded. Thank you so much." I ended up getting her a scholarship to become a yoga teacher.
One kid had seven bullets in him, and he managed to stay in all the postures. I was blown away. We give certificates for their court cases, and he … I've never seen anything like that. There's a lot of stuff that we don't know either. I was told that one of the girls had all of her toes cut off except for one because [of] her pimp. We hear horrible, horrible stories, so we started partnering with the survivors to do what we could to bring awareness first and then direct services right away. That's been a really important thing for me, not just to spread awareness, but to bring actual services to the youth and anybody that needs yoga.
Outside of the U.S., the Healing Earth Foundation in South Africa offers wellness and mindfulness-based programs to develop "healthy, conscious people" in underprivileged communities and among incarcerated teens.
News 24 in Cape Town has more:
The organisation works with children and youngsters in Lansdowne, Salt River, Heideveld and Parow Valley, at schools, orphanages, old-age homes, community centres, shelters for abused women and children, prison rehabilitation centres and educational facilities for underprivileged women.
The Foundation offers a programme for jailed youngsters when they get out of prison to give them life skills for behavioural change and skills development so that they never go back to prison.
With so many incredible organizations working toward the same goal—that no child should ever be left behind—more and more young people are given a second chance that they may not have had otherwise. Yoga can be an expensive habit for many, with rising costs of designer yoga pants and accessories, lavish retreats and expensive workshops, and many studio classes asking for $20-$30 a pop. The industry itself is now worth over $27 billion dollars.
So if there's anything to be thankful for as the holidays approach, it's nonprofit groups like these that provide yoga and mindfulness education to those who need it most, for nothing other than the sheer love of teaching; for the joy of watching profound transformation in a young, deserving mind, with so much life still ahead. You can't put a price on that.
Photos courtesy of Robert Sturman Studio
—
Andrea Rice is the Practice and Community Editor for Wanderlust Media. She is also a writer and yoga teacher. Her work has appeared in The New York Times, Yoga Journal, mindbodygreen, Yoganonymous, AstroStyle, Teach.yoga, and several music magazines. Her teaching style is a blend of her love for music and intuitive movement, with emphasis on core strength. You can find her regular classes at Shambhala Yoga in Brooklyn and connect with her on Instagram andTwitter.