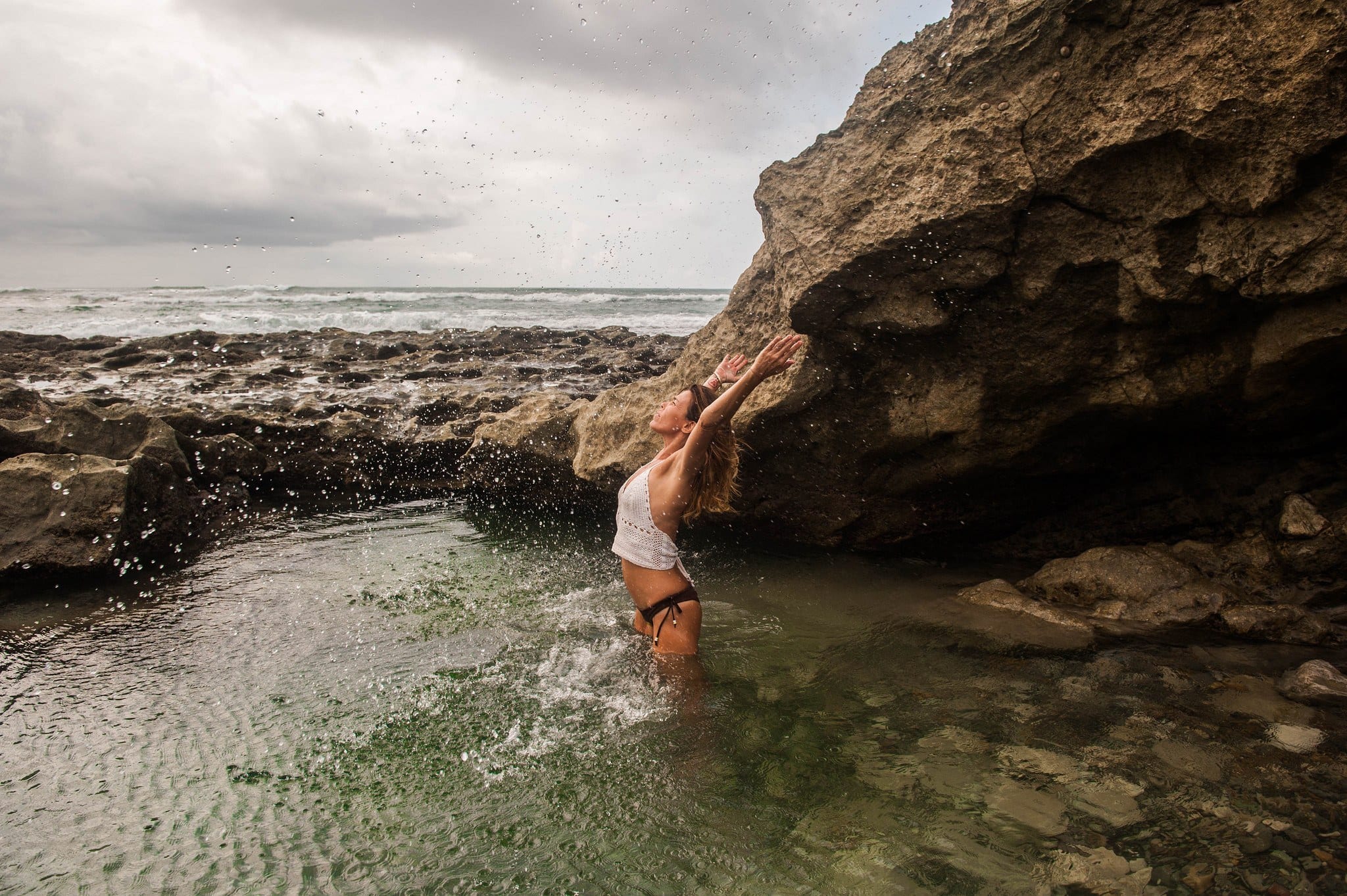 ---
In the wellness community, we hear the term self-love thrown around all the time. While self-love has had a history of being indulgent, we believe it is fundamental in the ways in which we show up in our external relationships. As yogis, learning to love ourselves on the mat through compassion, awareness, and empathy provides us a unique opportunity to extend outside of ourselves—to be healed and to heal others.
Within the moments spent inside the four corners of our mat, we find lessons that challenge us to grow, give love, and show up fully in the world while inspiring others to do the same.
Utilizing one of our favorite healing modalities, yoga, Wanderlust O'ahu yoga teacher, Caley Alyssa, sat down with us to explore why loving yourself is the most selfless thing you can do:
Developing A Self-Love Practice Through Yoga
The beginning of any yoga practice is magical. There is a tangible energy in a studio space that allows for release and healing. When Caley Alyssa first began practicing yoga, her practice invited comfort into her life in a way that no other modalities could.
"When I first began practicing yoga I was in a really difficult place," Caley says. "Being in the studio was really comforting in a way that felt safe and nurtured. It was a place that I could go to collect myself and let emotions move through me."
Like sewing a seed, as individuals, we need to be cultivated in order to flourish. On our mats, there is no separation, only existence in the presence and encouragement to listen and notice what bubbles to the surface. This practice of liberating ourselves provides us with the priceless tool of empathy, understanding, and awareness which we can apply to our interpersonal relationships.
The Ripple Effect of Self-Love
Finding yoga over ten years ago, Caley devoted herself to the practice and grew intimately close to her body and mind. Like many yogis, finding a regular practice illuminated many of her relationships and challenged her to let go or grow with her community. While at first, letting go was the easier choice, Caley persisted on utilizing the tools she learned on the mat to expand her relationships, learn to communicate and spread the valuable message of love outwards.
"Once I started teaching and expanding the practice outside of myself, I noticed so many elements of yoga that can be utilized to shift your interactions with people," Caley says. "For example, how you react to situations or people. Yoga creates space to allow others to communicate."
Our mind, body, and soul are in constant communication and in yoga, this becomes inherently clear. The next time you step on your mat, notice the ways your body and mind communicate. Notice the gentle approach you take through transitions. The space between inhalation and exhalation. The willingness to create space for ourselves offers us an opportunity to apply these tools to nurture dis-ease in our community. 
The Power of a Group 
In yoga, we often hear the Sanskrit word, kula, which means intentional community. The word is based on the feeling that life is best when shared on and off the mat. In an age where frantic energy permeates the air, coming together to create harmony and feel as if you are apart of something bigger provides an invaluable sense of connection to others.
"Yoga allows space for communal healing where not a lot of other things do. Modalities like massage can be very healing but very individualistic. Now, we have meditation spaces, breathwork, sound healing and festivals which allows us to heal in a community."
Yoga studios have turned into shared spaces where we come together to study, to liberate ourselves, and to connect with our kula. We all struggle in one way or another with communication, whether it's verbal or physical, or with ourselves or others. In our yoga practice, we hold space to break through those communication barriers and become more willing and open to communicate with others.
Expand Your Love Outwards
Our ability to practice self-love can be integrated into everything we do. From changing the way we talk to ourselves to making space for others to speak their truth, the self-love tools we learn on the mat are an important contribution that we can make in service to others.
—
Caley Alyssa has spent the past decade striving to bring awareness and compassion to her community on a daily basis through her platform and injects the message of love into every class she teaches. Regardless of what you do, if you approach your relationships from a place of compassion and empathy, then happiness and peace on a global scale is more than possible—it's inevitable.
Ava Pendl is a freelance writer and digital-marketing guru based out of San Diego with passions in self-health, yoga, and beauty. As an avid yogi beginning the journey as a registered yoga teacher, she spends her time in between downward dogs blogging for her local yoga studio, designing websites and social media campaigns, and managing her own blog. A majority of Ava's free time is spent planning her move to South America, where she'll be traveling, blogging, and yoga-ing around the continent. Follow her journey on Instagram.