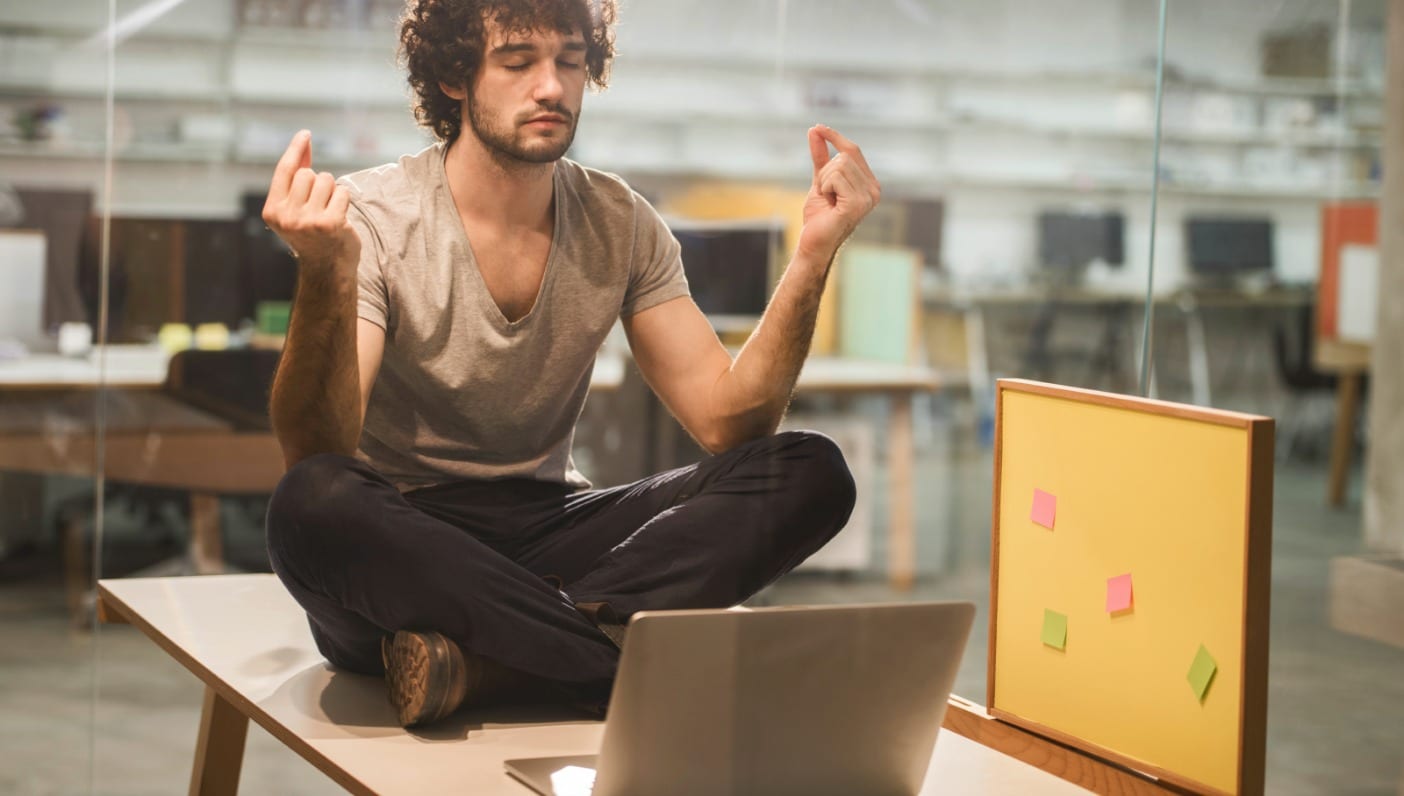 Young man sitting in the lotus position on table in the office. He is relaxing from work and meditating with his eyes closed. The view is through the glass.
Group fitness classes aren't for everyone. There are those of us who thrive off the energy of practicing with others, but there's still the chosen many who prefer to fly solo. You know who you are.
And while yoga videos have long been available online through platforms like GaiamTV, YogaGlo, and especially YouTube (because it's free), riding the waves of the live streaming frontier is Finland's fast growing empire, Yoogaia. Founded in 2013 by Mikko Petaja, a creative director in Helsinki turned CEO, Yoogaia provides the unique offering of interactive yoga classes at a lower price than many of its competitors.
The caveat? If you practice in your pajamas, be forewarned that two-way webcam feedback allows the instructor to see that ripped, coffee-stained t-shirt and sweat pants, though rest assured, the other students will not. The benefit of this innovative style of home practice is that you're still under direct supervision of a well-trained teacher, who will correct your form and even provide some encouragement (yes, using your first name) when needed. It's like a real life Shiva-Siri.
With a team of 50 instructors and counting, Yoogaia's live streamed classes now reach practitioners around the globe, its virtual studios headquartered in London, Helsinki, and Tokyo. The startup has calculated somewhere around 50,000 yogi-users in more than 50 countries, so clearly it's evident that this live stream asana thing is picking up some serious steam.
TechCrunch reported that these numbers are up from an estimated 5,000 users just one year ago:
As part of its market expansion push, it's planning to add Germany classes. The main market targets for expansion are the U.K., Germany, the U.S. and Australia, says CEO and founder Mikko Petäjä. "U.K. is growing the fastest, although Australia/New Zealand grows fast, too," he adds.
Petäjä says about two-thirds of the classes it offers currently have English instruction. While average class size varies—he says classes have between 30 to 300 participants. Given such large per class numbers it's unlikely Yoogaia instructors are able to offer much individual instruction to users during live classes, albeit that's also true if you do classes via YouTube (although those classes are free).
As well as pushing for international growth, Yoogaia will be using the new funding to improve its experience on mobile devices, with an iOS app launch planned for September. It will also be using the new funds to expand its team.
Wait, there's an app for that too? It's highly predictable that we'll see a surge in North American users once that technology is unveiled. But Fast Company has already noted that many of Yoogaia's users are indeed American, despite the vast differences in time zones from across the pond and beyond.
Even without a physical studio in the U.S., more than 25% of Yoogaia's users come from the U.S. (Last week, that number climbed to 29%.) Anyone in the world can sign up for and use Yoogaia. "[The U.S. is] where a lot of our gold comes from," Petaja says. "The awareness of consumers in that market is in some ways higher in regards to using online services and potential online fitness solutions."
There is one drawback to using Yoogaia in U.S. time zones, however. The titles of some of the classes don't make sense (and the content of the classes may be off) when they are streamed live—"Good Night Yoga" is broadcast at 7:30 p.m. from London but streams at 2:30 p.m. in New York.
The question of who will adopt interactive live streaming technology is important, given that the latest such apps on the market—Meerkat and Periscope—are competing for users, but thus far have yet to implement monetization models. In contrast, Yoogaia has tapped into the $60 billion digital health market by leveraging live streaming technology to offer a product that lies somewhere between physically going to the gym and watching a prerecorded workout at home.
And even if yoga isn't your thing, Yoogaia offers a few fitness-y options with kettlebells or even a "Core and Legs Express." The brave and curious might also try a class called, "Selkä," though its description is written entirely in Finnish. As an affordable, pay as you go service, it's entirely up to you how much dough you want to spend on your flow. If this is the future of yoga, then what's next—Hatha holograms, Vinyasa mind-melds, or time-travel Savasana? Let's just hope the ancient art of the practice doesn't get lost in (cyber)space along the way.
Photo via iStock
–
Andrea Rice is the Practice and Community Editor for Wanderlust Media. She is also a writer and yoga teacher. Her work has appeared in The New York Times, Yoga Journal, mindbodygreen, Yoganonymous, AstroStyle, and several music magazines. Her teaching style is a blend of her love for music and intuitive movement, with emphasis on core strength. You can find her regular classes at Shambhala Yoga in Brooklyn and connect with her on Instagram and Twitter.