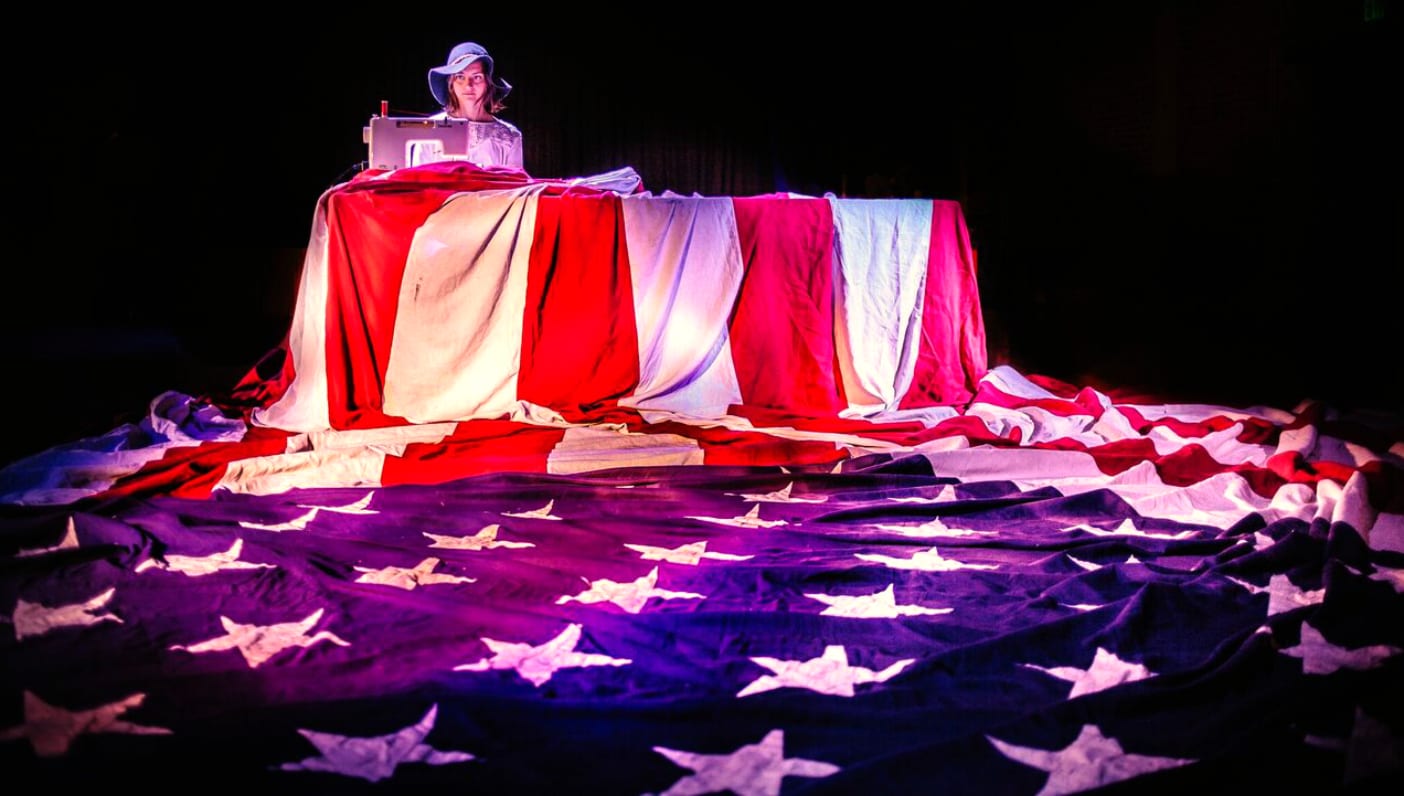 Mending America :: A young woman restitches the fabric of America at Wanderlust Hollywood prior to its Mindful America event. Photo credit: Michael Jon Leonard
The day after the election, Wanderlust Hollywood became a refuge for the community. A place where yogis and non-yogis alike gathered at small tables to digest the results of the presidential race. Sitting at the table in the cafe, I witnessed more than one person break out into tears. There was shock and concern around a reality that no one seriously considered. Never before had there been such an extreme contrast between the broadcast ecstatic support of middle America with the vocalized opposition of metropolitan areas, particularly strong in Los Angeles.
Since its founding, Wanderlust Hollywood has served as a modern sanctuary of sorts where one can go to practice asana, meditate, co-work, and dine at the cafe—sometimes all in the same day. Overheard in the cafe are such sentiments as, "Wanderlust has become my church." There is a feeling of community, of being among peers who share similar interests, perspectives, and desire to connect to something bigger than the individual.
Reasons for Gathering
When Schuyler Grant and Jeff Krasno, co-founders of Wanderlust Festivals and Wanderlust Hollywood, decided to open up the large hall in the studio known as The Greatest Space for a night of community and conversation they received over 180 RSVPs. In only a few days they had put together their Mindful America Townhall, a revival of last winter's Mindful America event that occurred last January in response to the Iowa caucus. As Jeff explained, the Townhall that took place on November 21 was Wanderlust's way to "give people a place of community and a place to heal."
Last year's Mindful America featured the likes of Marianne Williamson, Seane Corn, Tim Ryan, and other luminaries. The goal was to guide people to see their mindfulness practice outside of simply a self-betterment practice. To encourage the use of mindfulness as a means to help others in the world. The Mindful America events serve as a platform for people to come together and together create an intentional lens to see the nation  through: a mindful healthcare policy, how to approach socio-economic injustices, and gave each person a chance to voice their concerns and opinions. It was not a party-specific event, but rather a chance to listen, to try on differing perspectives, and to engage in a respectful progressive dialogue.
Deconstructing the Election
During the November 21 event the community deconstructed the slogan "make America great again" by discussing the characteristics that make America a wonderful place to live. Such answers as diversity, innovation, natural splendor, and equality as a founding ideal were offered. Jeff noted that besides bringing the community together for discussion, another goal is to bring in experts and organizations that are actively working to combat social injustices and climate change in order to give people insight into what they themselves can do to be a part of a greater solution.
Recently, the Wanderlust team went over to the Blessed Sacrament in Hollywood to work with the organization which provides services for underserved populations. Transcending religious affiliation and economical standing, Wanderlust is bringing seva, or service, to as many people as possible.
A Mindful Future
When talking with Jeff about the future of the Mindful America events, Jeff expressed the simple desire to bring the community together at a time when we need each other the most, and that the way it will be done done will continue to evolve. "This is a platform that is being invented, said Jeff. "We see that there is a need and we want to fill that need. We're creating as we go."
From the wake of an emotionally tumultuous post-election moment, the team at Wanderlust has made a commitment to doing their part in being a part of change for the better. Where there is ignorance and prejudice, Wanderlust stands toe to toe with open arms and an unshakeable belief in peace for every being.
The next Townhall meeting will likely take place in January. The turnout is expected to increase, and Jeff, Schuyler and their team are looking to bring in partnerships that will give anyone interested an opportunity to mobilize and get involved in change. For more information, sign up for the Wanderlust Hollywood newsletter—we look forward to sharing this special conversation with you then.
—
Erin Ward is a freelance writer, yoga teacher, and navigator at Wanderlust Hollywood.