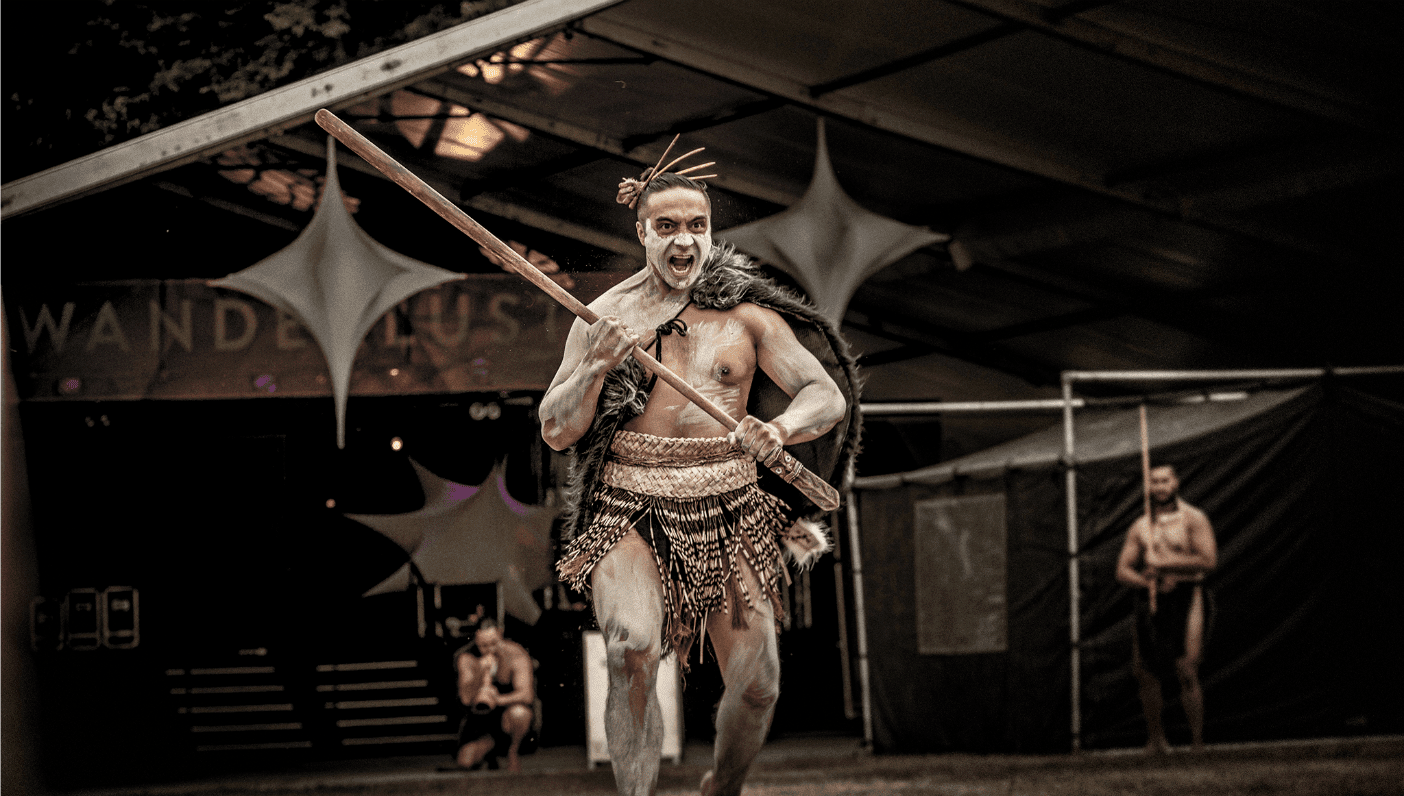 Photo by Arterium
This is part of a Wanderlust series from Wanderlusters in Australia and New Zealand. Check back for more Dispatches From Down Under. Be sure to check out a Wanderlust event Down Under as well!
---
I've spent the last six months asking New Zealanders nosy questions. I've crisscrossed the land by bus, bike, and jetboat, pressing them about Maori tattoos, native tree species, and proper usage of the phrase "she'll be right" (gender neutral, never pluralized, FYI). What I've learned is this: Relative to its size, New Zealand has a disproportionate cultural depth and richness. This small country feels enormous—thanks in part to its huge heart.
"Because we're so far away and so small, we've been forced to create our identity through the little things. It's going to the dairy on a hot day, getting an ice cream. But then when you go to the beach your ice cream melts and falls on the sand, and a disappointed yet humble silence follows. That's being Kiwi." – Leo Murray, Mount Maunganui
The topography of New Zealand is wild and unforgiving. But its people are enterprising, inviting, and open. New Zealand is full of these polarities. Like how a country with so few people (New York City has more people than the entire country) can feel at once so isolated yet so connected. It's this dynamic that fosters so much depth. New Zealand isn't just sheep and camper vans. It's a place experiencing constant change. Tectonic plates are dragging the two islands apart, driving the mountains upward, and boiling sulfuric waters to the surface. In a world where we're increasingly fearful, New Zealanders sustain an openness and a calm amid the persistent shift of their land and social diversity.
"Kiwis have an innate ingenuity, and a deep connectedness to nature. We have a self-reliance that drives us to do, build, and create things by ourselves." – Imogen Shepard, Auckland

As an outsider working her way in my curiosity has been encouraged and welcomed. Natives didn't even balk when I asked "Meat? In a pie?" I have felt at home so fast, thanks in part to fellow Wanderlusters and my yogi tribe. At festivals like Wanderlust, we create communities that become our home—albeit just for a few days—using yoga as a conduit to connect deeper to ourselves, the Earth, and each other.
Elena Brower, teaching a class at a Wanderlust Festival in Australia said: "Home isn't a place, it's a state of consciousness." Kiwis seem to have internalized this sentiment: from rebuilding the earthquake-humbled Christchurch, to accommodating the fickle shift of sand dunes in Whatipu. Their home is in a constant state of flux.
As Wanderlust's NZ director Jonnie Halstead once told me: "Kiwis are naturally more mindful." When you grow up around these shockingly beautiful landscapes, steeped in sacred Maori mythologies, it's hard not to internalize a deep, vibrational connection to the land.
"To live as a New Zealander is to be connected to the land and sea, to honor and respect not just the indigenous culture but to welcome and connect with all those who land on these shores." – Matiu Te Huki, Paekakariki
So far in my six months I've hiked in sub-zero temperatures and skinny-dipped in steaming hot springs. I've triumphantly summited the Southern Alps, and broken bones biking in the rain forest. This country's wildness has toughened me for sure, but made me gentler too. I've learned to smile more generously and linger longer in an embrace. Because when you live on a small subtropical island, everything hits harder. Whether it's economic windfall from China or seismic aftershocks, even the smallest breaker affects New Zealand profoundly. It can be vulnerable out here in the South Pacific, so you have to have a strong will and an open heart. I've been taught to internalize the polarities of the land: New Zealand is softness and ferocity. It's isolation and community. It's sheep and camper vans. It's all of these at once.
Now when I pass someone on the trail, I look directly into their eyes. I know whoever has made it this far on the East Cape has the same intensity of Kiwi love and wildness inside them as I do.
"If you have a passion, New Zealand has everything you need to develop it. As a musician, New Zealand has been the ultimate creative greenhouse. It's a very young country in terms of human society, but it's very old land. I'm blown away by the inspiration that this place is providing. It allows you to be whoever you want to be." – Arli Liberman, Auckland via Israel

—
Emily Hill is a nomadic health and wellness journalist. In her travels from Albuquerque, New Mexico, to Auckland, New Zealand, she's reported on everything from underground electronic music to nerdy nutrition science. Emily is an avid women's cycling advocate and amateur yogi. Her favorite food is red wine. Follow her @EmilybyNight.