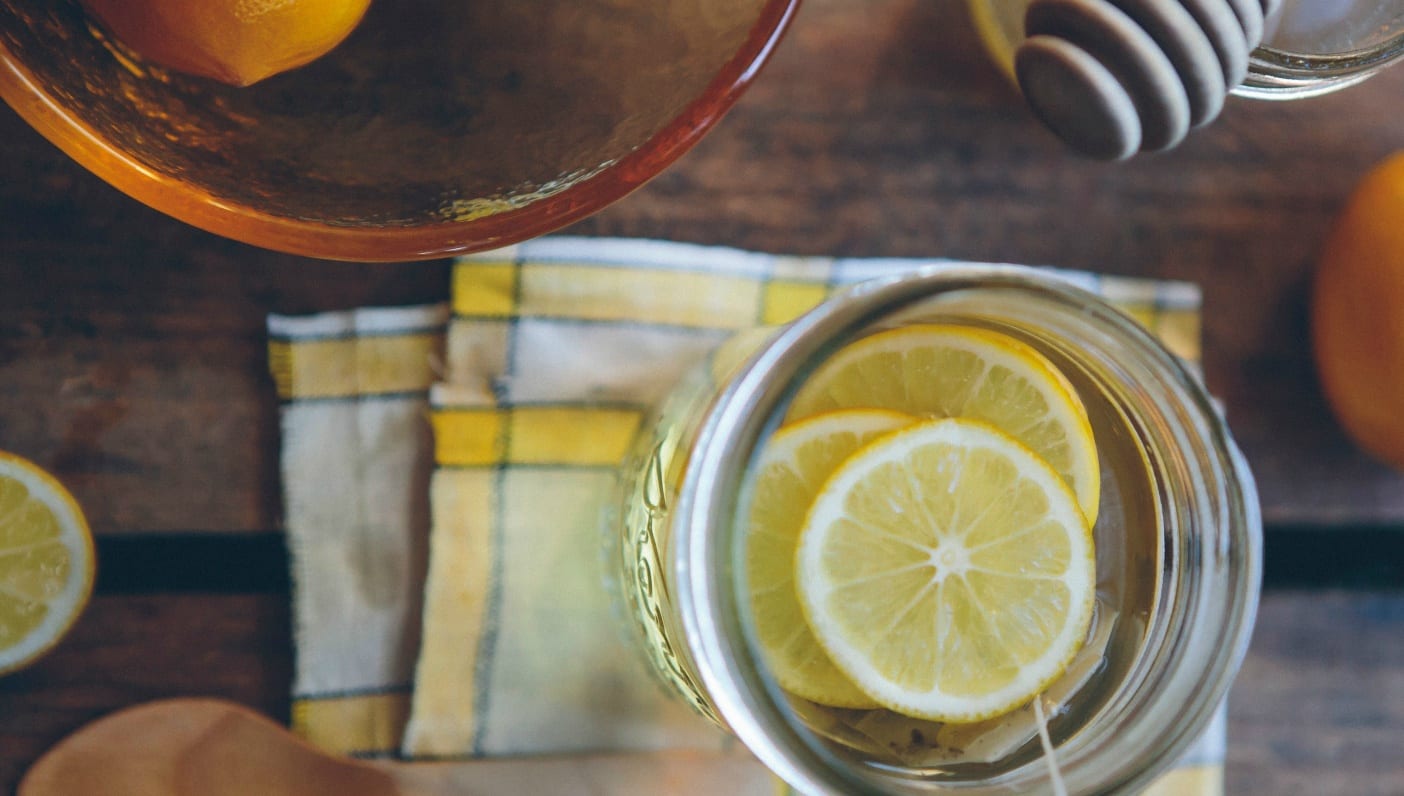 Photo by Anda Ambrosini
Celebrate outdoors season at a Wanderlust 108 or Wanderlust Festival! 
---
e·lix·ir | əˈliksər/ | noun : a magical or medicinal potion.
As a Yoga of Food Coach, I help people overcome addictive patterns using natural foods and yoga's wisdom. Elixirs are a potent medicinal tool in my kit to alleviate winter stagnation, water retention, and toxicity. They can boost metabolism, restore vitality, and replace conventional drinks when trying to cut back on alcohol, sugar, or caffeine.
As we reach for warmer weather after the cold, dark winter, I reach to my friend Molly Hemler, an expert herbal alchemist and founder of Dragonfly Jun, to share her treasured recipes with us. Molly is the founder of Dragonfly Jun.
Spring Kick-Start
Blend or mix by hand the following ingredients: 
2 cups spring or filtered water
2 tbsp aloe vera gel
1/2 cup cilantro
Juice of 1 lemon
1 tbsp honey
Dash of local bee pollen
Serve at room temperature. 
This refreshing drink cleans out your liver and blood, alleviates allergies, and can help clear metals from the body. The "bitter taste cleanses and refreshes the liver, improving its performance and helps decongest the blood for improved lymphatic drainage," says Molly.
When I was five, I bit into a thermometer and swallowed the mercury inside. I was grateful to have a tool like cilantro, known to clear metal from the body. I also love this recipe for the bee pollen, which helps me avoid hay fever in the spring. Start now and your body will build up the resistance to your local flowering plants!
Ring Out and Rejuvenate
Blend and serve the following ingredients: 
2 cups filtered water or desired milk. Can be warmed before being blended with other ingredients, or blend at room temperature
1/4 tsp coriander seed
1/4 tsp cumin
1/4 tsp fennel seed
1/2 tsp dandelion root powder
1/4 tsp cardamom
1/2 tsp turmeric
1/2 tbsp raw honey
If you're feeling deep, lethargic, and puffy, this elixir will help a lot more than a cup of red wine! The cumin, coriander, and fennel are antimicrobial, and the cardamom and dandelion help with circulation and liver detox. Molly uses this to ignite metabolism in spring, and to lift up out of the fog of hibernation after the coldest, darkest months of the year.
It's wonderful for "burning up that excess spring moisture that can sometimes have a dampening effect and helps restore tone and tightness to swollen spring tissues and helps reduce any agitation and inflammation in the body." She also notes that it's a worthwhile brain tonic, and encourages a calm clarity and spaciousness to a tense mind."
Brain Brew
Blend and serve the following ingredients: 
2 cups organic nut milk (Molly uses coconut, warmed or at room temperature)
1/2 tsp each of organic powder of chaga, reishi, lion's mane, turkey tail, and cordyceps (these mushroom powder blends can be found online here)
½ tsp Eleuthero*
½ tsp Ashwagandha*
½ tsp Rhodiola*
1 tsp chia seed
1 tbsp raw organic honey
1 tsp maca powder
1 tsp turmeric powder
Himalayan sea salt to taste
* check for these herbs at your local health store, or search online 
Grounding and stimulating at the same time, mushrooms provide the real magic in this elixir. In soil, mushrooms create the mycelium network that binds ecologies together and helps plants communicate with one another (really! they talk!). Like fiber optics for plants, mushrooms have a similar effect on our own nervous system. They are neuro-stimulators, which help with brain health, memory, and nerve regeneration.
In particular, lion's mane has very high Nerve Growth Factors (NGF) and is known to heal brain tissue. If you feel brain fog, this is the blend for you! The maca supports thyroid, libido, and metabolism, the chia is a power food packed with clean protein and energy, the turmeric is an inflammation-fighting ninja and the Himalayan sea salt contains the exact mineral blends needed by your body for cellular health and function.
"The adaptogenic properties of the herbs and mushrooms help the body to transition into spring and maintain vitality and balance within the immune system," says Molly. "Mushrooms are incredibly rich in calcium and even vitamin D, something we can all use after a long winter."
Lastly, for any yogi looking to live more consciously around alcohol, I asked my coach and friend Miriam Meima, an expert in addiction and an executive coach, about using elixirs as a tool. She shares, "As humans, we have a natural resistance to removing something from our lives. The exception is when we are replacing it with something that more closely aligns with our purpose, intentions, or priorities. Elixirs can help someone make a seamless transition to a more vibrant lifestyle. By replacing rather than removing alcohol, you can work with your existing psychology rather than against it."
This is your time of year to reclaim your body and burst forward into spring with renewed enthusiasm for life. Playing with elixirs will give you a deep appreciation for the medicinal properties of plants and the potent effect you have on your own wellbeing by aligning with them. Using elixirs will nourish you at the cellular level and provide you with conscious new patterns for your highest evolution.
—
Emily Hightower founded Ondalu to empower people to make holistic decisions for their health. Her integrative programs have helped thousands of people including Wounded Warriors, Teens, and Women in Crisis using yoga, nutrition, and nature. Emily guides in person, on retreat, or by Skype and is based in Carbondale, Colorado, with her husband, son, chickens, and huge dog.