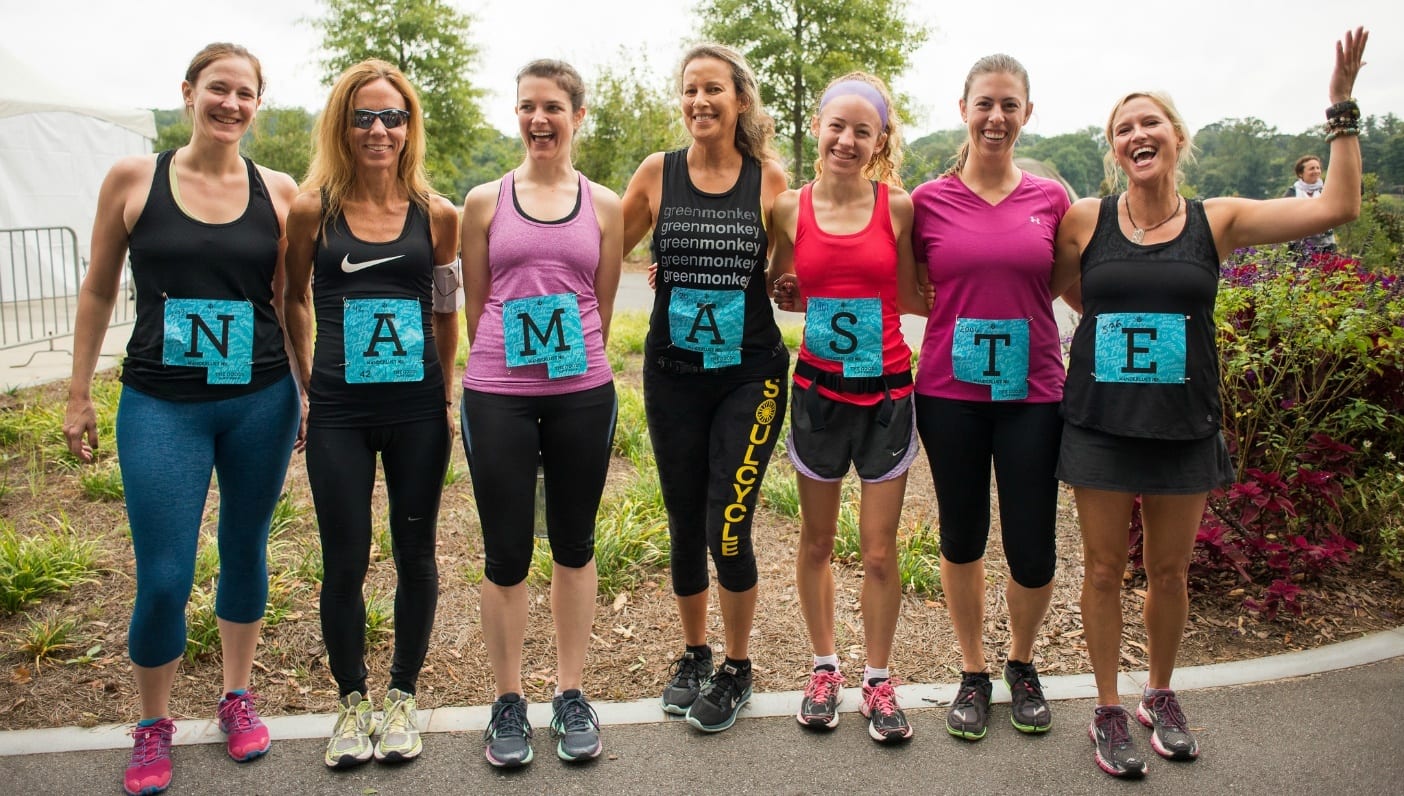 Photo by Joy Hmielewski
Bring your friends together and try something new at a Wanderlust 108 or Wanderlust Festival this summer!
---
Now that it's officially hip to be sober, you might be wondering how to socialize with friends who still enjoy to drink every now and then. Sure, there are plenty of "sober gatherings" for anyone who has chosen the path of sobriety, but how best to integrate our choices when it differs from that of our friends?
Hint: We get creative and put down our phones. We broach the topic of 'no booze allowed' by making suggestions that don't even require it in the first place.
To inspire you, here are our top 10 ways to mindfully connect with your friends and strengthen your bond, while still maintaining your own lifestyle choices.
Breathe together and strengthen your bond.
Friends (and couples!) that breathe together, stay together—with serious lasting power. Yoga dates are always great, or if your friend or lover is on the spiritual fence, try a fitness class together like spinning, kickboxing, or indoor rock climbing. But there's no place else like on your mat to reveal your truest selves.
Try hosting a mini-yoga or stretching session in your living room to entice the skeptics, or suggest meditation. Boutique studios like Manhattan's MNDFL could make for a mindful playdate that leads to stimulating post-meditation discussion, or you could even suggest a 30-day meditation challenge to a group of friends and follow each other's progress.
Get outdoors and let nature ground you.
This one is so simple and yet, so often forgotten—especially for those of us big city dwellers. Rather than the usual get-togethers with friends (boozy summer barbecues, wine-and-dine dinner parties, extended happy hours…) organize a camping trip, picnic in the park, or hit the beach. If you and your gang are an adventurous bunch, why not try a hiking expedition, or do some kayaking or canoeing? There's no time like the present (hello, summer!) to let mother nature work her magic.
We always hear about how nature is so restorative, grounding, soothing, and therapeutic—so it seems like a natural choice to share these wonderful feelings with our loved ones. Pack a real camera, or hey, even a refurbished polaroid, and snap a few real and lasting moments together—that really only need to be shared between you.
Tear up the dance floor like you were born to be wild.
'Dance yrself clean!' Sober dance parties are picking up some serious (sweaty) steam, thanks to the widespread popularity of Daybreaker, and DJ Tasha Blank, the founder of The Get Down and a performer at Wanderlust. Daybreaker is known as the early morning dance party, incorporating cardio and dance-without-abandon into your day—and all before 9 a.m.
The Get Down however, is a bit of an anomaly on the sobriety circuit, since it takes place at happy hour in a West Village nightclub, complete with a full bar. What's interesting about the magic of The Get Down is that despite that alcohol is readily available, no one seems to care. There is no direct callout of the fact it is a "sober dance party," but rather, an acknowledgement that the reason why everyone is having a good time is because they're "solid" in mind, body, and heart. And if you decide you need a drink to break the ice anyway, you won't be shunned for it either. We dare you and your friends, however, to hit the dance floor and channel your inner wild natures without using alcohol to help you let loose, and simply dance like you were born to do it. Even better? The Get Down kindly asks that you leave your cell phones off the dance floor.
See live music and soothe your soul.
Summer festival and tour season has kicked off, with the biggest names in music hitting the road, and with any luck, an amphitheatre near you. (Is it even possible to score Radiohead tickets anymore?)
And yoga festival season is also underway, with Wanderlust's own kicking off in Snowshoe in June, and many others following suit around the globe. Music and yoga have always gone hand-in-hand, so make an excuse to go on a maiden voyage or vision quest with your bestie and find yourselves amid breath and beats.
But we needn't always have to look far for musical inspiration—so why not mobilize your crew and take the local scene by storm. Sure, many shows are held at bars, but when your attention is on the music that truly moves you and the good company you're in, any inner restlessness you might be experiencing is sure to subside. Challenge: Try to enjoy the entire performance without Instagramming it. Experience what it's like first hand to really feel the music pulsating and reverberating throughout your being. Pay attention to what's happening and savor every moment. And once again, dance with your friends like there's no tomorrow.
Channel your inner artiste without inhibition.
Adult coloring, anyone? Paint, draw, or hey, even fiddle around with those old instruments collecting dust in your closet. By embracing our inner artist, we allow our inner child to come out to play. And what better way to do this than with our favorite playmate! Coloring for adults has become widely regarded as cathartic, even therapeutic, but why do it alone? Let's apply this same principle to our hang-time and watch the time fly by. When we allow ourselves to be creative, there's a strong chance for self-discovery yes, but there's also a distinct possibility you'll learn something new about your friend, too. Who knows, maybe this could spark the beginning of a creative collaboration—like starting your own indie folk duo?
Feast your eyes at the museum or cinema.
Nothing says 'feast for the senses' more than a breathtaking work of art. When was the last time you spent a night at the museum for a special event? Give you and your friend permission to dress up and hit the town for a cultural evening out. The always-popular 'First Friday/Saturday' events can be found at many major cities, and are a great opportunity to meet new and interesting people. Plus you'll get to experience some underground local art that you may not have known about otherwise. Or, check your listings for special film engagements or festivals, and catch a noir classic together, making sure you set aside some time afterward to discuss it.
Hit the farmers market and cook something seasonal.
Shopping at the local farmers market is available year round—even for those of us in the Northeast in the dead of winter. It's always interesting to see what's available and in season, and many will argue that it's the most natural way to eat. Nothing says Saturday better than strolling through fresh seasonal produce with your best buddy and getting inspired about what kind of meals to create with what's available. Grab a hot cider while you shop around, and brainstorm the ways you could combine forces and cook together.
By the time you get yourselves to the kitchen, chances are you'll be so excited (and hungry) to co-create your feast, that you won't even be thinking about drinking. (FYI, permission to break the no screen rule here by looking up a few recipes to galvanize your inner Anthony Bourdain.)
Join a league and break a sweat.
Or start a league of your own! Being active with your friends or even your partner is an amazing, and super fun way to bring you closer together. Check out the local leagues in your area and see where your common interests lie: soccer, baseball, ultimate frisbee, a running club? Those of us who played sports in high school know all to well the power of team spirit—the adrenaline rush and thrill of competition; the honor in showing up and giving your all.
These feelings and sensations are awe-inspiring and great for our health. When we can keep busy by staying active and committed to a team that relies on us to be our best, there's not much room leftover for detrimental distractions.
Grab coffee or tea and keep your hands busy.
Coffee shops aren't just for laptops and headphones and a place to have some alone time to get your freelance work done. Artisanal coffee is getting more interesting, as baristas transform boring white froth into masterful works of art. Matcha lattes with hemp or coconut milk are the latest must-haves among wellness enthusiasts, providing more options to "grab drinks" with a friend. Juice bar culture is undoubtedly oversaturated, but it doesn't have the same sit-and-play-a-board-game appeal as the traditional coffee house—which is exactly the point.
Playing old-school games like Monopoly, Connect Four, or Sorry! over a couple of warming, responsibly-sourced brews (like coffee or tea) could give us something more to talk about than our latest posts on social media. Oftentimes we might turn to alcohol when we socialize, or maybe when the moment the socializing becomes uncomfortable, we reach for our phones. But we're not really connecting with our friends when we have a drink in one hand a phone in the other, are we? Playing games is not just for kids—if anything, adults need to even more so.
Partake in a ritual with an open mind.
Rituals are a wonderful and unorthodox way to enhance our relationships by forcing us to step outside of our comfort zones. Many yoga studios hold space for new and full moon circles and rituals, offering a place for communities to connect. Astrologers and spiritual teachers alike will also host circles in private settings or larger event spaces—some open to women only, while others remain all inclusive.
A new moon ceremony is a time to plant seeds for the corresponding full moon in the same zodiac sign six months later. These rituals could be powerful to participate in with a close friend so you can hold yourselves accountable for your actions. Other rituals can be seasonal and fall at the time of the equinoxes, while some may partake in mysticism or even light witchcraft.
—

Andrea Rice is a Senior Writer for Wanderlust Media. She is also a freelance writer, editor, and yoga teacher. Her work has appeared in The New York Times, Yoga Journal, SONIMA, mindbodygreen, AstroStyle, and other online publications. You can find her regular classes at shambhala yoga & dance center in Brooklyn, and connect with her on Instagram, Twitter, and on her website.