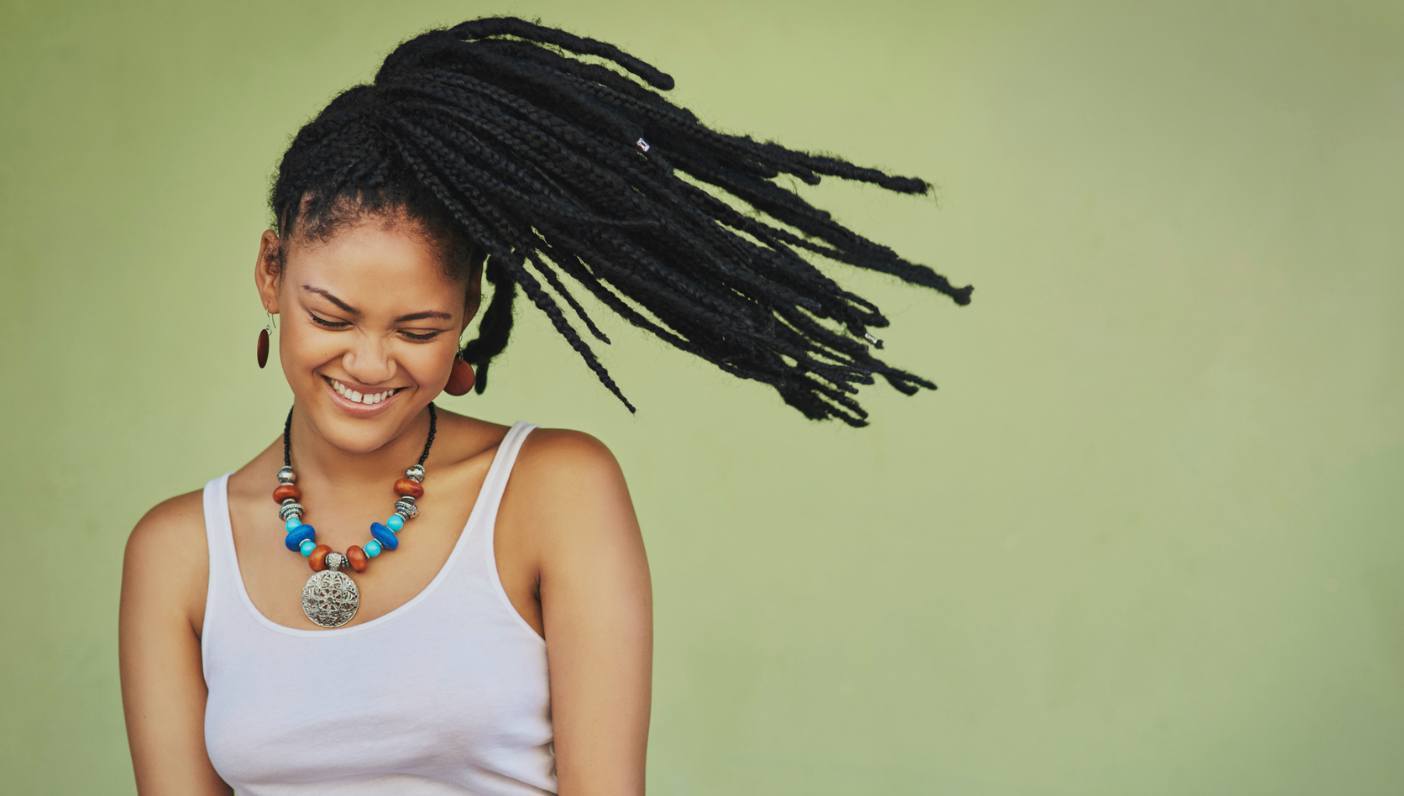 You've got it: the perfect stretch as you extend your leg into a standing split. Soothing mantras reverberate through the room, melding with the slight waft of incense. You begin to flow down to hold your ankles, bringing your head onto the floor for headstand when: OUCH.
You *almost* lose that blissed-out love and peace as you remember the tightly-wounded bun sitting directly on top of your head—you were so zen you totally spaced. Anyone with hair knows that it can be difficult to bring just any old hairstyle to the mat, but don't fear, my lovely-locked yogi: You are not alone. We've got you covered with recommended hairstyles to fit any yogi and any practice.
The Rebel
A simple ponytail is do-able, but a little boring for your taste. You like to add some edge to your yoga practice, whether it's Pink Floyd on the playlist or a black-mesh yoga pant. For your style, we suggest alternative takes on the classics. 
Our favorite alt-style is the fishtail braid. It's edgy, stylish, and stays out of your face. Perfect for rage or metal yoga, especially if you plan on socializing afterward. Another is a looped ponytail: Simply flip your hair through a hole just above your hairband for a spin on that classic.
The Fashionista
Yoga fashion is unique: Styles blend inspiration from various cultures, and are a great way to reflect your personality. If you like to bring your favorite trends onto the mat, consider stylish options like top knots, short bobs, half-shaved, dreads, or anything else that's funky and "out there."
Not only do these styles add some more personality to your practice, but they also work well when trying to keep your hair out of the way. Short bobs make a statement on and off the mat, and can be easily pulled out of the way into a baby ponytail or behind a sweatband.
Classic buns are ideal for flow classes, as you won't always have to worry about getting on your head. Dreads can be pulled back with a tie or bandana, and still look unique. Experiment with different styles, and find the one that meshes with your practice.
The Prana Princess
Yoga isn't all flow and no flower. You can channel your inner warrior and still indulge in your femininity. Try braided and tightly combed styles that won't fly away at the first transition into downward dog, like a crown braid. It may seem difficult at first, but can be easily learned. French braids are another option; go with one for the classic look or two for a more playful princess vibe. These styles are perfect for Kundalini yoga, because like the practice they're traditional, strong, and sturdy.
Stallion Style
Sometimes you just want to run wild and let it all hang down. There are few things less freeing than letting your locks dance across your face, especially when you're in that peaceful yoga mindset.
Au natural is ideal for Yoga Nidra and Restorative, as these allow you to enjoy your mane without letting it get in the way of your practice. Natural hair is also wonderful for mellow beach or outdoor practice, especially if there's a slight breeze. It's hard not to feel present when you've got the wind tickling your scalp, and your tresses billowing through the air.
Hair styles can be a playful part of yoga fashion that allow your creativity to shine through. And while it's on the inside that matters, it can be fun to express yourself through the versatility of your hair. Try different ideas, make up your own, or test them out on your friends. There's a perfect style for your personal practice—just like your favorite teacher or studio, you just need to find it. 
Hair model: Caitlin Turner, aka Gypset Goddess. Courtesy of Aveda. 
In partnership with Aveda
Globally loved for its performance-led, botanically-based professional hair, skin and body care products, and its commitment to environmental leadership and responsibility, Aveda™ the Art and Science of Pure Flower and Plant Essences was founded by award-winning hairdresser, Horst Rechelbacher in 1978. Inspired by Ayurveda, the 5,000 year old traditional Indian system of healing and medicine, Aveda takes a holistic approach to beauty where hair, scalp, body and skin are one and products, rituals and services care for the guest from scalp-to-soul℠.  Aveda is trusted by salon and spa professionals worldwide, and Aveda products are available in more than 9,000 professional hair salons around the world.