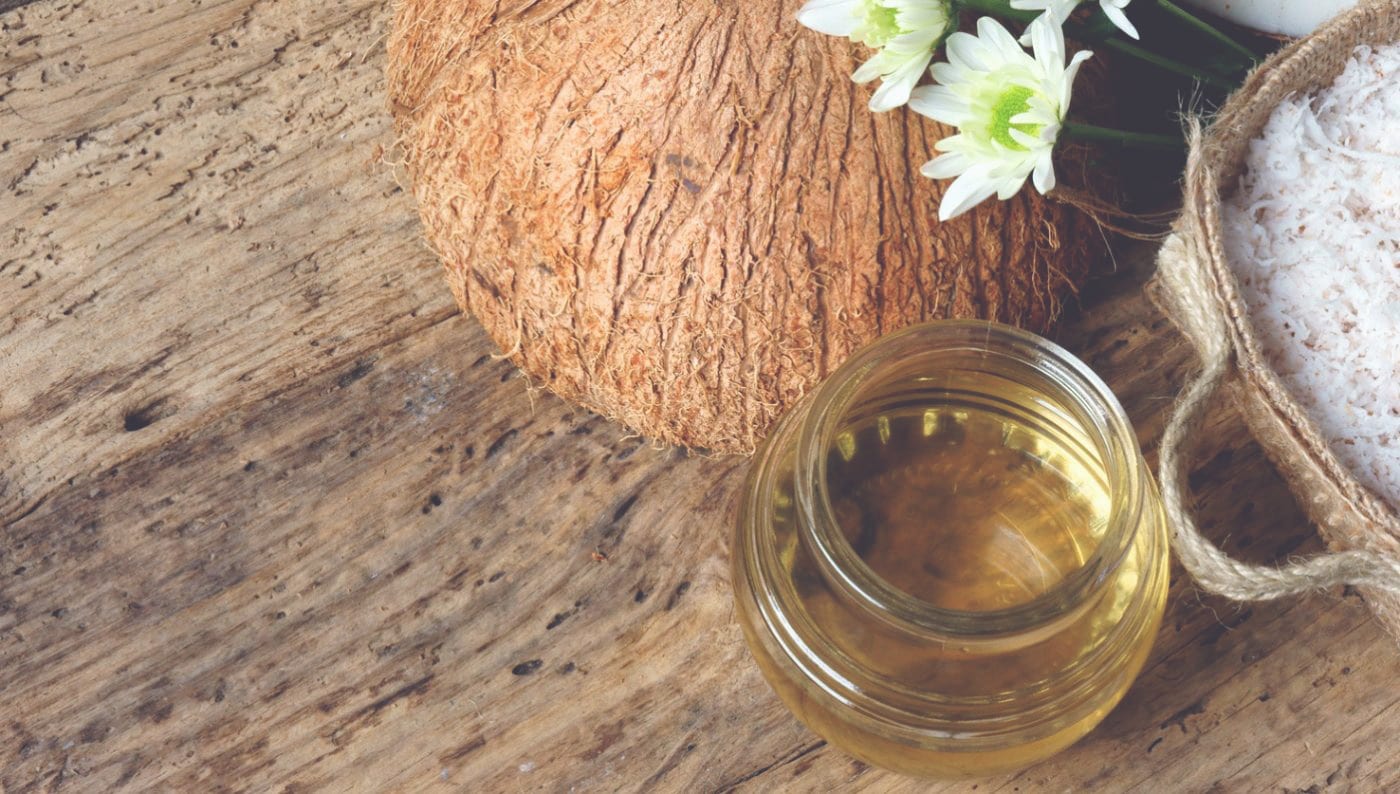 Are you prone to cavities, acne, or dry skin and hair? There's an oil for that.
I take medication every day. I don't really have a choice; I'm living without a thyroid. So, when it comes to taking care of the rest of my body—inside and out—I opt to do so in the most natural ways possible. Supplementing my diet and skin-care regimen with plant-based oils has proven to be both effective and beneficial.
Below, a list of oils to try in the bathroom, kitchen, and bedroom—oh yeah, we're going there.
Avocado Oil
It's no secret that avocados may be the most obsessed-over fruit in all the land. (Yes, it's a fruit.) We know guacamole is extra (and worth it), avocado face masks are divine, and avocado toast is as Instagram-worthy as it is delicious… But, there's another way you can get your daily dose of avocado that you may not have tried just yet. Enter: avocado oil.
Where: In the bathroom, in the kitchen, and on the grill (high smoke point equals high-heat friendly!).
Why: Kick the canola to the side, avocado oil has a higher smoke point, an equally mild flavor, and it packs some added health benefits. For starters, it has those good ol' healthy monounsaturated fats we're always on the lookout for.
Opting for avocado oil will also help in the optical department. Avocado oil contains lutein, which according to Authority Nutrition "may reduce the risk of cataracts and macular degeneration, which are common age-related eye diseases." Lutein isn't something the body produces naturally, so supplement your diet with good sources of lutein (like avocado oil) to help support eye health.
Avo oil is also great for the skin thanks in part to its healthy omega-9 fatty acids. This super-oil is also a healthy source of vitamins A and E, giving it an added bonus in the beauty department and making it a perfect element to incorporate into your beauty regimen for healthy skin and hair. With naturally occurring humectant properties it'll lock in moisture too. Want more information about the amazing benefits of avocado? Check out this piece.
How: Try using avocado oil as a gentle makeup remover or as a new means to condition your hair. It can be used just for the tips of your strands, or as a leave-in treatment. Avocado oil is also a great travel companion. Stay moisturized head-to-toe during your next vacation or festival by putting some in a travel container. It will keep your locks looking shiny, soft, and hydrated.
It's easy to bring avocado oil into the kitchen to incorporate into your diet. Here, the possibilities are endless—especially since you're working with an oil with such a high smoke point. Think marinades for on-the-grill meals, dressings, pesto, or a go-to to sauté your stir-fry. Go crazy and experiment while being healthy and reaping the benefits.
Coconut Oil
Come on, you know I couldn't leave this one out; I am the crazy coconut oil lady after all (here's proof).
Where: In the bathroom, kitchen, and bedroom (yes, you read that right).
Why: If you haven't heard, coconut oil is the gift that keeps on giving. It's all-natural, multipurpose, mega-delicious, and smells amazing. From the kitchen to the bathroom, head to toe, there's a use for coconut oil. Let's take a pit stop at the mouth. Oil pulling is an ancient Ayurvedic practice, and with its antimicrobial effects, pulling with coconut oil will improve your oral health, and give your jaw a workout (try pulling for 15 minutes and you'll see what I mean!).
How: Coconut oil can be used as a smooth shaving cream, uber-moisturizing conditioner, gentle makeup remover, and dry skin soother—not to mention delicious chapstick (read more about my coconut oil beauty adventures here). In lieu of personal lubricants with long lists of ingredients you don't recognize and can't pronounce, try an all-natural option: coconut oil* to the rescue. An added benefit: Refinery29 reports that "it's anti-fungal and could even help prevent STIs—just don't forget to clean it off after use." (*Important note: Coconut oil and latex condoms do not mix.)
Not quite ready to give it a try as a personal lubricant? That's OK, it's also a great massage oil that smells so you'll almost feel like you're getting a massage on a tropical island… Almost. While it may make a bit of a mark on clothing or sheets, I've had no problem removing it within a wash or two.
Would you rather eat your coconut oil? You're in luck: Coconut oil is an easy and healthy add-in to breads, cookies, and baked sweet potato fries. A tasty digestive aid, adding coconut oil into your recipes may help keep your belly happy and healthy. According to research it's actually powerful enough to combat the bad bacteria in your stomach, including those associated with IBS. Eat up to reap its antimicrobial benefits.
Olive Oil
Like the little black dress of oils, this is probably the one you turn to the most, and the most well known. Heart-healthy olive oil is a household staple, and for good reason.
Where: In the bathroom, the kitchen, and your car.
Why: The benefits of olive oil for your body reach from head to toe—and everywhere in between—including your bones. Avocado oil isn't the only oil on the block that boasts healthy fats. Olive oil has them too. It's a great source of monounsaturated fatty acids, which may reduce your risk of heart disease. While these healthy fats are widely beneficial, they're especially great for women, especially when going through menopause. According to research extra virgin olive oil (EVOO) may help bone density and be useful in the treatment of postmenopausal osteoporosis.
How: Aside from reaching for olive oil to reap its bone density-boosting benefits, it can also give your skin a boost. Olive oil contains the compound oleocanthal, which has been praised for its anti-inflammatory properties. So when you've spent too much time out in the sun, opt to soothe your sunburned skin with olive oil rather than reaching for that bottle of ibuprofen.
Still wondering how olive oil comes in handy in the car? Use it to give your dashboard some tender loving care. Ditch the chemicals and use this plant-based oil to give it a natural shine. Start by removing the dust first, then restore it to its brand-new car glory by giving it a polish with olive oil. (Side note: It's recommended that you spot-test first to ensure that no discoloration will occur before applying it to the entire dashboard.)
You're likely no stranger to using olive oil in the kitchen. Mix it with some lemon juice, garlic, salt, and pepper for a simple salad dressing, use it in place of butter, or drizzle it on raw vegetables along with some herbs for a nice roasted vegetable medley. As with most oils, EVOO is high in calories, so use in moderation.
Sesame Oil
Where: In the bathroom and the kitchen.
Why: Sesame oil is mega-nutritious, rich in vitamins, and stocked with the essential fatty acids omega-3, omega-6, and omega-9. Sesamol, a compound found in sesame oil, has been touted for its antioxidant and anti-inflammatory benefits.
How: Sesame oil can help alleviate some uncomfortable situations. Experiencing the discomfort that comes with athlete's foot will likely have you running to a local drug store. Relief, however, could be right in your kitchen cabinet. Due to its anti-inflammatory and anti-fungal properties, sesame oil is a natural way to combat the symptoms associated with athlete's foot. Apply the oil to the affected area once a day to aid in healing and alleviate discomfort.
Because of its antimicrobial properties, sesame oil is the other fan favorite of those who do oil pulling for oral health. If you're not a fan of pulling with coconut oil, then considering giving sesame oil a try.
With its decently high smoke point sesame oil goes great in a stir fry. It can also be used to make flavorful salad dressings (like this one paired with EVOO).
What's your favorite plant-based oil and how do you use it? Share with us in the comments below.
—
Maggie Peikon is a New York native, writer, and sufferer of insatiable wanderlust. An avid endorphin seeker she has a constant need to be moving, seeking adventure in all she does. She is a lover of travel, daydreaming, fitness, thunderstorms, and her dog, Finley. Despite the fact that she has to take medication daily due to a thyroidectomy, Maggie still believes that laughter will always be the best medicine. Follow her musings on Instagram and Twitter.
Save
Save
Save
Save
Save
Save
Save
Save
Save
Save
Save
Save
Save
Save
Save
Save
Save
Save