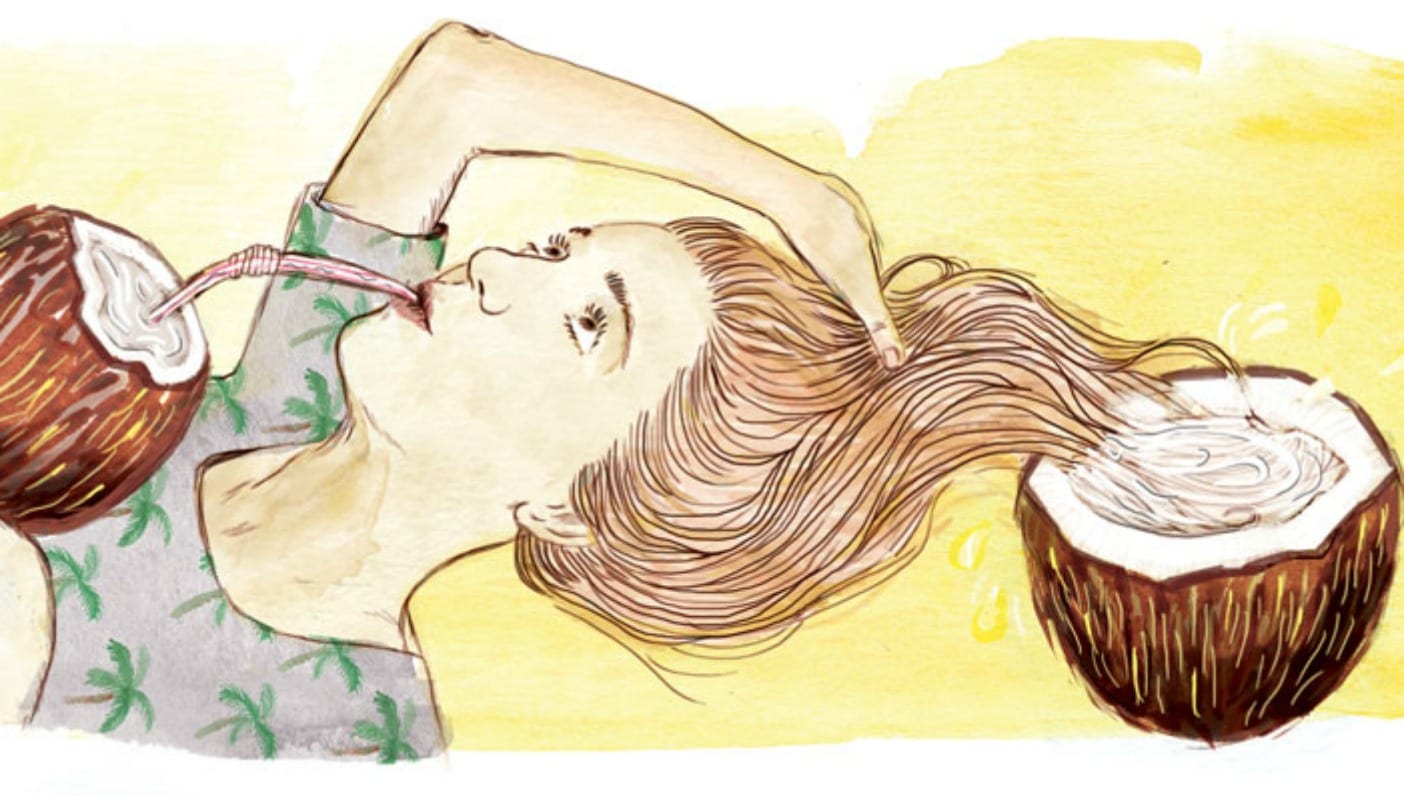 Image by Maite Oz
Coconut oil is a fan favorite, and as of late, a very popular choice among the more "famed" oils (move over E.V.O.O). Well known for its myriad of uses, I decided to go on a quest to find out how many products in my beauty regimen I could replace with just one little jar of coconut oil. Already in the cabinet for cooking purposes, I was ready to put the jar to use, from the kitchen to the bathroom.
Coconut Oil vs. Shaving Cream
I am a tried and true Skintimate girl, but that stuff gets used up quick—and it isn't cheap. Plus when I run out I turn to my hair conditioner… So, this time, to my little jar I turn.
It worked spectacularly. And my skin felt so smooth (ladies, you're good to go with coconut oil on the bikini line, too). It was just as gentle on my skin as using shaving cream—and made less of a mess (I don't know if it's just me, but I manage to get shaving cream on just about every bathroom tile in the shower). A dollop of the oil warms up and liquefies pretty much upon contact, and gets the job done just as well, if not better, than actual shaving cream.
My only complaint about using coconut oil in this instance was that it clogged up my razor a bit, but a few runs under the water and it was smooth sailing.
Coconut Oil vs. Hair Conditioner
I don't use conditioner on my whole head because my hair likes to get greasy real quick—and it seems conditioner speeds up that process—so I stick to just the ends. Applying coconut oil to the tips of my hair (seemingly the most damaged part) proved to be beneficial. The ends were smooth and appeared less frayed and dried out. My hair wasn't left greasy or clumped together like I would have imagined when using the coconut oil as a substitute.
Also, coconut oil met my painfully annoying flyaways (read: little untamable hairs that stick out, framing my face) and put them in their place. Coconut oil: 1, Frizzies: 0.
Coconut Oil vs. Mouthwash
Oil pulling has definitely been gaining some traction, and is increasing in popularity as a means for oral hygiene. I've tried this in the past—with difficulty. I'll be honest, the initial consistency of solid coconut oil going into my mouth was pretty gag-worthy, but getting past this turned out to be a good exercise for my jaw (TMJ), and a bacteria and bad breath-fighting supernova.
Coconut Oil vs. Dandruff Shampoo
I saw a segment on PIX 11 News that said certain shampoos actually contain carcinogens. I checked out my products and found a guilty culprit: The shampoo I use daily to try to combat my scalp psoriasis. Mind blown. Since hearing that news I have made a more conscious effort to find natural, organic shampoos to relieve the itch and the flakes.
But, as it turns out, my handy-dandy little jar of coconut oil proved to be more helpful than any of the brands I'd been using. After I wash and dry my hair I put a dab of coconut oil on my fingertips and rub it into my scalp along the nape of my neck and behind my ears (where my psoriasis breakouts are the worst). I found that the itch and stinging sensation substantially subsided, and that the raw, red patches had calmed down and were less apparent—especially when I had my hair up, which is when they're most visible.
I don't mean to say or proclaim that coconut oil is a cure-all. I've just had a good experience with it. But I definitely recommend consulting with your dermatologist before tossing Rx treatments aside.
Coconut Oil vs. Eczema Cream
New York's winter weather is absolutely killer on my skin. It dries, it cracks, and my eczema comes back with a vengeance. Flare-ups cause itchy, dry, red, and raw patches, and over-the-counter creams just don't seem to kick it for me. Also, some of the prescription stuff is outrageously pricey or stings terribly.
I have found coconut oil to be the elixir I've been longing for. I remember the first day I tried it: I was astounded that the red patch I'd gone to sleep with had been soothed tremendously by the coconut oil, changing its appearance dramatically.
But there was a slight downside: Because the worst patches were on my arms, my shirts were starting to pick up and rub the oil off my skin, consequently getting stained. Fortunately, covering the oiled parts of my body helped in that regard, so I sleep with bandages on.
Coconut Oil vs. Makeup Remover
This might actually be, hands down, my favorite discovery of all time. Coconut oil has proved to be the best—and without a doubt—gentlest makeup remover I've ever used.
Before I switched to coconut oil I'd come home from work, wash my face, and then go over it again and again with makeup removing pads and toner until finally they'd come up clean, and I'd feel satisfied that there was no longer any makeup residue on my skin. My face would get so dry from the harsh treatments I was putting it through, so I went out in search of a natural remedy. Thanks to Google and Allure I found out that coconut oil was a great natural, gentle makeup remover.
To use, take a scoop of coconut oil and smooth it in your hands to soften it, and then rub onto your face. With a cotton round (they're my favorite, but any similar product will do) gently wipe the oil and makeup off your face. Coconut oil works like magic to remove mascara and eye makeup, too, so you can avoid that frightening, morning-after raccoon look.
Coconut Oil vs. Chapstick
Coconut oil is all-natural, moisturizing, and it tastes delicious. This one was a no-brainer. You can even make DIY versions of coconut oil lip balms if you feel so inclined.
Don't want to carry around a big glass jar of coconut oil in your purse? I don't blame you. Head over to your local craft store and buy a little mason jar to scoop some into, or check out one of my faves: Conscious Coconut. Their virgin coconut oil comes in a tube, and, according to their site: "For every purchase you make a child is given a meal through a partnership with Feeding America."
Have you tossed any products aside in favor of coconut oil? What has your experience been like? Share in the comments below.
—
Maggie is a New York native, writer, and sufferer of insatiable wanderlust. An avid endorphin seeker she has a constant need to be moving, seeking adventure in all she does. She is a lover of travel, daydreaming, fitness, thunderstorms, and her dog, Finley. Despite the fact that she has to take medication daily due to a thyroidectomy, Maggie still believes that laughter will always be the best medicine. Follow her musings on Instagram and Twitter.