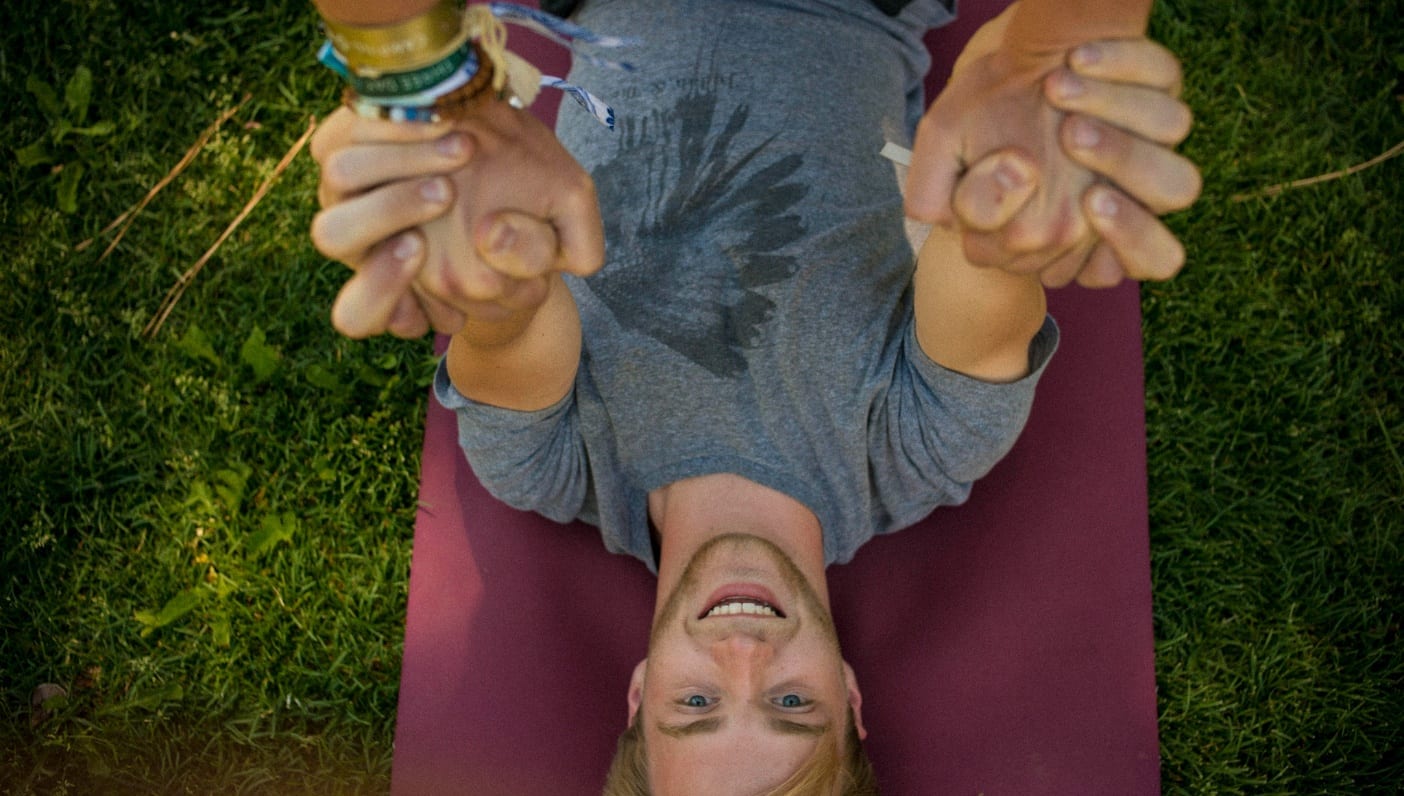 ---
Yoga is a universal practice.
It's multipurpose, multifaceted, and should never be pigeonholed or considered to fit only one group of people or practitioners. Each individual who practices yoga is taking away something different and unique from their personal experience.
Yoga is invigorating, calming, empowering, restorative, challenging… The list of benefits—emotional, spiritual, physical—goes on and on. It's no wonder that yoga festivals can unite the masses, bringing together thousands of people from all walks of life for the same central purpose: their practice. With no prejudice to skill level, age, income, or profession, all are welcome to join in on the excitement and activities that yoga festivals have to offer.
Yoga is for all ages.
Yoga has no age requirement. Spanning all generations, most yoga festivals know no bounds when it comes to the age of the audience they welcome. And there is no person too young, or too old, to benefit from the environment and practices that a yoga festival offers. In fact, while some may think their child is too young to reap the benefits of yoga, recent research shows that yoga can have positive effects on children.
As such, organizations such as Yoga Ed and Little Flower Yoga have been working to incorporate yoga into classrooms—and teachers are reporting positive results. It's no secret that kids are curious and hands-on; providing them with the teachings of yoga and the opportunity to practice gives them a new outlet for their energy, while also providing an exercise to help them focus. The hope is that students will take away what they learn from their practice and incorporate it into their daily lives.
As Nicole Cardoza, founder of Yoga Foster (a nonprofit striving to incorporate accessible, sustainable yoga programs in schools), told Wanderlust: "I love when our teachers tell us that their students are taking a moment for breathing exercises when they get upset, or all do a quick yoga break when the class needs a pick-me-up." Whether children experience yoga in school, at a festival (or both!), it's an impactful practice at any age.
On the opposite end of the spectrum, there may be a misconception that one could be too old to practice yoga or attend a yoga festival. That's just not true—there are many senior yogis out there. Of course, one must take into consideration body limitations—but that goes for all age groups—and that's what modifications are for! Just as research shows that children can benefit from yoga, so too can those in older age ranges.
Truth be told, yoga can actually help keep us feeling young, despite our inherent aging. Yoga can also help people work through more mature ailments, like a broken heart, and even boost brain power in older adults. The benefits of yoga and the mindset that the practice—and yoga festivals—offer will not be lost on anyone who is open and receptive to it—regardless of age.
Yoga is for all budgets.
Yoga, unfortunately, tends to get a bad reputation when it comes to the cost of practice. The truth that yoga is not just for the well-to-do people of the world. In fact, its origins were actually quite simple. At the community-level you can often find classes offered on a "donation" basis, which allows class-goers to give what they can, when they can, even if only a dollar. Also, one doesn't need expensive attire or gear to attend a yoga class or festival—you really just need your body and some stretchy pants.
Unfortunately, yoga festivals are often subjected to the same bad rap. While they are not donation-based, there are still ways to attend and participate even if you're trying to be conscious of your spending. If you're looking for more money-mindful options, consider scoping out volunteer opportunities—some even come with the promise of some awesome perks. And festivals like Wanderlust offer more budget-friendly options too, like one-day passes for those who want to dip their toes into the experience.
Yoga is for all professions.
Yoga practitioners can also be pigeonholed. A common stereotype surrounding yoga and yoga festivals is that they are just for hippies, tree-huggers, and hipsters—well, this couldn't be further from the truth. Business executives, writers, politicians, and nurses (just to name a few) can all benefit from yoga and yoga festivals.
And now more than ever, companies and corporations are looking to offer yoga and mindfulness classes as a means to promote and aid the wellbeing of employees. According to Harvard Business Review: "Several well-known and respected organizations have long recognized the benefits that mindfulness brings." Companies like Google, General Mills, and Target have started to offer employees classes for wellness. Regardless of your professional path in life, yoga can help, and yoga festivals are excellent opportunities to pick up or fine-tune your practice.
Whether you're young or old (or young at heart!), wealthy or not, a lawyer or an artist—you can find a welcoming, inspiring community at a yoga festival. All you need is an open mind.
—
Maggie Peikon is a New York native, writer, and sufferer of insatiable wanderlust. An avid endorphin seeker she has a constant need to be moving, seeking adventure in all she does. She is a lover of travel, daydreaming, fitness, thunderstorms, and her dog, Finley. Despite the fact that she has to take medication daily due to a thyroidectomy, Maggie still believes that laughter will always be the best medicine. Follow her musings on Instagram and Twitter.