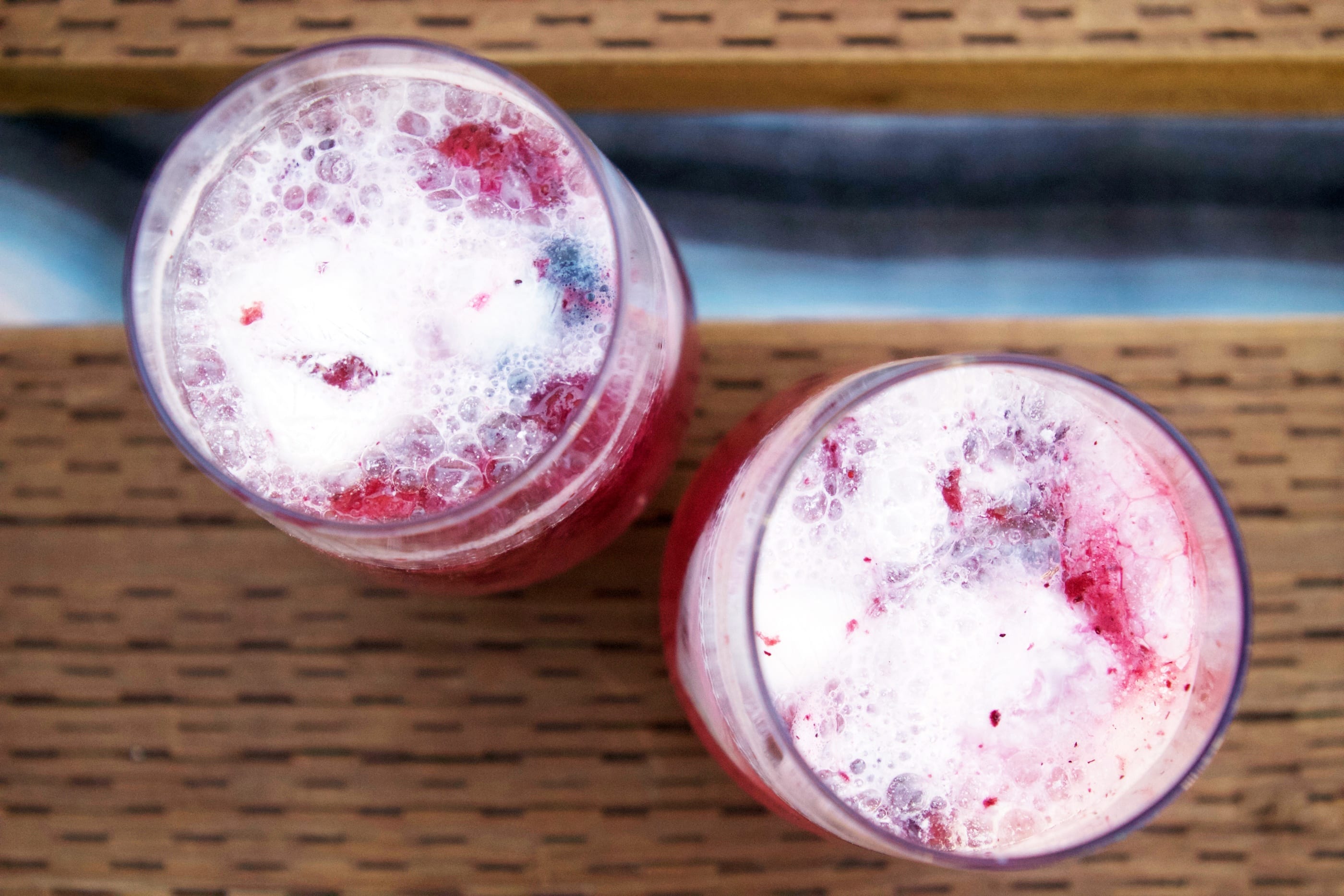 Off the sauce but still crave the occasional cocktail? We got you covered with these three tasty summer drinks, featuring all-natural ingredients and totally booze-free. These mocktails are perfect for your summer holiday, whether that includes a backyard barbecue, afternoon on the shore, or dancing to classic rock in your kitchen. Sip on!
---
Red, White and Booze-Free
If you're a fan of sweet frozen drinks (think Piña Coladas and Miami Vices), you'll love this patriotic potation. The combination of pineapple and berries lend a tart yet tropical flavor, and the addition of coconut milk ties everything together to yield a thick and creamy treat.
Side note: It's great for kiddos, too—though we totally understand if you don't wanna share.
1 can light canned coconut milk
1 and 1/2 cups pineapple chunks
1/4 cup blueberries (fresh or frozen)
1/4 cup sliced strawberries, plus more to garnish
1/4 cup water
Plain sparkling water
Add the coconut milk and pineapple to a blender. Blend until smooth. Drop a few of the blueberries and strawberries into an ice cube tray and pour the coconut milk mixture over the top. Freeze for twenty minutes.
Remove the cubes from the freezer and add a few more berries to the top of the coconut milk. Place back into the freezer and freeze until solid—about two to three hours.
Add a few of the sliced strawberries and a handful of blueberries into a saucepan. Add the water and simmer over low heat until the berries have softened into a syrup-like consistency.
Spoon in the berry syrup into the bottom of a glass. Fill the same glass  3/4 of the way with sparkling water and add the ice cubes. Add fresh berries to the glass to garnish.
Perfect Paloma 
Move beyond margaritas with the Paloma, one of Mexico's favorite drinks. Instead of tequila, this recipe combines lime juice and sparkling water to best pair with the grapefruit and replicate that sharp, tart flavor. It's not traditional, but we love adding a sprig of fresh time for aesthetic and to add a light, herbal scent. Effervescent, refreshing, and perfectly sour, this drink absolutely sings summertime.
1/2 cup grapefruit juice
2 tbsp lime juice
8oz sparkling water
Fresh thyme for garnish
Ice
Fill a tall glass about halfway with ice. Add the grapefruit juice, lime juice, and sparkling water and stir with a long spoon or drink-stirrer. Add a sprig of time into the glass.
Mojito Mocktail
Mojitas are the traditional Cuban cocktail. Combining fresh mint and lime juice, this drink is as pretty as it is refreshing—it's easy to down two or three without even realizing what you've done. We sub out rum for lime-flavored sparkling water and coconut water, adding a tropical kick to this famed drink. Plus the coconut water provides a solid dose of potassium and electrolytes—which can be super helpful if you've been crushing it in beach volleyball all afternoon.
1 tbsp lime juice
8 oz lime flavored sparkling water
3 tbsp coconut water
Fresh mint
Ice
Muddle the mint and place in the bottom of a tall glass. Fill the glass with ice, about halfway to the top. Add the sparkling water, coconut water, and lime juice and stir to combine. Add a few more leaves of the fresh mint and stir again.
—
Amanda Kohr is the editor at Wanderlust. You can find her exploring new highways, drinking diner coffee, and on Instagram.