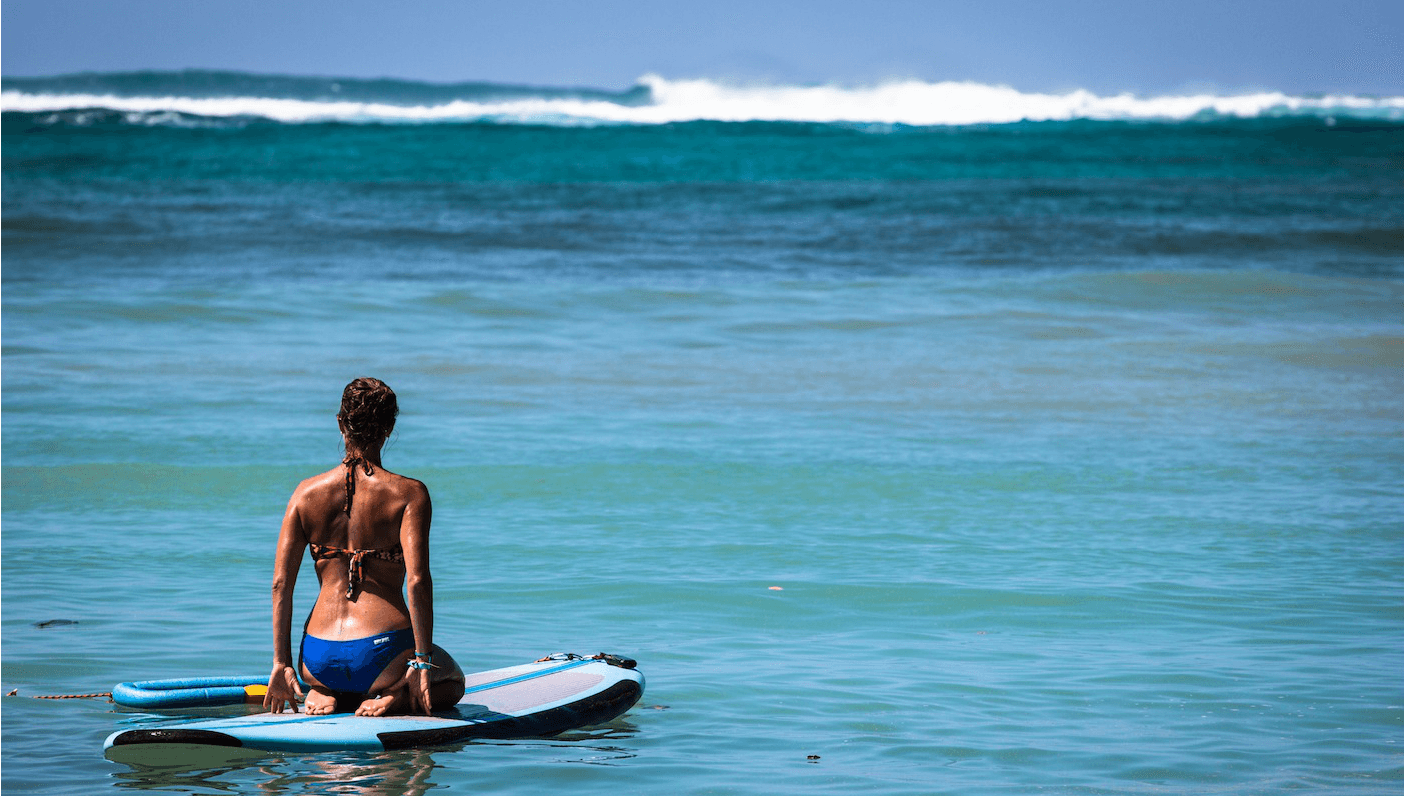 Photo by Jake Laub
Spring is making its way in, and those of us tired of the cold are nearly giddy with the warming weather and sunshine. How we've missed our surfboards, outdoor yoga, and soaking up nature. But it's not quite time to go jumping into the ocean just yet—fortunately there's a way to hop on a paddle board without the need of a wetsuit.
First, a primer: Stand up paddle boarding, or SUP, is a practice that's perfect for water and nature lovers ready for an exercise routine as peaceful as it is invigorating. While it may not look that difficult (or at least seem easier than surfing), it's actually an excellent workout that challenges your core, balance, and focus—while also getting you out on the water to enjoy an unparalleled view.
SUP yoga is the wondrous love child of stand up paddle boarding and yoga. It gets you off your mat, on a board, and into a new space—both mentally and physically—taking the challenges of yoga to another level. No longer land-bound, this form of yoga invigorates the senses and your body all at once as you learn to find your center and move with the motions of the water beneath you. This practice, which flows with the tide, demands balance and concentration, and can serve as a form of outdoor meditation. Just imagine Savasana, on a paddle board, in the middle of the water: bliss.
While the thought may make us want to grab our paddle boards and go, a large percentage of us can't run into the water with our boards for a good portion of the year, thanks to winter's frigid air and cold water temps. For others, the beach or bay may be just too far away. But don't be discouraged: To help SUP yoga span the map and the seasons, innovators have found ways to practice SUP yoga sans ocean. It could be happening at a studio near you.
How does it work? These simulated SUP yoga classes are practiced in a studio (without a drop of water in sight) on base-mounted surfboards or products like the Indo Yoga Board or SURFSET. While you may not get the full SUP experience, what with being indoors and all, you'll still be able to reap the benefits. According to IndoBoard.com practicing yoga poses on your board, outside of the water, is still excellent exercise: "These poses are great for increasing flexibility, improving full-body strength (especially the core), and helping you to find your OM no matter what surface you're on."
The studios that offer SUP yoga indoors allow you to find your focus prior to hitting the water. So, before you strike your warrior pose on the waves, you can first get acquainted with a board and find stability and balance in the studio. Perfect your paddle board yoga practice at FloorTime Studios in Newport, Rhode Island where instructor Annette Burke uses Surfset boards to teach a core-strengthening Hatha Yoga class inspired by Viniyoga. Or give Downward Dog's "Yoga On a Surfboard" class in Coralville, Iowa a try. Downward Dog offers a 45-minute SUP yoga class, and according to The Gazette the studio has no mirrors, so you can find solace in the fact that if you look a little silly it won't be reflected back at you.
If you're unable to find an indoor SUP yoga class nearby, opt for a standard SUP indoor workout like that at SUPtheworkout in Coconut Grove, Florida. Here your instructor will get you in the studio first to learn the basics and get you acclimated on a board before setting you out to shore. Aside from getting you ready to hit the waters, according to their site the workout has serious fitness benefits too, burning "an average of 600 calories per hour."
Can't get on board without some H20 beneath your feet? There are still ways to get in the water, even in the winter, with places like Float Your Mat. Located in Cincinnati, Float Your Mat offers SUP yoga, as well as strength and stability classes on boards, in an indoor pool. Offering the same sensation as being out on the open water, but with climate control!
Whether you experience warm weather year-round, or get hit with winter hard, these indoor classes leave you with no excuse to not give indoor SUP or SUP yoga a try. These practices are fun and challenging alternatives to an outdoor workout.
Interested in giving indoor SUP yoga a try? Head over to SUP Magazine to find a list of classes offered throughout the U.S., Canada, and New Zealand. You can also visit the websites of Indo Board and SURFSET to find studios.
Still missing the water? SUP yoga classes are offered at some Wanderlust Festivals. Watch stand up paddle board yoga shot on location at Wanderlust Snowshoe:
—
Maggie Peikon is a New York native, writer, and sufferer of insatiable wanderlust. An avid endorphin seeker she has a constant need to be moving, seeking adventure in all she does. She is a lover of travel, daydreaming, fitness, thunderstorms, and her dog, Finley. Despite the fact that she has to take medication daily due to a thyroidectomy, Maggie still believes that laughter will always be the best medicine. Follow her musings on Instagram and Twitter.