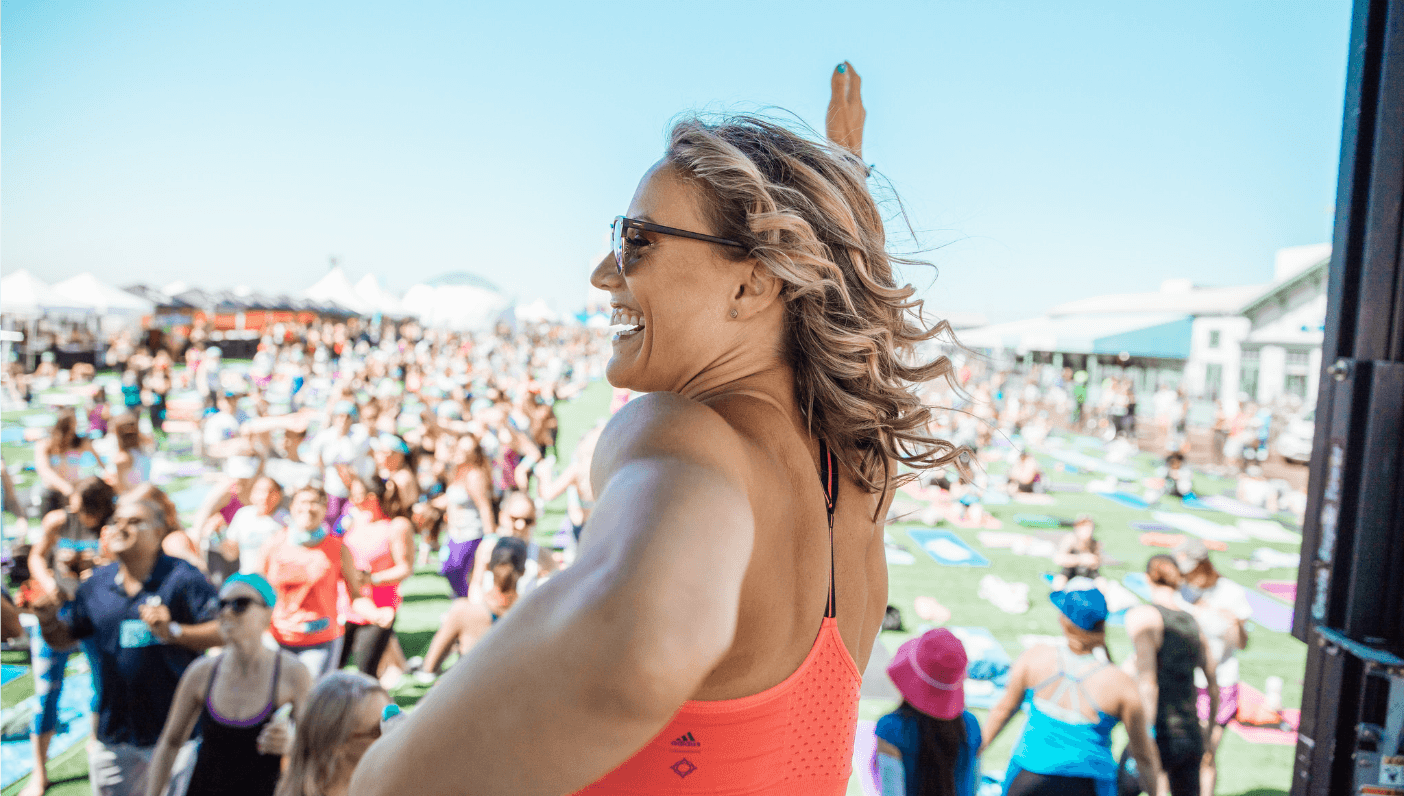 ---
Whether you love it or hate it, workout clothes are having a moment.
Well, it's more than a moment—it's more like a movement. Women are trading in stilettos for sneakers and skinny jeans for yoga pants at record-breaking rates. On top of that, gals (and yes, guys too) are proving they aren't afraid to shell out some cash to get there. In the last two years, sports bras have grown to 20 percent of the entire bra market share and yoga pants sales have soared 341 percent in the last year alone. 
It makes sense: It's almost as if activity is having a moment too. The number of yoga practitioners has risen to more than 36 million in the U.S. alone, and pilates, cycling, and barre studios are becoming ubiquitous in both small towns and big cities alike. Exercise is no longer reserved for gyms or tracks—and people are dressing accordingly.
How do you squeeze in a serious workout between work and dinner out without having to carry around your life on your back? Wear workout clothes and accessorize. That's why we love the adidas x Wanderlust line: We look and feel great while sweating it out on our path to true north. Read on for three more reasons why we can't get enough of high performance workout clothes.
For movement inspiration, check out the Yoga To Create series on Wanderlust TV! 
1. Workout clothes are often the most sustainable wardrobe staples.
From a purely pragmatic standpoint, wearing your workout is better for your wallet and the world. Landfills are piled up with one-and-done cheap clothing. Consignment stores are so inundated with used garments, they can't accommodate the haul, and many items end up in the garbage. Workout clothes are often more durable, many using technical fabrics that are intended to withstand wear-and-tear and working out, giving them a little more life than your average garment.
You can also repurpose for a myriad of occasions, giving you comfortable, easy, long-lasting staples. Professional packer and travel site founder Gillian Morris uses this versatility to travel lighter, ensuring she never has to pay luggage fees or gate-check a bag. Talk about ready to wander! 
2. Science says it may make you want to be more active.
"Enclothed cognition" is a term coined as the result of a 2012 study where scientists learned that certain clothing can make you feel and act differently. Northwestern researchers Hajo Adam and Adam Galinsky note, "It's all about the symbolic meaning that you associate with a particular item of clothing… It would make sense that when you wear athletic clothing, you become more active and more likely to go to the gym and work out."
Marie Kondo, author of The Life Changing Magic of Tidying Up, believes your possessions, especially clothing, can have a strong, but often unrealized emotional affect. So if the next time you throw on your yoga pants to run errands and wind up hitting the treadmill, you may have your outfit to thank for the inspiration—even if subconsciously.
3. It's more than a trend—it's a lifestyle.
At the end of the day, athleisure shouldn't really be talked about as a trend, because feeling comfortable and confident isn't trendy—it's a way of life. Peplum tops and choker necklaces may not weather the ages of what people think is cool, but feeling good never goes out of style. Gone are the days of yore with bone crushing corsets and blister-busting high heels. Wear what makes you feel fabulous, confident, and ready to tackle the world. After all, this is your one precious life and body, and you deserve to feel happy, beautiful and free—and ready to create your best possible self. Practice on!
—
Laci Mosier is a copywriter living and loving in Austin, Texas. She and her one-eyed pirate dog live for exploring and discovering life's magic. She is most inspired by yoga, running, Kundalini meditation, good books, great jams and even better coffee. Getting lost is where she is most often found. Follow her on the Twittersphere or Instagram.