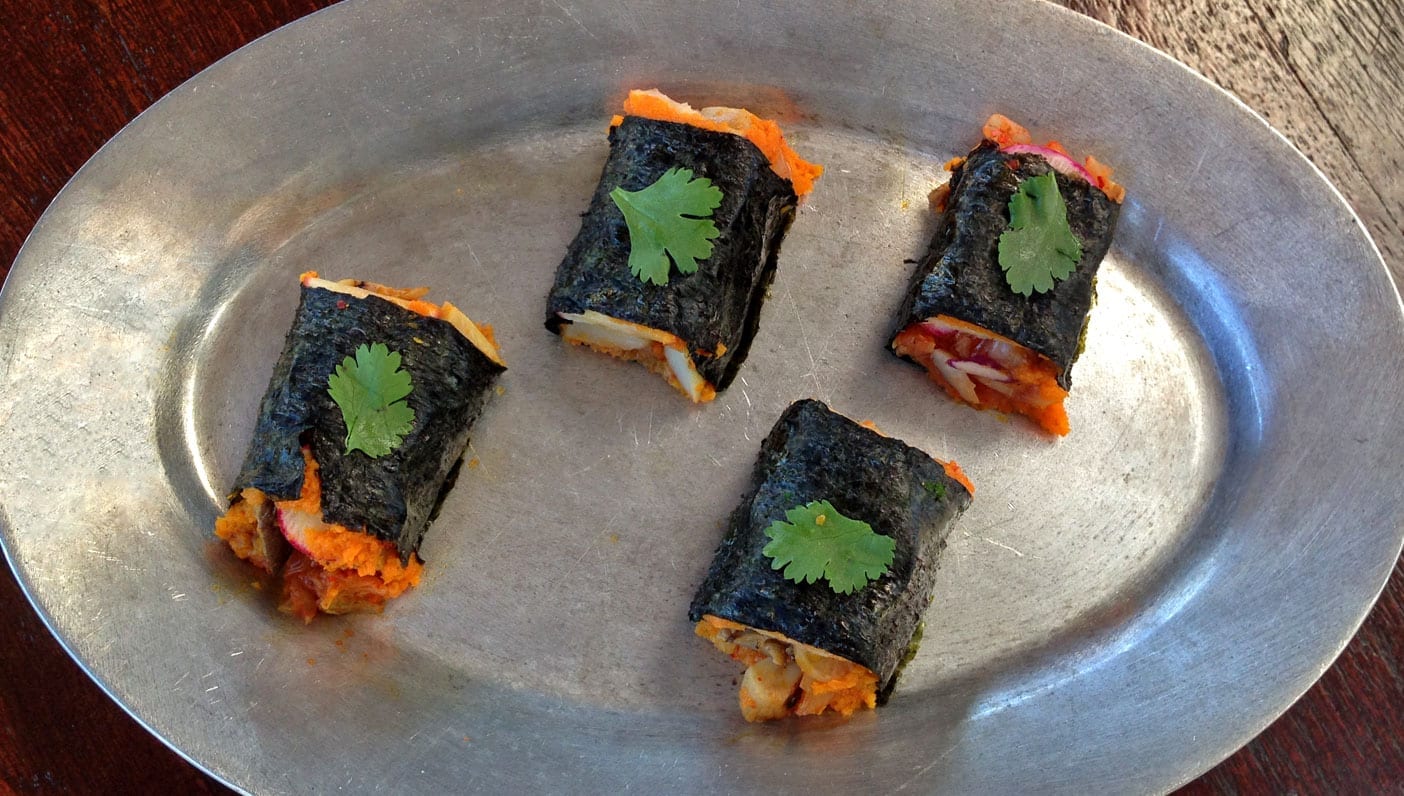 This recipe is part of a new series, From the Wanderlust Kitchen, celebrating real, good food. Receive a digital cookbook of this season's recipes by signing up here.
•••
Get ready for lunch, umami style.
"There is a terrific meaty quality to king oyster mushrooms that is very satisfying and makes for a perfect base for a sandwich or a wrap," says Seamus Mullen, executive chef of Wanderlust Hollywood." As someone who doesn't eat gluten, I'm always looking for great bread alternatives. Sometimes the answer is right in front of you—nori makes a terrific wrap for a gluten-free lunch."
Grilled King Oyster Mushroom Wrap
Are you trying this recipe at home? Let us know with #WanderlustKitchen.
INGREDIENTS
1 large piece of nori
2 king oyster mushrooms
1/2 cup carrot hummus
1/4 cup fermented cabbage
2 tbsp radish sprouts
1 radish, sliced into coins on the mandoline
1 oz carrot-ginger vinaigrette (recipe below)
2 sprigs cilantro
For the carrot-ginger vinaigrette: 
1 carrot, peeled and blanched
1 tbsp peeled ginger
1 tbsp blonde miso
1 clove garlic
2 tbsp honey
1/3 cup rice vinegar
2 tbsp sesame oil
Salt and pepper to taste
DIRECTIONS
To make the carrot-ginger vinaigrette, combine all ingredients in a blender and process until smooth. Set aside.
Take the king oyster mushrooms, cut them in half, season with salt, pepper, and extra virgin olive oil, and grill until tender. Slice into bite-sized pieces.
Combine the mushrooms, cabbage, radish sprouts, and radish slices in a medium sized bowl, season with salt, pepper, and carrot-ginger vinaigrette. Spread hummus on nori, add seasoned vegetables and cilantro and roll into a wrap.
Makes 1 serving
Photo by Courtney Smith
•••
Hungry for more from the Wanderlust Kitchen?
Sign up for seasonal recipes, digital cookbooks, and inspiring interviews.