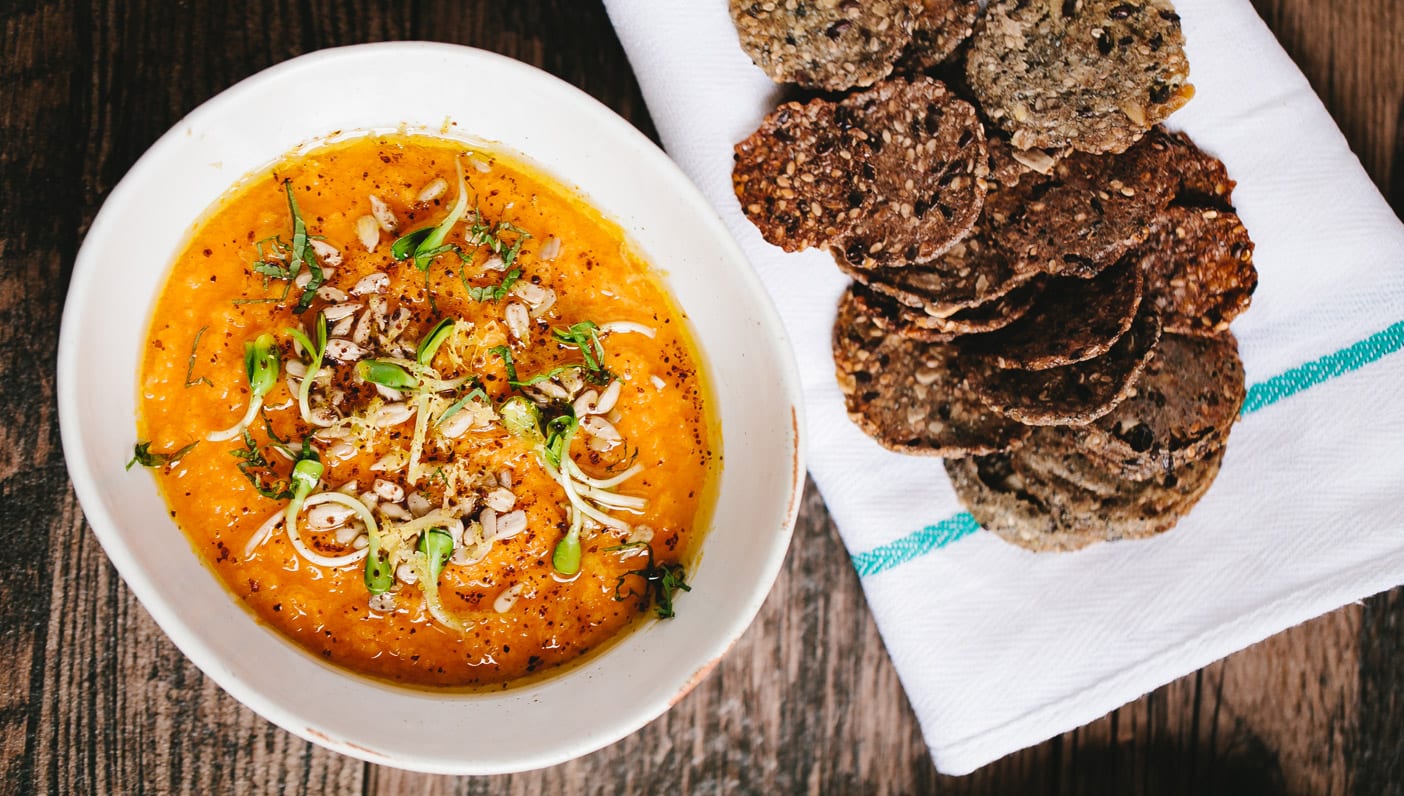 This recipe is part of a new series, From the Wanderlust Kitchen, celebrating real, good food. Receive a digital cookbook of this season's recipes by signing up here.
•••
We all love hummus, but sometimes the original tahini-chickpea-garlic variety start to feel a little, well, monotonous.
"I like riffing on things that are familiar, but presenting them in a new and unique way," says Seamus Mullen, executive chef of Wanderlust Hollywood. "Taking the idea of hummus and making with with carrots and turmeric rather than lagumes creates a delicious and vibrant starter that is incredibly healthy and super tasty."
Carrot Hummus with Turmeric
Are you trying this recipe at home? Let us know with #WanderlustKitchen.
INGREDIENTS
2 cups carrots, peeled and blanched, cut into 1" pieces
1 clove garlic
1 tsp microplaned fresh turmeric
Juice of 2 lemons
1/4 cup water (or enough to process the carrots smooth)
1/2 cup extra virgin olive oil
Salt and Pepper
Juice and Zest of 1 lemon
2 tbsp toasted sunflower seeds
2 tbsp chiffonade mint
Extra virgin olive oil to garnish
Sumac to garnish
Lemon zest to garnish
DIRECTIONS
In a food processor, blitz carrots, garlic,and turmeric with water and lemon zest. Add in olive oil.
Season with salt and pepper, serve in a small bowl, garnished with sunflower seeds, lemon zest, sumac, chiffonade mint, and a side of crackers. 
Makes 16 oz 
Photo by Melissa Ryan
•••
Hungry for more from the Wanderlust Kitchen?
Sign up for seasonal recipes, digital cookbooks, and inspiring interviews.