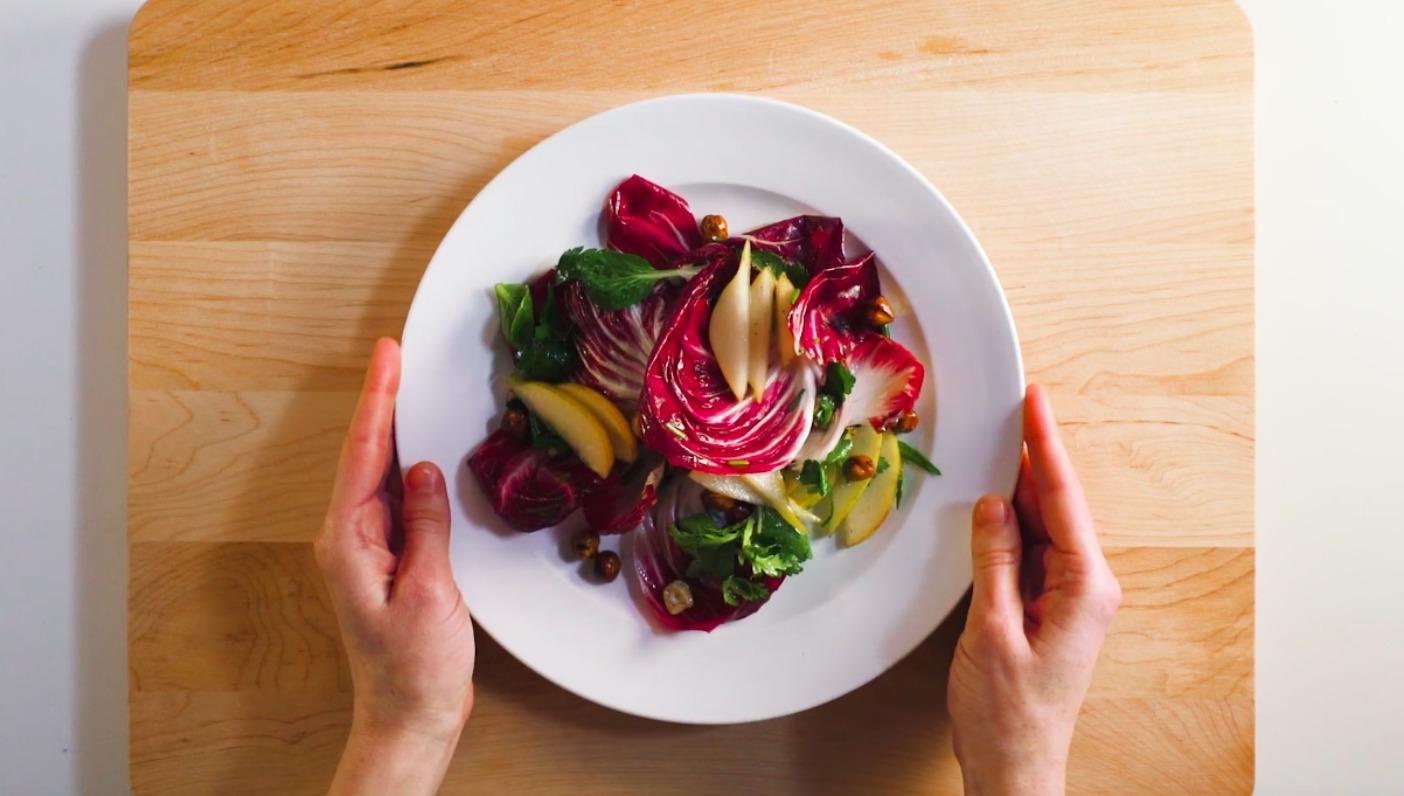 This recipe is brought to you by Seamus Mullen, one of the chefs featured at the Wanderlust Hollywood Find Your True Fork dinner series. Click here for tickets and more information regarding dinner with Jason or one of the five other influential Find Your True Fork chefs. 
---
Seamus Mullen is more than just your average restaurant chef. His passion for healing food literally changed his life, leading him to view eating and nutrition in a brand new light. Not one to sacrifice flavor for health (and vice-versa), Seamus has created a series of paleo dishes that are guaranteed to nourish both the body and the taste buds.
After all, paleo cuisine is more than just a trend—it's a nutritious way to elegantly serve up some of your favorite plant-based foods. In this recipe, Seamus creates a sophisticated yet simple appetizer using some of nature's most delectable bounty. The sweetness of the pears and maple syrup work wonderfully with the slightly bitter greens, and the hazelnut vinaigrette adds a rich, nutty flavor that ties everything together into one perfect paleo salad.

 Paleo Salad With Hazelnuts
Serves 4 to 6
INGREDIENTS
1/2 cup hazelnut oil
1/3 cup apple cider vinegar
3 tbsp maple syrup
1 small garlic clove, minced
Fine sea salt
Freshly ground black pepper
6 cups mixed bitter lettuces (such as castelfranco, radicchio, trevisano, and baby mustard)
1 cup toasted hazelnuts
1/2 cup mixed fresh herbs (such as tarragon, basil, chives, and flat-leaf parsley), chopped
2 pears, very thinly sliced
Flaky sea salt
INSTRUCTIONS
Make the vinaigrette: In a bowl, whisk together the hazelnut oil, vinegar, maple syrup, and garlic until emulsified. Season with fine sea salt and pepper to taste. (Vinaigrette can be made up to 1 week ahead and stored, covered, in the refrigerator.)
In a large bowl, combine the lettuces, hazelnuts, herbs, and persimmons. Season with flaky salt and pepper. Pour in about half of the dressing and toss to coat. Taste and add more dressing if you like. Serve immediately.
You can find similar recipes and more in the Find Your True Fork cookbook, available now for pre-sale.
See Seamus this summer, on the Find Your True Fork stage at one of our summer Wanderlust Festivals. 
—
Seamus Mullen is an award-winning New York chef, restaurateur, cookbook author and health and wellness expert. Seamus grew up on an organic farm in Vermont and learned from a young age the value of eating real, whole foods. After cooking throughout Spain, New York and San Francisco, Seamus first rose to national prominence in 2006 with Boqueria, one of the first critically acclaimed and highly successful Spanish restaurants in New York, and where he became known for his inventive yet approachable modern Spanish cuisine.