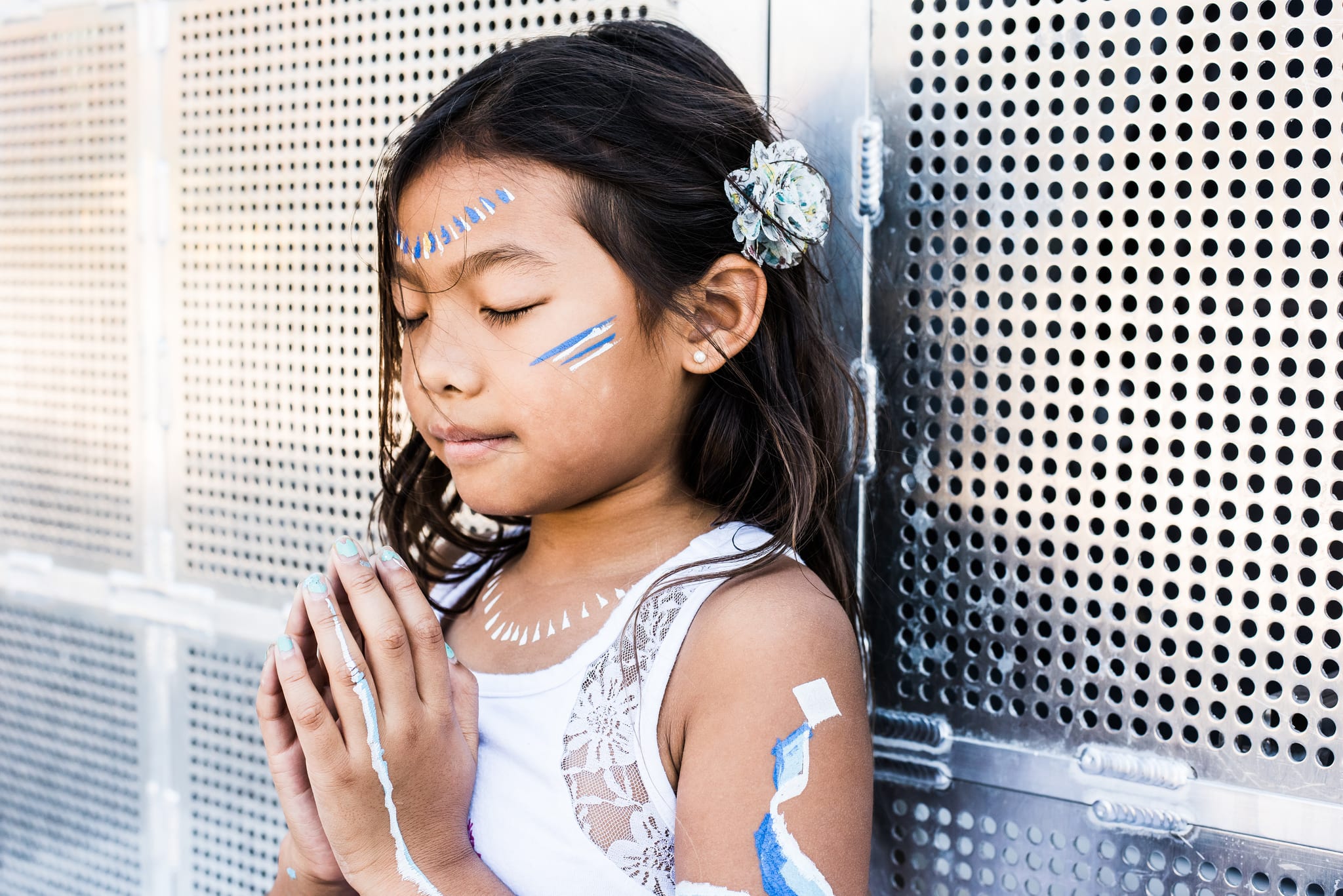 Come practice with us at Wanderlust O'ahu in 2019. Tickets are on sale now! Sea Salt, meet Savasana. See you on the North Shore.  
---
Dear Keiki* Yogis,
Aloha! My name is Kailani Dove and I am 10 years old from the north shore of Kauai. I've been doing yoga since I was growing in my mom's belly. I grew up doing yoga with my mom and my family. I found many challenges in my practice, but I also found that if I kept trying those challenges got easier.
When I was 8 years old, I knew I wanted to become a yoga teacher and started studying about yoga in a teacher training program.I wanted to become a yoga teacher because I wanted to carry on my family legacy—my mom was a teacher too! During the week of my 10th birthday last year I passed the test and became the youngest yoga teacher ever. I loved my yoga training because my teacher was fun and I learned so much about yoga.
It's important to know that anyone can do yoga anywhere they are, no matter what. It all starts in the mind and in the heart.
Here are some ways yoga has helped me as a Keiki*!
1. Yoga has connected me with my family since before I was born.
When I was a baby, I would crawl all over and under my mom while she was doing poses. She would pick me up and hold me in the middle of her yoga practice. Yoga brings my family together because we play yoga games and challenges and we laugh and fall and make it all fun. Also, when my auntie was pregnant, I helped her do yoga poses to help her stay calm!
2. Yoga has helped me with my friendships.
I like doing yoga with my friends because then I do not feel lonely. I also like how doing yoga with my friends gives us more time together. Doing yoga in class is fun, too!
3. Yoga has helped me in school.
I have learned how to do special breathwork (pranayama) that I can do in class so I can focus better and not be distracted. Also, before tests or lessons or if I feel tired or stiff in class I can do some poses I know to help me feel better.
4. Yoga helps me feel better in my body.
After doing yoga I feel more relaxed and my whole body feels stretched out. I also feel stronger after trying to do challenging poses like chaturanga and chair pose.
5. Yoga has helped me become a better person.
In our yoga teacher training we had to memorize and know the Yamas & the Niyamas which are like the "rules on how to live" for yogis. I like to live by them, especially asteya (truthfulness), ahimsa (non-violence and peace) and santosha (gratitude). I think truthfulness is important because when we are truthful everyone has more trust. I am peaceful  by not eating animals and being a vegetarian. I also don't single-use plastic to help the planet and the animals on the planet. I also try to always be nice to others and not be sassy. I think its also important to be grateful and content for what we have because people work hard, and it's important to remember that.
Overall, I really do think yoga is good for everyone—no matter what their age! Mahalos for reading. I hope all these tips help you want to do more yoga with your family and friends!
Love,
Kailani
*Keiki means child in Hawaiian. 
Video captured at Wanderlust O'ahu 2017.
—
Kailani Dove was born November 4, 2007.   After years of practicing with her family and friends in 2015, she asked her mother if she could become a yoga teacher and began her studies. In November 2017 in Kona, Hawaii Kailani completed her studies and became the youngest yoga teacher in the nation. Kailani is also a musician, and has taken singing, guitar and piano lessons since kindergarten. She is now performs in a band, Flying Phoenix, that has preformed for festivals and events on Kauai. Kailani enjoys surfing, reading, playing with her friends and her dog Sugaree.