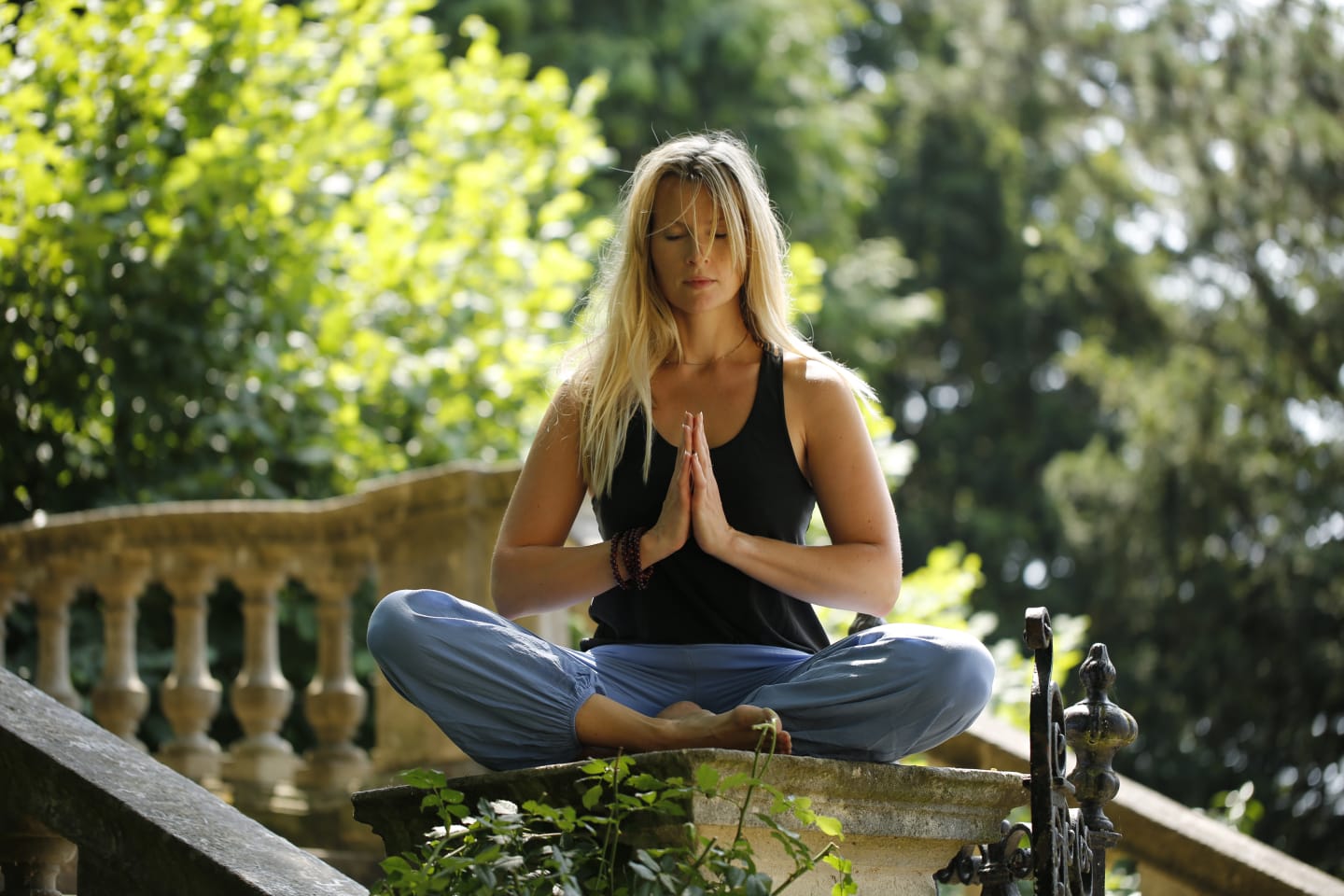 Harriet MacMasters-Green's latest course – Mind-Body Synergy – is now available to stream on Wanderlust TV. This deeply nourishing, qi gong-inspired yoga course will allow you to tune into new intentions and feel a sense of reconnection and courage as you ignite trust in new beginnings through mind-body synergy. Click here to stream the course with a 14-day free trial.
Where does the inspiration for your course come from?
Harriet:  My inspiration for the course comes from a deep desire to help people find harmony in both mind, body, and lifestyle.  It's not about perfection, it's about finding a deeper, more harmonious, and joyful connection with one's essence.  My love of yoga comes from a passion for movement and self-expression and I feel the qi gong element brings such a natural world-inspired, cyclical touch.
The new course is called ​​Mind Body Synergy. Personally, when and where do you experience the moments of absolute mind-body synergy?
Harriet:  When I give myself permission to be present, to me that is synergy; that is energy flowing freely, without limitations of thought and preconceptions.  This sensation occurs not only during my practice but during the post-practice 'buzz', which to me is not too dissimilar to that feeling you get when you are outside and wandering in nature, which is inherently where we are at peace.
Is synergy a feeling or a state of being?  
Harriet: This is such a lovely question. To me its essence lies in both: I can feel in synergy, therefore I am in a state of synergy and this can be simplified and broken down to being in harmony. I believe that synergy is fight and flightless, it is freedom in an external world of ties, obligations and constraints. 
Why is it so important to work on the alignment of body and mind? 
Harriet:  Certainly for me, my body can not feel in harmony if I am experiencing an obstructed and confused state of mind.  When my mind is at peace, my body is free and open and vice versa.
Do you have a personal "mantra" you may find yourself repeating or internally (or maybe loudly) chanting on a daily basis?
Harriet: I need constant self-encouragement. You would probably catch me talking to myself a lot if you followed me around! In some moments it may be a simple reminder; "I trust myself / I can..'' or it may be a more detailed visualization, where I see myself going through the motions of the event or task.  
What's your favorite yoga to teach?

Harriet:  Very intuitive!  The foundation of my training is Hatha and I love the visualization of the tree of yoga.  I use this beautiful branch-infused network, which is so embedded in my practice to enable me to create accessible, informative, and connective yoga teachings.  My background is in dance and I believe this is why I also like to incorporate qi gong inspired movement into my teaching.  I feel that this blend forms such a powerful synergy for both mind and body and therefore it makes a beautifully blended yoga experience.