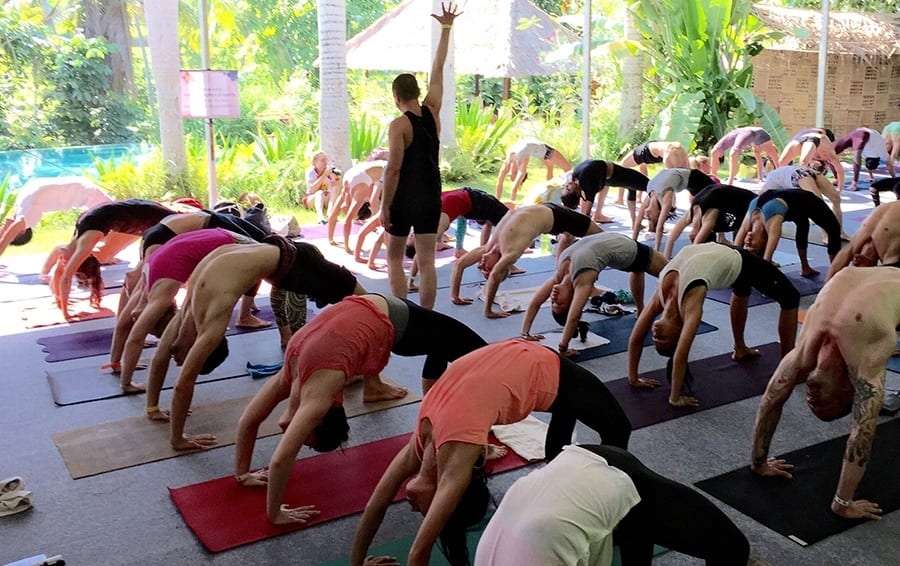 Want to practice with Noah? Take his class at Wanderlust Hollywood (with free classes on the weekends through October!), or, better yet, at Wanderlust O'ahu 2018. Traveling not your bag? Stay tuned for Noah's upcoming classes on Wanderlust TV, launching November 2. 
---
Walking into the room, revered teacher Noah Maze is hard to pick out of the crowd of yogis upon first meeting him. He so immerses himself with his students, that there's a distinct peer-to-peer exchange, rather than that of a traditional pedantic classroom. He's the yoga teacher you want to hang out with and grab a kombucha after class.
Before the start of the first day of his most recent teacher training, Noah sits cross legged on the floor, talking with a student. In a blink he is upside down standing on on his head while tapping the back of his leg with one hand to point out the muscle engagement. The finesse with which he contorts his body into the most advanced asanas speaks to his years of patient study, eclectic exploration of various schools of yoga, and his self-proclaimed disregard for following rules.
Noah Maze has been teaching yoga since the late 1990s, before yoga was cool. He came to Hatha practice at the ripe age of 14, and went on to study with revered Ashtangis Richard Freeman and Pattabhi Jois. He dabbled in Iyengar with senior teacher Manuoso Manos before getting his Anusara teaching certification.
His attention to detailed instruction, creative yet anatomically informed sequencing, and in-depth knowledge of the history and philosophy of yoga have come together in his unique signature style, known as YOGAMAZÉ. YOGAMAZÉ is accessible to beginners for its precision and emphasis on correct postural foundation, but exciting to advanced practitioners for its escalating intensity. Step into Noah's Level 3 alignment based class and do not be surprised if after 90 minutes of practicing you find your foot behind your head.
Something for Everyone
The YOGAMAZÉ team offers trainings for both aspiring and experienced teachers alike. Accessible to everyone, however, the trainings draw a mixed bag of levels of experience. It's safe to say that despite level of existing knowledge everyone walks away from Noah's trainings having learned more than one something of value, as evidenced by Wanderlust Hollywood Director of Yoga Chad Dennis's reflection at the end of this most recent 50 hour training. Chad acknowledged that despite thinking he knew a lot, there was such power in participating in the training, being Noah's student, and looking at his teaching style in a new light. Chad has over 30,000 hours of teaching experience. He sat across the room from a young man who had yet to teach a yoga class, both enrapt in the carefully thought out curriculum.
The modular structure of the YOGAMAZÉ trainings is refreshingly realistic to the working yogi's life. For yoga teachers, there isn't always opportunity to invest both time and money into an immersive experience, as much as  one would like. Noah separates his longer trainings into week and weekend offerings over the course of a few months. His 50 hour teacher tune-ups take place over the course of one week, and deftly condense months of information into that smaller amount of time.
Making Learning Fun
There's something profound and special about a person who makes learning the difference between the supraspinatus and the subscapularis not only interesting and applicable but entertaining and enjoyable. Noah performed a sketch of a robot to show students the difference between the muscles that control the rotator cuff.
Before beginning his career as a teacher's teacher, Noah worked as a facilitator in outdoor education, teaching young adults wilderness and leadership skills in Colorado. Teaching has in some way been a consistent part of Noah's life, and his spirit for adventure and insatiable curiosity pervade his offering both in his classes and in his trainings. It is humbling to meet a teacher, a "yoga-lebrity", as social media has coined, who is about as down to Earth and egoless as they come. He'll be the first one in the room to make an inappropriate joke, to offer insight into his life as if he's known you for years, to make you feel like you're in the right place at the right time.
If you have the opportunity to learn from him, do it. You won't regret taking the plunge.
—
Erin Ward is a freelance writer, yoga teacher, and navigator at Wanderlust Hollywood.