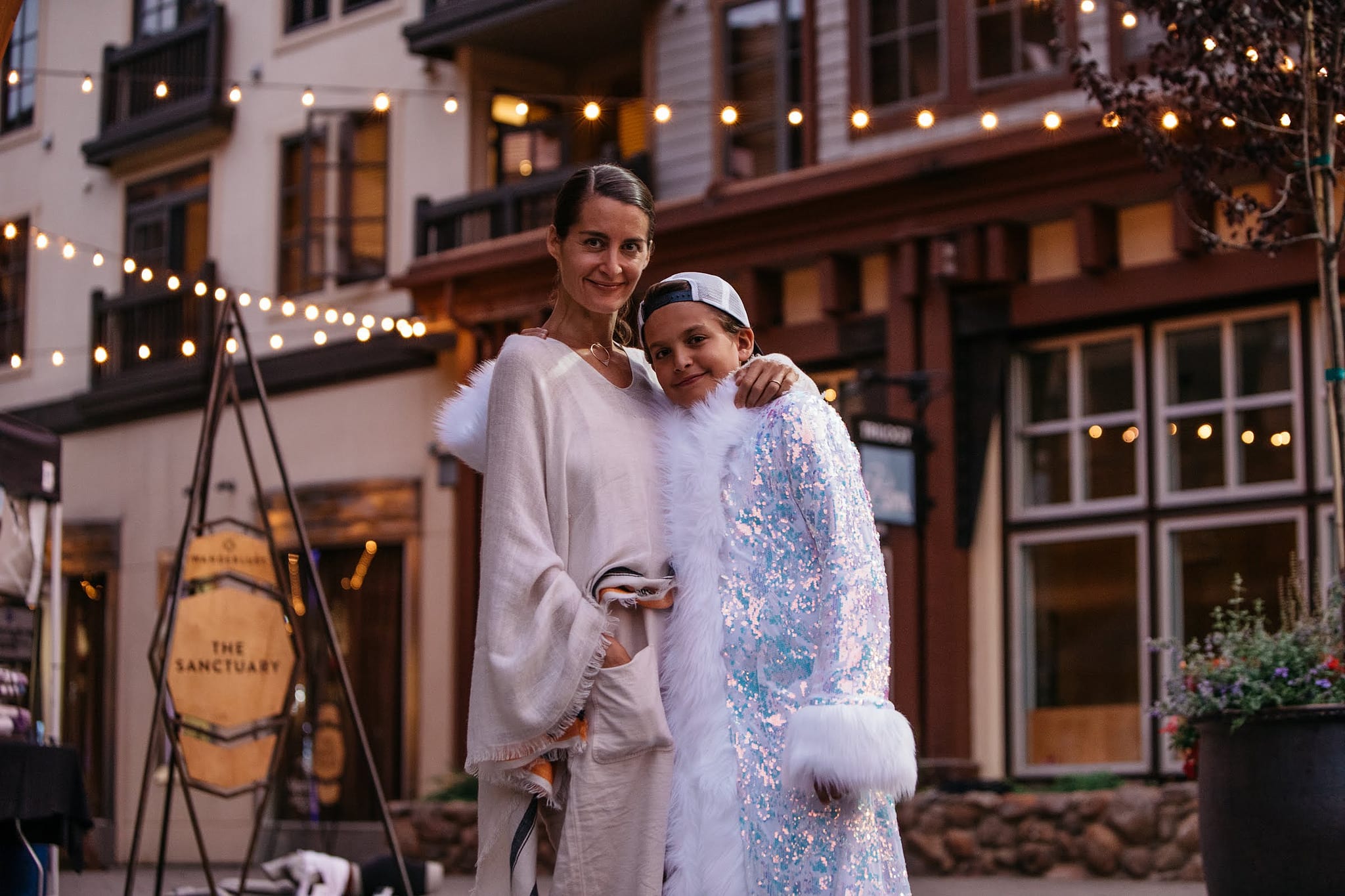 Elena and her son at Wanderlust Squaw Valley, 2018
Tradition dictates that a 10-year anniversary is celebrated with aluminum; modern norms have ditched the tin for diamonds. As we begin celebrating 10 years of Wanderlust in 2019, we think the diamond is apropos: Over the years, we've certainly refined the proverbial lump of mindful coal into what we consider a shining beacon of the promise of wellness for all.
It's been a journey—and there have certainly been plenty of bumps along the road. But one of the things that hasn't changed (and of which, full disclosure, we're pretty darn proud!) is our great relationship with world-class teachers. Every year we bring you a roster of renowned talent to help you find your true north. In this series, we'll highlight some of those teachers who have been with us over the years—and how they look back at their relationship with Wanderlust over the past decade. This week: Elena Brower. 
Don't miss your chance to be a part of this very special 10-Year Anniversary! Join the global mindful movement at a Wanderlust event this year.
---
Tell us about your first Wanderlust experience.
At the time I was just starting out, and had been assigned to be the Global Yoga Ambassador for adidas. In that role, I was given a few classes at the first Wanderlust—a weekend I'll never forget. First, I co-taught a class with Christy McKenzie, accompanied by Garth Stevenson, with whom I've gone on to collaborate for years—both of them. Much of Garth's album Flying was composed during subsequent classes at my then-studio, Virayoga, and Christy and I continue to teach together whenever we can.
This video featuring Elena was filmed in partnership with adidas at Wanderlust Squaw Valley, 2010.
Then I co-taught a class with Sianna Sherman, accompanied by DJ Drez, with whom I've gone on to collaborate at the Festivals whenever we coincide. Sianna is still a sister to me; he's become a dear friend to our family and continues to accompany my annual December retreat in Costa Rica.
That class was unforgettable for the music of course, but there was more that I've never talked about. My then-teacher attended that class. I distinctly remember teaching as I always had—cueing students to feel both sides of their body to see which side felt more alive, more engaged, and to use their observations to refine their attention and their breathing. The class went beautifully in my mind.
At the end of the class, my teacher took time to chastise me for those instructions, stating that those weren't cues offered in "his method." I didn't apologize. Instead, standing in my skin, I realized then that that was the beginning of the end of that affiliation for me, even though it took me three more years to formally "resign." Wanderlust gave me courage and a place in the world where I felt I could do that.
Elena shared her light with attendees with this 2015 Speakeasy, "Locating Our Own Light."
What does Wanderlust mean to you?
No matter where we are in the world, I always feel I've returned home when I land at Wanderlust.
In this video from 2016, Elena shares how she faced loss and found connection.
How has Wanderlust been a part of your journey?
It's been a source of nourishment for me. Many of us have grown up together there. And the ephemeral nature of the festival means that we see each other, drop in to share a meal, a walk, a class, a hug, and then part ways until the next time, as the festival moves on. Yet no matter how fleeting, those moments seem to solidify friendships that will forever nurture me, even at a distance.
Read the below articles to get more of Elena through the years. 
Elena Brower's Biggest Fear: Being Late For School Pick-Up (2014)
An Open Letter to 2015 (written by Elena, 2015)
"The Ritual of Recovery" Speakeasy (2015)
Essential Oils Facebook Live at Wanderlust Tremblant (2017)
Essential Oils for Recovery (written by Elena, 2018)