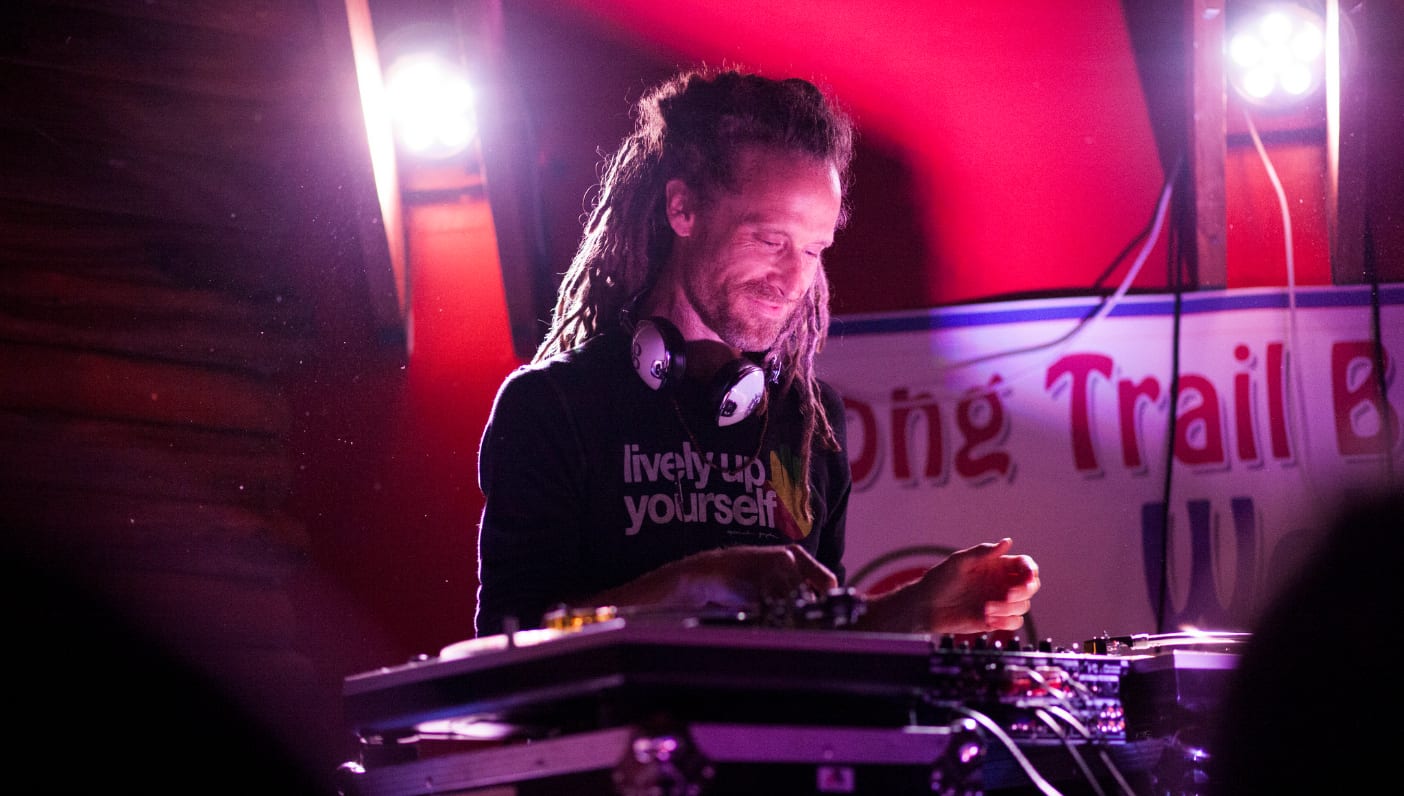 DJ Drez has long been a favorite at Wanderlust Festivals. His signature beats transform any stage he graces, and fans say that his music complements yoga flow particularly well. This could be because of his vision to create truly universal music—just as yoga is a universal practice.
Drez got his start in the underground L.A. hip-hop scene, and his long resume boasts collaborations with the likes of Blackstar, KRS 1, Black Eyed Peas, Macy Gray, and Eminem. He's shared the stage with luminaries from Moby, Ziggy Marley, and Common, to Femi Kuti, De La Soul, Capleton, and Nas. Perhaps Drez's sweetest collaboration is a Sānskrit mantra record with his wife, accomplished vocalist Marti Nikko. People who have had the great pleasure of working with him say that Drez is one of the chillest, happiest, and most peaceful musicians they've ever met.
What's his secret? We caught up with Drez to learn more.
---
Wanderlust: Your background is in underground hip-hop. What are some of the similarities between hip-hop culture and the mindfulness community? How did you make the leap?
DJ Drez: The desire to innovate, retain good qualities, and reduce the negative are all characteristics that are found within the yoga community and the underground hip-hop community. Underground hip-hop is often referred to as conscious hip-hop. It can be conscious on various levels from lyrics about self-realization, politics, the true skill of beautiful or harsh poetry, and wordplay, all of which take real mindfulness. Commercial rap music usually lacks these qualities.
As far as the music goes, underground hip-hop—also referred to as real hip-hop—has a potent history of sampling music of all genres to make new beats and introduce listeners to a world of diverse instrumentation. Commercial rap music mostly uses synthetic sounds which can be harsh on the ears. With that being said, the leap from conscious hip-hopper to the mindfulness community is not that far. It's actually not a leap at all. I belong to both communities and their various offerings are a huge part of my sacred life.
WL: You've been all over the world, as a traveler as well as an artist. How do those international experiences influence your music? Was there ever a moment during your travels that you met someone or performed with someone who would become very prevalent in your future music-making?
DJ Drez: Well in 1996 I only had to travel from my bedroom to the street out in front of my mom's house to meet Marti Nikko. She was sitting in the back seat of my rapper friend's car. He said that she's a dope singer and that she'll be joining us on stage that night. Marti and I kind of stole the show and got married not long after; she's been on every album of mine since then.
My international travels heavily influence my sound. It's not often that one person is prevalent in my music. It's moreso the lighting, low-ambient noise, and people as a whole that differ from place to place. Tokyo, Osaka, Taiwan, Los Angeles, New York, and a few cities in India have special places in my artist body.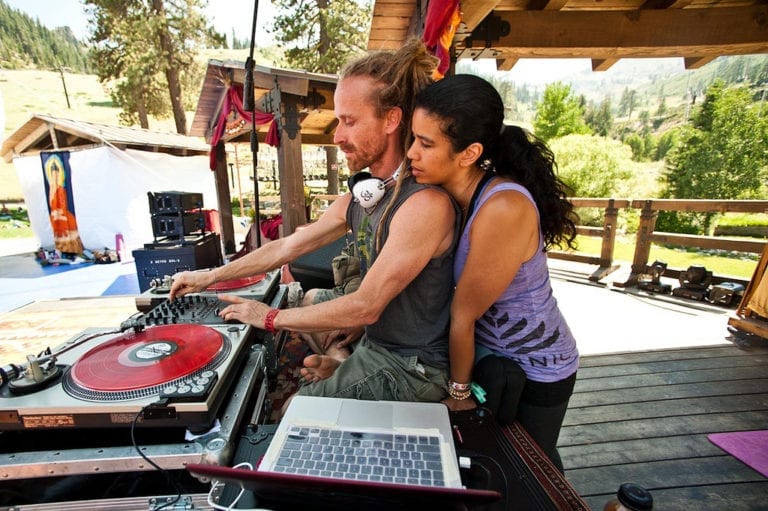 WL: Your music combines several different musical elements, making it layered and varied. Why? One critic noted of your most recent album that you are "clearly beyond graduate level in synesthesia." What does he mean by this?
DJ Drez: I make abstracted music based off of life and life is most often very layered and varied. There are so many ways to see one mountain, one flower petal, one person's idea. I observe a lot! Inside and out. The music I make is for different situations, moments, movements and emotions—I don't have any or many taboos in the way I create music. Sampling, chopping, collaborating with musicians, and playing instruments myself: These are all in the mix in my studio. I think the synesthesia comment has to do with the way music can turn someone on, want to dance or cry, talk to God, mind-travel and so on. Music is felt throughout the body in very interesting ways. I'm honored to observe it on a regular.
WL: What was your first experience with yoga?
DJ Drez: Initially, stories of Siddhartha's quest for enlightenment were very intriguing, opening me up to try my first class. My wife had to talk me into that. It was just OK, but I could see the potential so I began the practice of asana. Yoga came not long after when practicing alone in the beautiful quiet.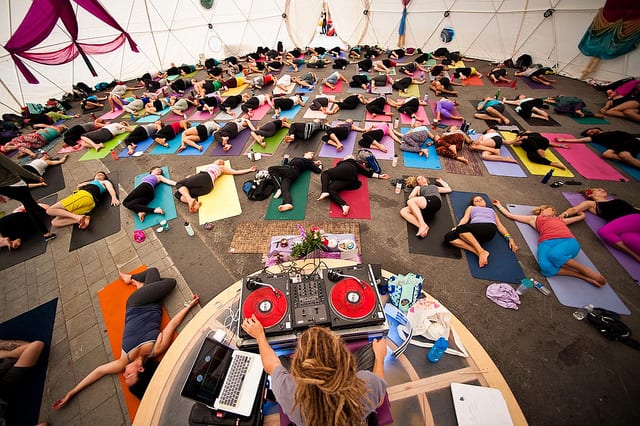 WL: How does the synesthesia element of your music make it a good fit for yoga classes?
DJ Drez: The practice can't be serving the music. It is my hope that my music along with the given practice is a reflection of a symbiotic relationship—that the two flow together… Of course with an occasional, healthy distraction here and there!
WL: You play a lot of transformative festivals and yoga-driven experiences. What's the best part of playing a festival like this? How does it vary from a non-mindfulness-driven music festival?
DJ Drez: I'll say it like this: Yoga is like a gateway drug to moving in interesting ways and using one's voice in public. It seems oftentimes that people are looking for permission to dance and be free. A substance can make you say "f*ck it, I don't care I'm gonna dance." A practice like yoga can truly free yourself of mental slavery. Some of the craziest dance floors I've played were at yoga events. People feeling free and fully letting go is often more beautiful and sexy than copied dance moves.
—
DJ Drez is in demand as a producer, musical director and sound ambassador. A master of his craft in the studio and on stage, Drez cuts and composes profoundly original tracks that facilitate body movement practice of all forms—be it dance, yoga asana or after-hours intimate/ecstatic.