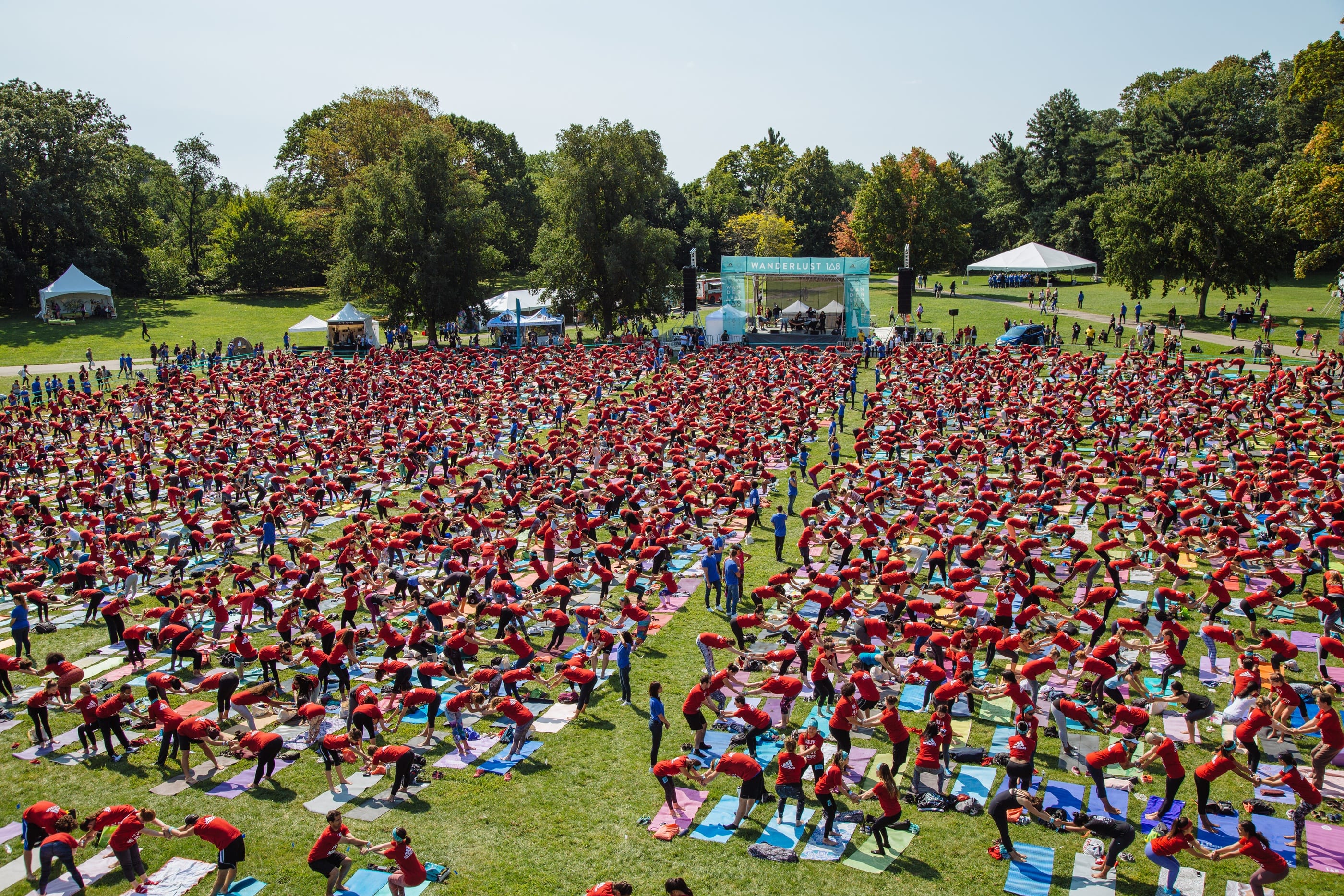 Photo by Diana Gerstacker
Andrea Rice reports this story from the Wanderlust 108 in Brooklyn. For more information on Wanderlust 108s, or to find a location near you, click here.
---
On a sunny late-summer morning in Brooklyn, a few thousand yogis woke up early to spend their Sunday at Prospect Park for a very special rendition of Wanderlust 108, the world's only "mindful triathlon." In partnership with adidas, 2,547 yogis succeeded in breaking the Guinness World Record for "Most People Doing Yoga in Pairs," shattering the previous record, which was less than 600. 
"This is such a cool event," said Brooklynite Minna, 26, who convinced her friend Ally to make the trek from Manhattan to partake in making history. "One of my favorite go-to partner yoga poses is a supported inversion, but I'm not sure how sustainable that is," she added with a bold laugh.
"I love health and wellness, it's a big part of my life," Ally said, chiming in. "It's great to see what people are gravitating toward."
Shortly after 10:30AM EST, a sea of crimson red adidas x Wanderlust t-shirts that read "BKLYN Is My True North" began flooding the lawn in front of the main stage, as emcees encouraged single yogis to hug a stranger and partner up. Wondering where I'd find my other half, I wandered through a maze of gridlocked yoga mats and admired the committed participants who were stretching out their post-5K run muscles—which for the record, this reporter had slept through. That's when I ran into Dana, one of my students from our yoga studio nearby, who was also looking for a partner-in-crime. Ah, the serendipity that arises from a Wanderlust event never ceases to amaze!
"I've been trying to do yoga every day during the month of September, either at the studio or at home," said Dana, 35, who recently quit her job. She marveled at the convenience of the event since the park was, in essence, in her own backyard.
"I was hoping to bump into my friend here to partner up with, but I dropped my cell phone in the toilet yesterday!" she chuckled.
I guess that meant she was stuck with me—a happy coincidence for us both.
As the growing congregation percolated with anticipation, DJ Drez worked decks with a few old-school throwbacks and bombastic grooves that had everybody on their feet.
"I want you to come together!" Drez called out as renowned teachers Elena Brower and Lauren Imparato took the stage. The excitement was infectious. Elena and Lauren led and demonstrated a 10-minute series of playful partner poses: Thick Tree, Supported Chair and several Seated Twists to name a few. We placed our hands over our hearts in Tree Pose, and then shook off the burn from our quadriceps. In Chair Pose, we "rubbed tushies" together and the crowd roared with laughter.
To my own amusement, many people did the wrong variations of the poses—and Dana and I may very well have been among them. I speculated whether we'd be counted or disqualified, as we both realized that we were maybe the only two of two thousand people who weren't wearing the authorized t-shirt. Woops.
"You're doing the wrong pose," an official said as we were fortuitously handed red shirts.
"Well, it's the right pose for us!" replied Dana. And I agreed—whatever concoction of seated forward fold we had found ourselves in felt pretty darn good.
The partner practice wrapped up, but the final count still hadn't come in. We would remain in "attempt" status until the official numbers would make the world record officially recognized. Elena sent out love and prayers to those in Florida who were awaiting the arrival of hurricane Irma, and to the victims and survivors in Houston. It is during challenging times when we seem to carry the weight of the world on our shoulders that we can begin to make a difference by showing up for ourselves—by coming together as a conscious community. We were united through positivity, love and compassion, which might very well be the three main tenets of any Wanderlust festival.
With plenty of expendable energy still at our disposal, Drez dropped another epic beat and a dance party of dynamic duos ensued. "Act like kindergarteners!" the emcees exclaimed. Permission to unleash our inner child was granted as we got down with our highest selves. We wouldn't come to learn that we broke the record until later that afternoon, but as a collective, we had a hunch that we likely did. More movement followed as Lauren and Elena co-taught a 90-minute yoga class that was part-retox, part-detox; yang and yin; self-love and self-care. Buddhist teacher Noah Levine guided a mindfulness meditation that focused attention to myriad layers of surrounding sounds while sound therapy practitioner Sara Auster filled the atmosphere with the resonance of Tibetan singing bowls. A slew of other activities like AcroYoga, hula hooping and body painting emerged as hungry attendees gravitated toward the Kula Market.
Meanwhile just overhead, a symphony of dragonflies had materialized as bodies rooted to rise and breathed in unison—a beautiful omen that defined the magic of the day. We came together; we became one. It was a Sunday well spent—and a delightful incentive to get out of bed.
—
Andrea Rice is a writer and yoga teacher in Brooklyn, NY. Her work has also appeared in The New York Times, Yoga Journal, NY Yoga + Life, SONIMA, mindbodygreen and other online publications. Connect with Andrea on Instagram, Facebook, Twitter, and her website.