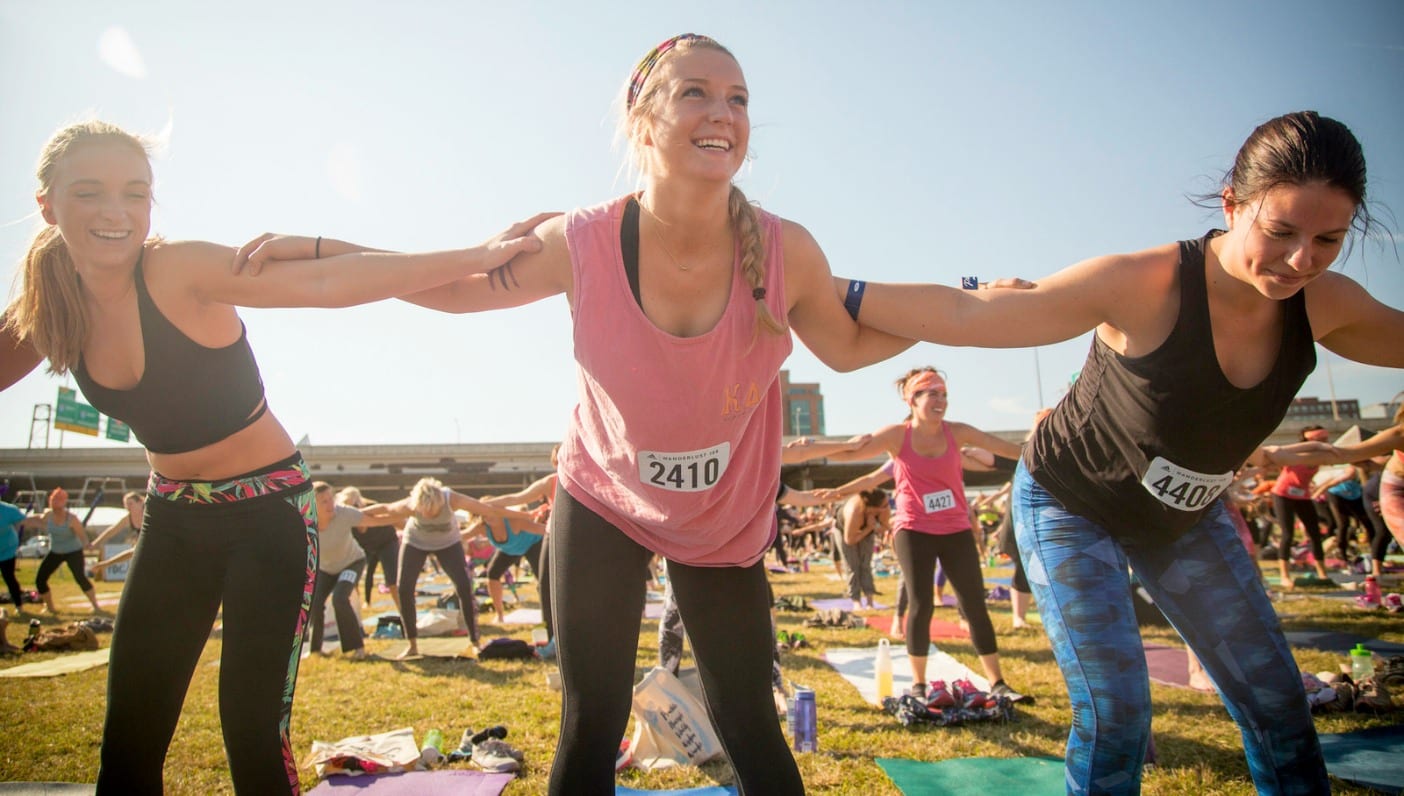 Join us and #ComeTogether with other like-minded souls at a Wanderlust event this season. For more information and tickets to a 108 coming to city near you, click here. 
---
Nelson Mandela once said: "If you want to make peace with your enemy, you have to work with your enemy. Then he becomes your partner."
It's time to connect.
In an increasingly chaotic world, we sometimes forget to empathize with our fellow brothers and sisters. Exploding inboxes and never-ending to-do lists distract us with temporary problems or issues that only seem dire in the moment. Maybe we're focusing on what's urgent rather than what's important. And when the world starts to feel tumultuous and the uncertainty overwhelming, it's time to reach out across the table and listen.
We're taught at a young age that it's important to take the time to hear what others have to say. The ability to listen demonstrates more than good manners; it creates space to create mindful dialogue, and for both parties to consider alternative ideas. In his 2010 commencement speech at the University of Michigan, President Obama encouraged the graduates to take time to listen to opposing viewpoints, stating that "we can't expect to solve our problems if all we do is tear each other down."
Why Connection is Important
Listening leads to empathy, which, in my opinion, leads to compromise. By connecting with other humans, whether it be over tea or for a yoga practice, we allow ourselves the opportunity to learn new stories. We gather insight from foreign viewpoints and expand our perspective. When we take the time to listen, we're better able to recognize that the world stretches beyond what lives in our head. What are the struggles of your neighbor? What is it like to be the man driving the tractor, or the woman behind the coffee counter? Asking these questions inspires mindful dialogue, and mindful dialogue means change.
How do you cope when you meet someone with a different opinion, perhaps one radically different from your own? Is it your instinct to argue, or ignore their ideas entirely? Even if you can't see eye-to-eye, or will never change your opinion, honest communication opens the door to concession. I spoke with Christopher Salata, the founder of Peace Accelerators, to discuss the power of mindful communication. He too, saw the power of bringing people together in an effort to inspire progressive growth.
"Our focus is to build a modern community that accelerates and permeates a culture of peace," he said of Peace Accelerators. Their belief system includes five main pillars: acceptance over judgment, sharing over possession, unity over divisiveness, nonviolence over conflict, and collaboration over competition.
Christopher isn't the only one to share this perspective; many of the world's most influential historical figures promoted love over violence in an effort to bring about global peace. Adopting an open mind, and inviting in opportunities to come together rather than divide, propels us forward into a more peaceful future.
How the Mindful Community Can Come Together
Nowadays there are plenty of opportunities to open our ears and come together. Last summer, I attended my first Wanderlust festival up in Squaw Valley, and was blown away by the amount of compassion and open communication. I made friends with strangers of all ages and backgrounds. We talked about our fears, history, and dreams for the future. Sure, there were differences, but at the end of the day, our abilities to connect and come together are what truly mattered.
The Wanderlust 108s provide a similar opportunity. Jess Kulick, Wanderlust Community Manager, shares her experience with the events.
"A 108 feels broad and expansive, not only in skill level, but also in the interests that converge for this one day," Jess says. "There is a diversity and playfulness that create the perfect circumstances for learning and exploration. The atmosphere is friendly, generous—downright neighborly, even."
The 108s take place all in one day, and are spread throughout the country, making it possible for a variety of people to incorporate an afternoon of mindfulness into their schedules.
"That's what I love more than anything about this event," Jess continues. "It allows these different populations—yogis and runners and meditators and essential oil enthusiasts—to share what they love with one another. And I do believe that sort of joy has ripple effects beyond the event itself; it becomes a daily choice, then a lifestyle, and maybe even a movement. A mindful movement, if you will."
By celebrating mindfulness, we inspire others to do the same. We encourage a world where listening and love are the norm, not the irregularities. Even if you're a dedicated yogi, spending hours on the mat each week, it's your responsibility to carry what you learn on the mat and bring it into the world.
How will you come together?
For more sneak peeks at our festivals and events, check out The Festival Experience on Wanderlust TV!
—
Amanda Kohr is a 24-year-old writer and photographer with a penchant for yoga, food, and travel. She prefers to bathe in the moonlight rather than the sun, and enjoys living in a state of the three C's: cozy, creative, and curious. When she's not writing, you can find her driving her VW Bug, looking for the next roadside attraction or family diner. She also roams the Internet via her blog at cozycaravan.com.