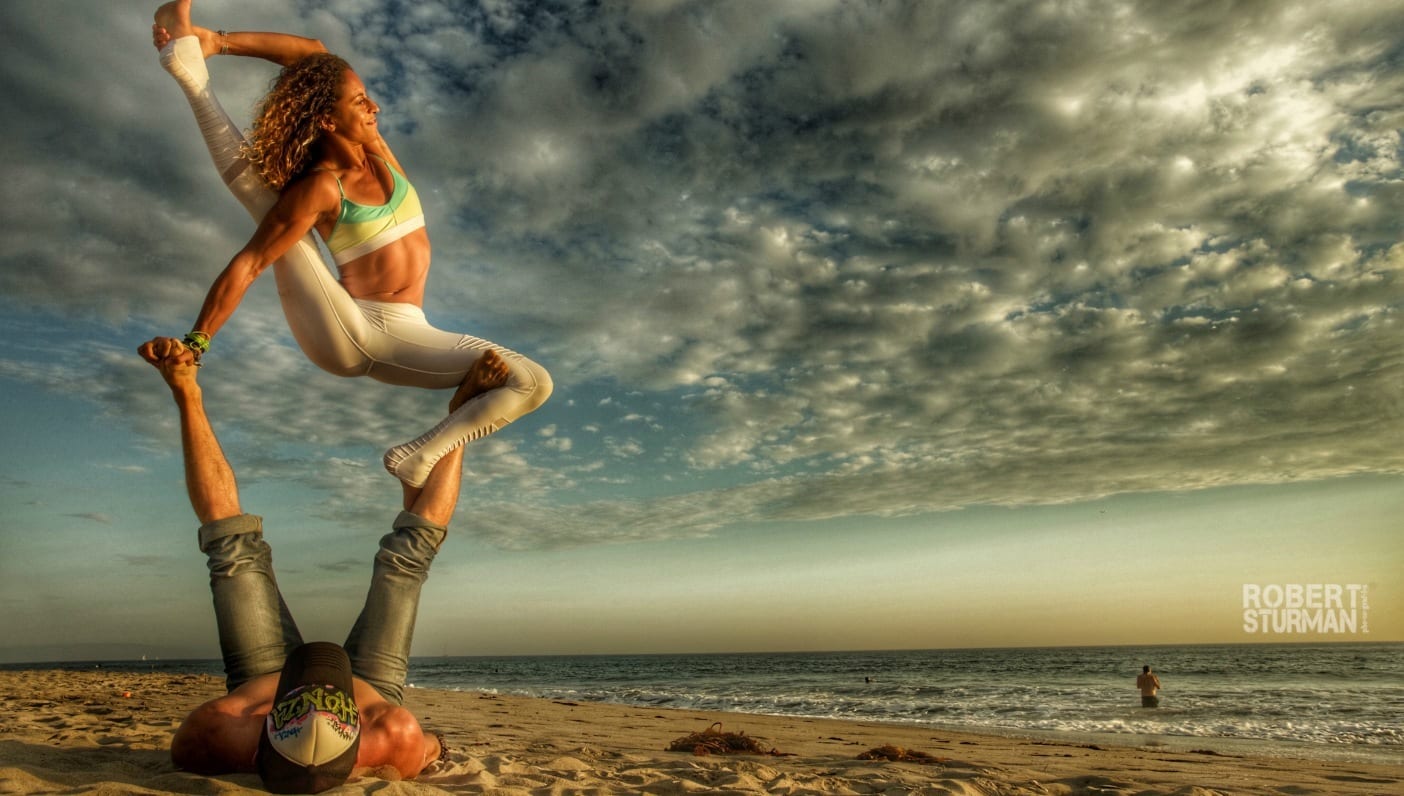 Photo courtesy of Robert Sturman
Claudine and Honza Lafond are Wanderlust presenters. Join them and other luminaries at a festival this summer! Find out more | 2016 lineup | Buy tickets   
---
Claudine and Honza Lafond might just have manifested one another. Nine years ago, what began as a painting—a figment of his cosmic imagination—led to a conversation with a modern-day fairy godmother, followed by an introduction to a pen pal 10,000 miles away, and finally, a one-way ticket to Australia. But this was not the end of a love story—it was only the beginning. "Finding Claudine became my biggest dream," Honza said recently during a pit stop in New York. The pair have been "chasing summer" around the world together for the past four years.
In June of 2007, Honza's painting was the embodiment of the belief that we all have the power to create the life of our dreams. He painted an abstract vision of a female figure overlooking a sunset, with the intentions behind it crystal clear: Honza was ready to invite true love into his life. He called it "Cosmic Imagination," only to find out months later that Claudine's given Sanskrit name, "Kapona," translated to the same meaning. Before they had even met, their fate was cosmically sealed.
The pair was first introduced via email by Claudine's godmother who was visiting Sydney from New York to film a movie. "The Godmother" had spent nearly two years working with Honza during his former life as a fitness entrepreneur and life coach. She insisted that he meet Claudine, despite the fact she lived in New York City where she managed a yoga studio. "She said to me, if there's two people in the world that should meet, it's you and Claudine," Honza recalled. The rest, as most of us could guess, is history. To this day, "The Godmother" continues to represent a matriarchal figure in the Lafonds' lives.
Fast-forward, and Claudine and Honza Lafond share the spotlight as prominent fixtures in the yoga world with their successful enterprise, Yoga Beyond. As the co-creators of ACROVINYASA, the dynamic duo knows firsthand of the power to consciously connect with others through touch, trust, and meaningful communication. "When it comes to conscious connection between strangers, this is the time," Honza said. "Any way we can reconnect with others and step out of this world of isolation where it has become all about our own goals and intentions—this idea that happiness is about how much you can acquire and how successful can you be."
Yoga as Community
The Lafonds have led workshops and teacher trainings around the world (and at Wanderlust), and have observed along the way how isolating a solo yoga practice can be—concerned that it's moved from a place of sincerity, to seriousness. "Traditionally it's meant to be a solitary practice—there's you and the mat, and there's a journey to it… But in today's world that's isolating, particularly in places that are so overpopulated," he said.
Honza believes that communication is key to connecting to others, be it a life partner or a complete stranger. While that may take a lot of courage, he said that an Acro-practice is a direct reflection of this sentiment. Claudine points out that partner yoga is indeed wonderful for life partners like the two of them, but that anyone can also benefit. Because a lot of people show up to their classes solo, the Lafonds have to spend a fair amount of time prepping and priming the students so that perfect strangers can feel comfortable looking into each other's eyes and touching one another.
"When they finally start working together there's just this ease that's experienced," Claudine said. "We do a great job of helping people understand that the work we're doing is to keep breaking down the illusions of separation."
To the Lafonds, conscious connection means that while we recognize our individual selves—which yoga helps us to do—we must also see that everyone around us is part of a collective consciousness. Their work is to bridge the gap between strangers, and urge them to connect, to touch, to rekindle a sense of lost innocence. "Many people have become so serious about their practice and serious about life… in connecting to a sense of innocence we can drop down our guard, drop the stories of who we are, and just meet each other from a really pure place," she said.
Connecting to the Whole
The Lafonds believe that in order to change the way we see, we must first connect back to the whole—that there's a fundamental difference between wanting to improve as an individual, versus improve as a collective conscious."When you look at the global issues we're facing, it's a lot about being individualized—about being consumers of so much, without a consideration for the whole," Honza said. "When we are creating on a mass scale, it becomes a real issue… We are too compartmentalized, too individualized, too me, me, me," he added.
When it comes to creating content on social media, by now we can all understand the many pros and cons of today's favorite addiction. Honza agreed that this only adds to the isolation of yoga practitioners in the West. "There's so much time and effort that goes into it [social media] for various reasons," he said. "Obviously we are part of that game, people look [at their screens] and maybe follow our account, they spend more time on it and because of that, we are contributors to that."
But at the same time, however, Claudine and Honza does their best to inspire their 350K Instagram following to learn something, and then get off their phones and actually go out and do something. Honza attests that this is the way out of the challenge of screen addiction—to inspire people to learn and get out there so they can in turn, inspire others.
#YogaInspiration
A lot has changed in the yoga community over the past 3–5 years, namely the path toward success as a teacher with a following. As pioneers that would blaze a trail for the many, many #YogaInspiration Instagram accounts to follow, the Yoga Beyond brand was poised for success from the beginning. Their social media platform grew organically, as they became widely-recognized for their aspirational visual aesthetic. Put simply, they were one of the first. As they watched social media shift and explode over the years, like many other older generation yoga teachers, they worry that some yogis try to manufacture their accounts in an attempt to achieve social media stardom, rather than uphold their own originality.
"It's reshaping the landscape of yoga and every other industry, and we're constantly in awe of it all," Honza said. He admitted that most of the opportunities and business ventures for Yoga Beyond and ACROVINYASA to expand came from their exposure on social media, to which they are extremely grateful.
From a yogic perspective, approaching social media with the goal of making money seems like a paradox. But still, many starry-eyed yogis continue to put in a lot of time and effort into their posts with this goal in mind. Honza cautioned the importance of checking in, and asking yourself whether or not if you're in balance. "It's easily overlooked in other industries that don't deal with mindful living, but in yoga it seems so exaggerated and exemplified," he said. "I understand the negative push from the older generation that feels this is not right… that this should not be part of yoga."
On the flip side however, the Lafonds agree that the rise of social media has inspired all walks of life to practice yoga that may not have otherwise before. The key, however, is to develop a healthy relationship to social media, particularly among young people, so as to not get lost amid mindless scrolling. "For the first time ever, teenagers are practicing yoga… there's a mass scale attraction to the practice by young people and that's just awesome," Honza said.
So whether you're flying high in an ACROVINYASA pose, scrolling through Instagram for inspiration, or wanting to deepen your connection to the world around you, it's all about striking a balance in the end. When we consciously connect to the self, we must also step outside ourselves to connect to the whole—be it IRL or on social media. By practicing conscious connection, we realize we are not alone—we can mobilize. We can go out and change the world.
Photos courtesy of Robert Sturman Studio 
—
Andrea Rice is a freelance writer, editor, and yoga teacher. Her work has appeared in The New York Times, Yoga Journal, SONIMA, mindbodygreen, AstroStyle, and other online publications. You can find her regular classes at shambhala yoga & dance center in Brooklyn, and connect with her on Instagram, Twitter, and on her website.