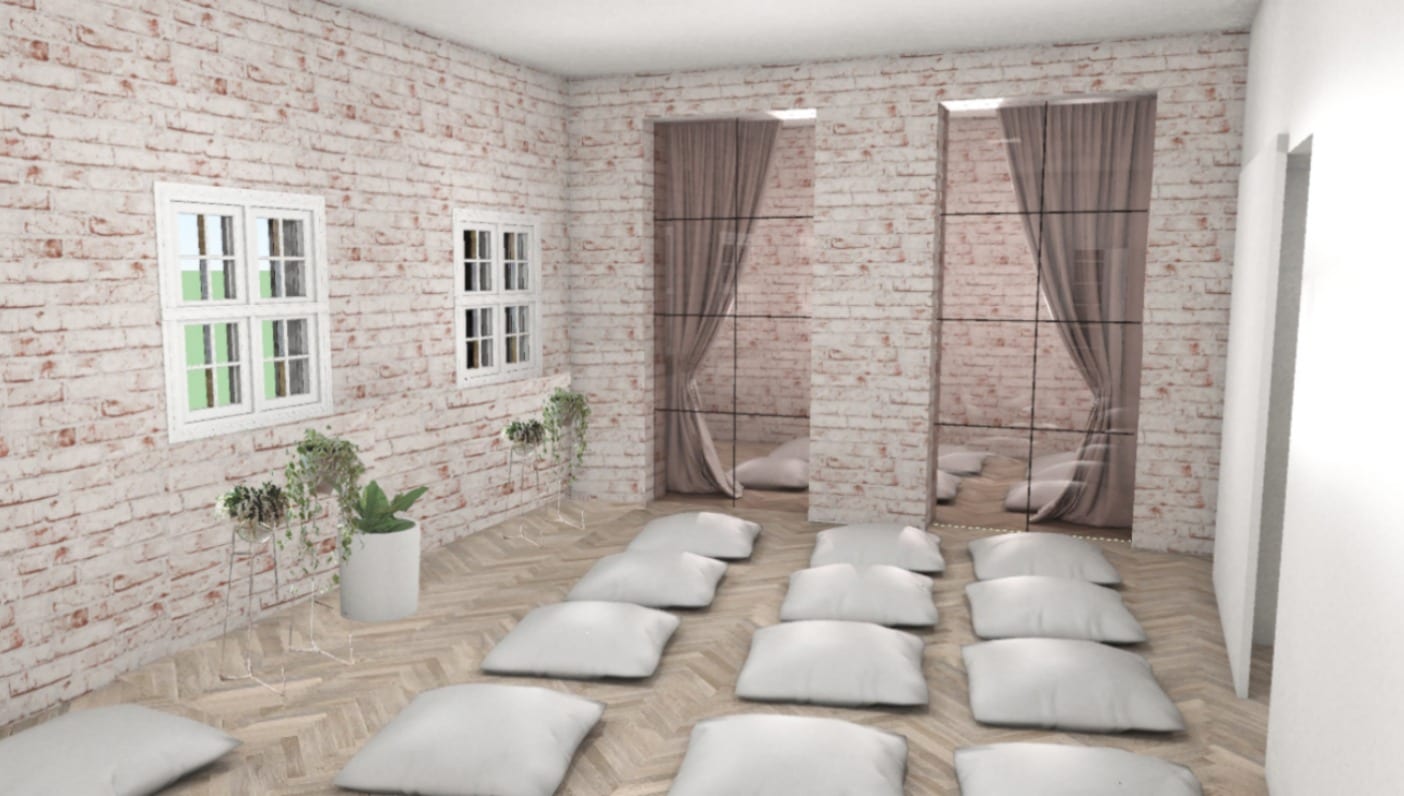 Meditation is certainly having a moment, with the practice more popular than ever among anyone from millennials to celebrities. With mindful offerings popping up seemingly everywhere—in corporate environments, hospitals, support groups, state prisons, meet-ups, and large public gatherings like The Big Quiet—the powerful, proven benefits of meditation are now widely accepted and practiced among the mainstream.
So it didn't take long before the idea for a big city boutique drop-in meditation studio came to fruition. Meet MNDFL, New York City's first ever urban chic meditation center, set to open in early November. But doesn't NYC already have a ton of places to meditate? Sure, but nothing quite like this.
MNDFL is non-dogmatic, open to everyone—even the busiest of New Yorkers—with quick, practical small group sessions that can be practiced during a lunch break, or on your way to happy hour. The space is mod and chic, unlike other older, more traditional settings that can be off-putting to some.
Well+Good has the full scoop:
The concept is the brainchild of former film industry exec-turned-spiritual blogger Ellie Burrows and esteemed Buddhist teacher and The Buddha Walks Into A Bar author Lodro Rinzler, friends who dreamed up the idea for MNDFL over coffee last year.
"I told him I was having trouble sitting at home practicing, and asked him why there was no place to go meditate like the way I drop into a salon and get my nails done, or drop into a Body By Simone for a workout," Burrows remembers. "As a busy New Yorker, I wanted a place to go that didn't involve climbing five flights of stairs and sitting in on two-hour talks."
"We want to help New Yorkers feel good," Burrows says of MNDFL's ultimate goal. "It's such a chaotic city. We want to provide a dedicated space for people to sit quietly that's not [their] home or office, so that they can reset and reflect. Everything we built is all for that singular goal: creating a space to breathe."
And this city could certainly use it! Simply drop in, choose from a 30 minute session for $15 or 45 minutes for $25. Class packages and yearly memberships options are available, and check the roster for world class teachers on the docket like Sharon Salzberg, Elena Brower, and Emily Fletcher. Take a deep breath, stay for tea, and hang out with other like-minded mindful types, and then reenter the concrete jungle with more lightness and ease in your step.
Trendy? Yes. But also highly effective. After all, no harm ever came from the innumerable yoga studios that saturated the city, no one ever complained about a cacaphony of OMs, and there's no such thing as too much good karma, either. I think it's safe to say that the more people who meditate (in this city, and beyond) the better off we'll all be. Imagine a world of compassionate, empathetic meditators… It's easy if you try. 
The Observer has more:
Just like how on-the-go fitness fiends might drop into Y7 or Sky Ting for a quick yoga session, New Yorkers will be able to drop into MNDFL for a 30- or 45-minute guided meditation, led by one of the studio's 25 certified teachers whose backgrounds encompass a variety of ancient meditation traditions. Clients can also schedule one-on-one guided meditations, or drop in for self-guided meditations when classes are not in session.
The purpose of the studio is to make meditation more accessible, the MNDFL team told the Observer. All classes are non-denominational, jargon-free and based around relatable ideas like stress management or coping with work-related issues.
Plus, MDNFL offers clients the chance to ask their teachers specific questions.
"There's something to be said about having a teacher, where at the end of the session you can actually ask questions," Mr. Rinzler pointed out. "A lot of apps use guided meditation, but if, say, your knees hurt, there's no one to ask about it."
So while meditation might seem it's at the risk of becoming voguish, the true nature of the practice will (hopefully) not be lost, as all of us angry New Yorkers can go home a little bit happier, with a lot more peace of mind. Namaste to that.
Photo courtesy of MNDFL
–
Andrea Rice is the Practice and Community Editor for Wanderlust Media. She is also a writer and yoga teacher. Her work has appeared in The New York Times, Yoga Journal, mindbodygreen, Yoganonymous, AstroStyle, and several music magazines. Her teaching style is a blend of her love for music and intuitive movement, with emphasis on core strength. You can find her regular classes at Shambhala Yoga in Brooklyn and connect with her on Instagram and Twitter.