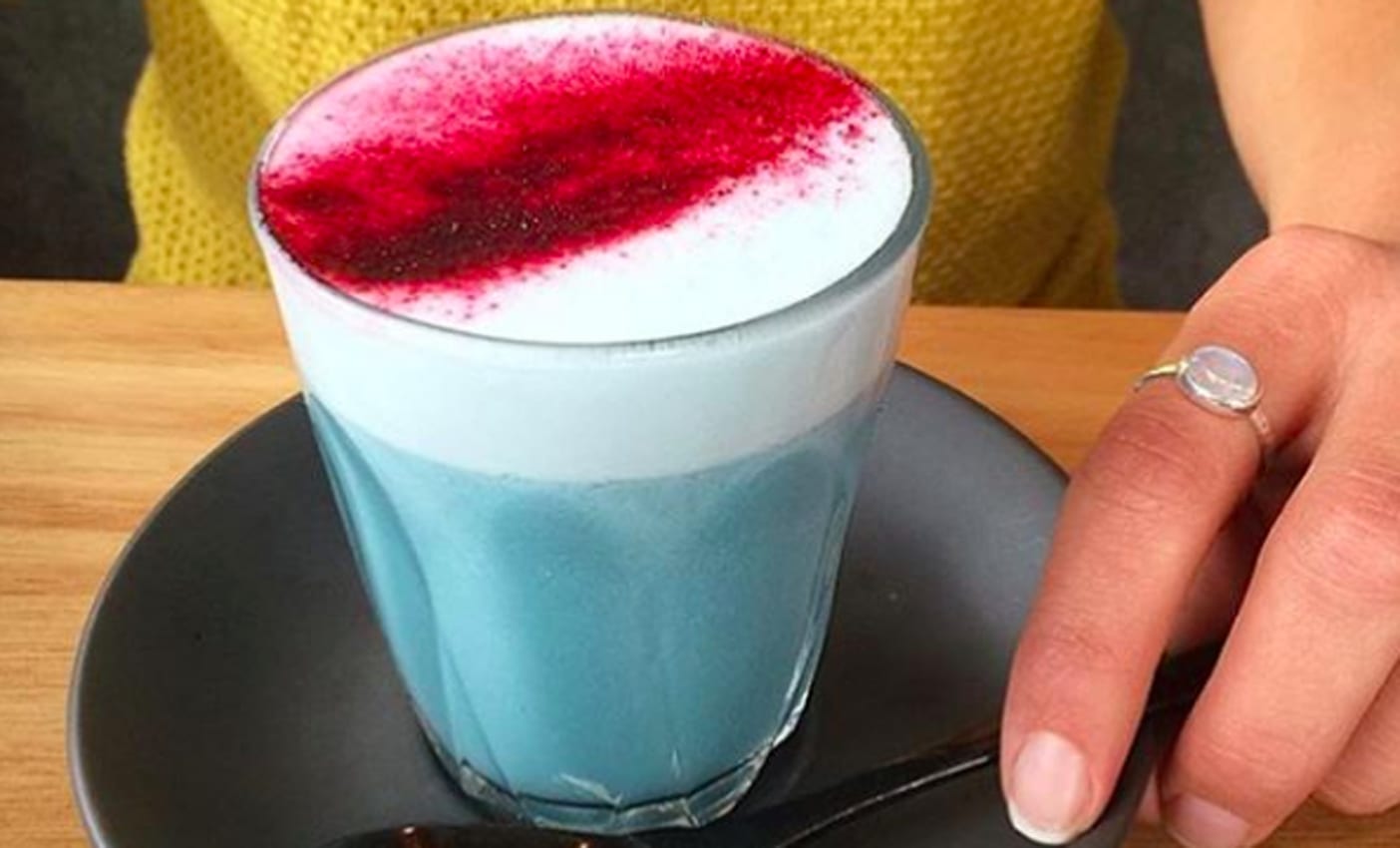 Move over matcha, it's time to meet the next big trend in healthy coffeeshop beverages: The blue algae latte.
This sky-colored elixir may look like a mug of artificial ingredients, but it's actually packed with nutritional benefits. Made from blue algae powder, ginger, lemon, coconut milk, and agave, the drink has most recently popped up in Melbourne's Matcha Mylkbar.
According to The Guardian, customers are going nuts for this blue drink, which is cleverly marketed as the "Smurf Latte." There's no caffeine in this coffeehouse drink, but there are high concentrations of proteins, vitamins, and nutrients. Blue algae is 70 percent vegetable protein, and contains more beta-carotene than broccoli.
There's also over 65 vitamins, enzymes, and minerals, along with eight essential amino acids and 10 nonessential amino acids. Up to 97 percent of these goodies are easily absorbed into the body, so you can be sure you're reaping the benefits of this pretty drink.
And the research on the power of blue algae continues. One study published results revealing the plant's ability to help prevent cardiovascular disease and nonalcoholic fatty liver disease.
Basically, the new blue latte is a nutritional powerhouse.
As for taste, we can only assume good things. The latte is not yet available in the United States, but the customer reviews have been positive. Instagrammers are going nuts over the drink, with photos reaching well over one thousand "likes."
And while we can't tell if they're after the Smurf Latte for its nutritional benefits or the fantastic photo potential, it's no doubt that this beverage is the next big thing in café drinks.
Coffee date in Melbourne, anyone?
—
Amanda Kohr is a 25-year-old writer and photographer with a penchant for yoga, food, and travel. She prefers to bathe in the moonlight rather than the sun, and enjoys living in a state of the three C's: cozy, creative, and curious. When she's not writing, you can find her driving her VW Bug, looking for the next roadside attraction or family diner. She also roams the internet at amandakohr.com.