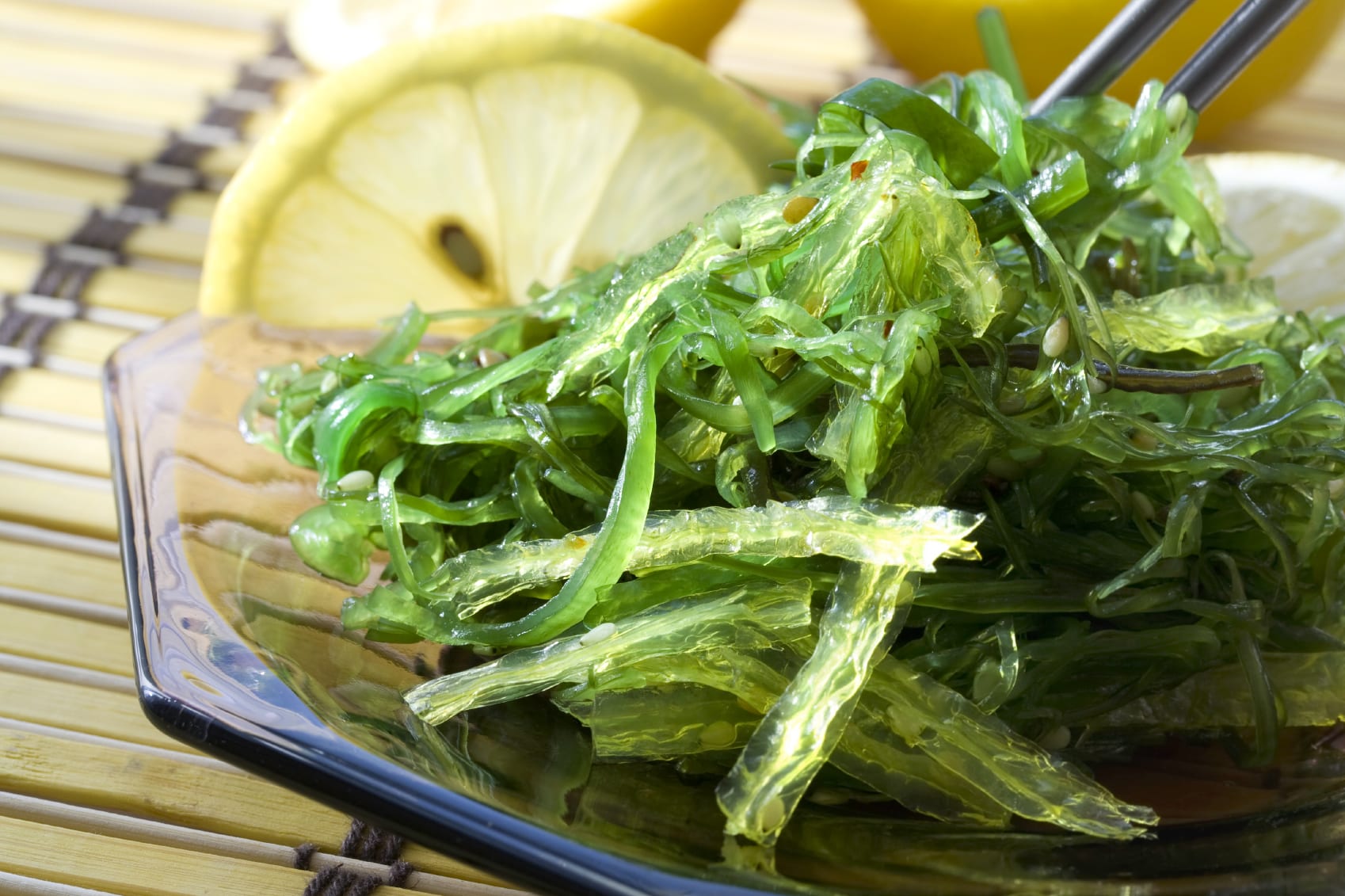 Photo via iStock
Green, salty, and a nutritional powerhouse, seaweed might just be the best new superfood. On top of that, it's one of the few farmed foods that benefits the environment. Now we just need to figure out a way to get it into more of our meals.
Luckily, foodies and farmers are finding unique ways to embrace seaweed. It's fairly easy to grow, and similar to shellfish, seaweed is one of the few farmed foods that benefits the environment. The New Yorker recently ran a story on this salty sea vegetable, interviewing farmer Bren Smith in regards to his experience growing seaweed.
From the New Yorker:
Seaweed, which requires neither fresh water nor fertilizer, is one of the world's most sustainable and nutritious crops. It absorbs dissolved nitrogen, phosphorous, and carbon dioxide directly from the sea—its footprint is negative—and proliferates at a terrific rate. Smith's kelp can grow as much as three-quarters of an inch a day, maturing from pinhead to ten-foot plant in the course of a winter, between hurricane seasons.
Seaweed is packed with antioxidants, protein, fiber, healthy fats, and iodine. In addition, it has the ability to "scrub," meaning it can absorb excess phosphorous and nitrogen that's been deposited into the environment by wastewater and agricultural runoff. This is important, because too much phosphorous and nitrogen can lead to deoxygenated spots that prevent the growth of any life.
Sliding it into our diets might require a bit of creativity; seaweed by itself doesn't taste so great. But that doesn't mean you have to solely eat sushi to show your support. We've collected some of our favorite recipes highlighting this superfood.
---
As if seaweed weren't already healthy enough, this recipes throws it together with protein-packed quinoa. The sesame seeds and vinaigrette add a bright Asian flavor, the grains serve as a lovely platform for the kelp's natural salt. You can taste the sea in each bite.
These poke bowls work as a vegetarian version of the Hawaiian classic. Soy and garlic sauce pair nicely with the salt of the seaweed, and the flavors meld together to create a taste of the isles. Serve over rice, but it's also a knockout all on its own.
The ocean in a bowl, this recipe combines the sea's best flavors to create a comforting soup. Inside are fresh scallops, shiitake mushrooms, spring onions, mirin, and seaweed. It makes for an impressive and cozy meal, perfect for a night in with friends and a bottle of something bubbly.
I don't know about you, but I love Asian flavors mixed with pasta. There's something so satisfying about munching on a big bowl of exotic flavors wrapped around fat noodles. This dish is quick and easy, and packed with vitamins C, B, K, protein, amino acids, and minerals. Add fresh veggies for even more of a nutritional whammy.
Directly from the Wanderlust Kitchen, we bring you a seaweed recipe that combines various sea vegetables with mustard greens, dandelion, mushrooms, and shiso, all folded with a carrot-ginger vinaigrette. While the ingredients may be unavailable at your local grocery store, Japanese foods are typically available at organic markets.
It's amazing that some foods allow you taste the environment from which they came from. Sushi is one of those delicacies; with each bite you're able to savor the salt of the ocean, and feel good about doing it.
—
Amanda Kohr is a 25-year-old writer and photographer with a penchant for yoga, food, and travel.  She prefers to bathe in the moonlight rather than the sun, and enjoys living in a state of the three C's: cozy, creative, and curious. When she's not writing, you can find her driving her VW Bug, looking for the next roadside attraction or family diner. She also roams the internet at amandakohr.com.