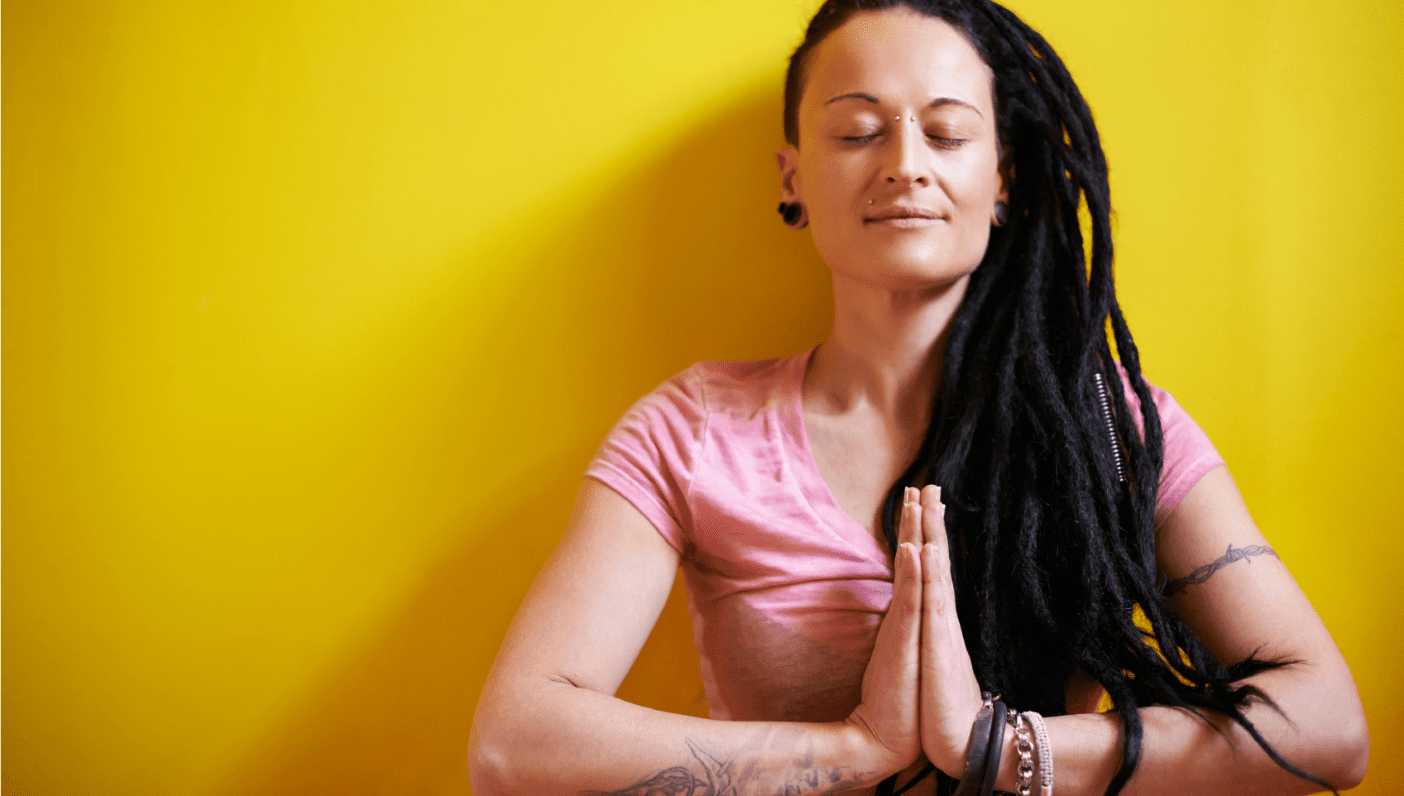 Photo via iStock
There's no denying that music makes the world go round and our practice a little more perfect. When a study was recently published in the journal Sports Medicine Open, it scientifically validated what we've known all along—that music enhances our physical performance and in this case, can increase our chances of maintaining a healthy exercise regimen up to 70 percent.
So what does this mean for our Downward Dog? The power of music has the ability to transcend our practice from a regular state of flow, to a more powerful flow state of pure oneness.
With musical tastes and preferences as diverse as the myriad styles of yoga, these days there is literally something out there for everyone. On January 11th, for instance, as a tribute to the loss of legendary musical icon David Bowie, I opened my class with "Space Oddity" and felt a sincere, profound shift in the room among my students—one that could only be described as total bliss. (Side note: I snuck in a few other, more obscure tracks from the Starman, because I just couldn't help myself). But I wasn't the first yoga teacher to indulge myself in such guilty pleasures—earlier this fall in Chandler, AZ, Inner Vision Yoga offered a "David Bowie Yoga Flow."
In Chicago, Beatles-themed yoga classes are on a regular rotation at Ganesha Yoga, while in Nebraska you can rock out with Mary Clare Sweet—a teacher on the rise who's well-known for her killer classic rock playlists, with a debonaire and presence reminiscent of Stevie Nicks.
But things just seem to keep getting weirder…
In Seattle there's Noise Yoga—an interesting combination of loud experimental music and you guessed it, yoga. And just this past week in St. Louis, Pitchfork shed light on yoga's darker side, introducing Black Metal Yoga to the slew of alternative forms gracing the ancient practice:
At a slant, this sect of the genre can read like a dark side cousin to the New Age movement. Yoga fits into the mix nicely. Kimee Massie is one of a handful of yoga instructors folding metal into their practice. For the past few years she's been holding classes soundtracked by selections from bands like Sunn O))), Earth, and Wolves in the Throne Room. Now she's released BLACK YO)))GA: Asanas Ritual, Vol. 1 an hourlong video of "vinyasa style yoga set to drone, noise, stoner metal, ambient, industrial, space doom, and other traditional meditation music" that as far as I know is the first "real" metal yoga video to come to market.
Metalheads tend to be good at appreciating the ridiculousness of the thing they're passionate for, while being intensely, earnestly into it.
To the traditional incense burning, sitar-loving, OM-chanting yogi, these new waves of asana might seem slightly unorthodox or even a complete departure from yoga's original meaning and traditions. But one could argue that when put into practice, the mind of the devout metalhead is as quiet as the meditative monk. Who says we can't find peace and stillness within the loudness of music? Ever been to a Radiohead concert? I'd liken it to as transcendental of an experience as any I've had, and I meditate almost daily.
So for those who like it loud, The Observer recently published a survival guide to some rather unconventional yoga found throughout New York City, many of which included musically charged classes ranging from Adele to silent disco, and even a hot and sweaty hip hop session at a Y7 studio in Brooklyn.
At Y7, a boutique known for hip hop and heaters, prepare for "sweat dripping, beat bumping, candlelit" yoga. With studios in Soho, Flatiron and Williamsburg, it's impossibly hip and incredibly loud, with playlists featuring artists like Miguel and Beyoncé. Envision SoulCycle's nightclub vibes, only flow focused. Unfortunately, there's no hip hop dance moves involved. You'll have to search out an actual club for twerking, or head to a particularly intense Zumba session. If you are a beginner, Y7 is the perfect place to hide because it's almost pitch black. 
But Y7 isn't the only studio to drop some hip hop into its repertoire, either. Last summer, an outdoor "Flowyancé" class took to the streets of Philadelphia, while a workshop in Melbourne, Australia, offered Drake yoga—led by an instructor from NYC, naturally. And lest we forget my personal favorite: Deep House Yoga at Verboten, a popular nightclub in Williamsburg, Brooklyn. With techno grooves and booming bass, not to mention a full-color spectrum light show that reflects off a giant mirror ball, this just might be as loud as it gets, but it's also great fun. As a teacher there I will attest that even in this seemingly unusual setting, you will indeed go deep into the yoga zone.
With NYC at the epicenter for many of these offerings, it's evident that alternative yoga is slowly making its way up the charts in the U.S. and beyond.
What other forms of musical genre-inspired yoga have you tried?
—
Andrea Rice is the Practice and Community Editor for Wanderlust Media. She is also a writer and yoga teacher. Her work has also appeared in The New York Times, Yoga Journal, SONIMA, mindbodygreen, and a variety of online magazines. Her teaching style is a blend of her love for music and intuitive movement, with emphasis on core strength. You can find her regular classes at shambhala yoga & dance center in Brooklyn, and often as a guest teacher for Deep House Yoga. Connect with Andrea on Instagram and Twitter.