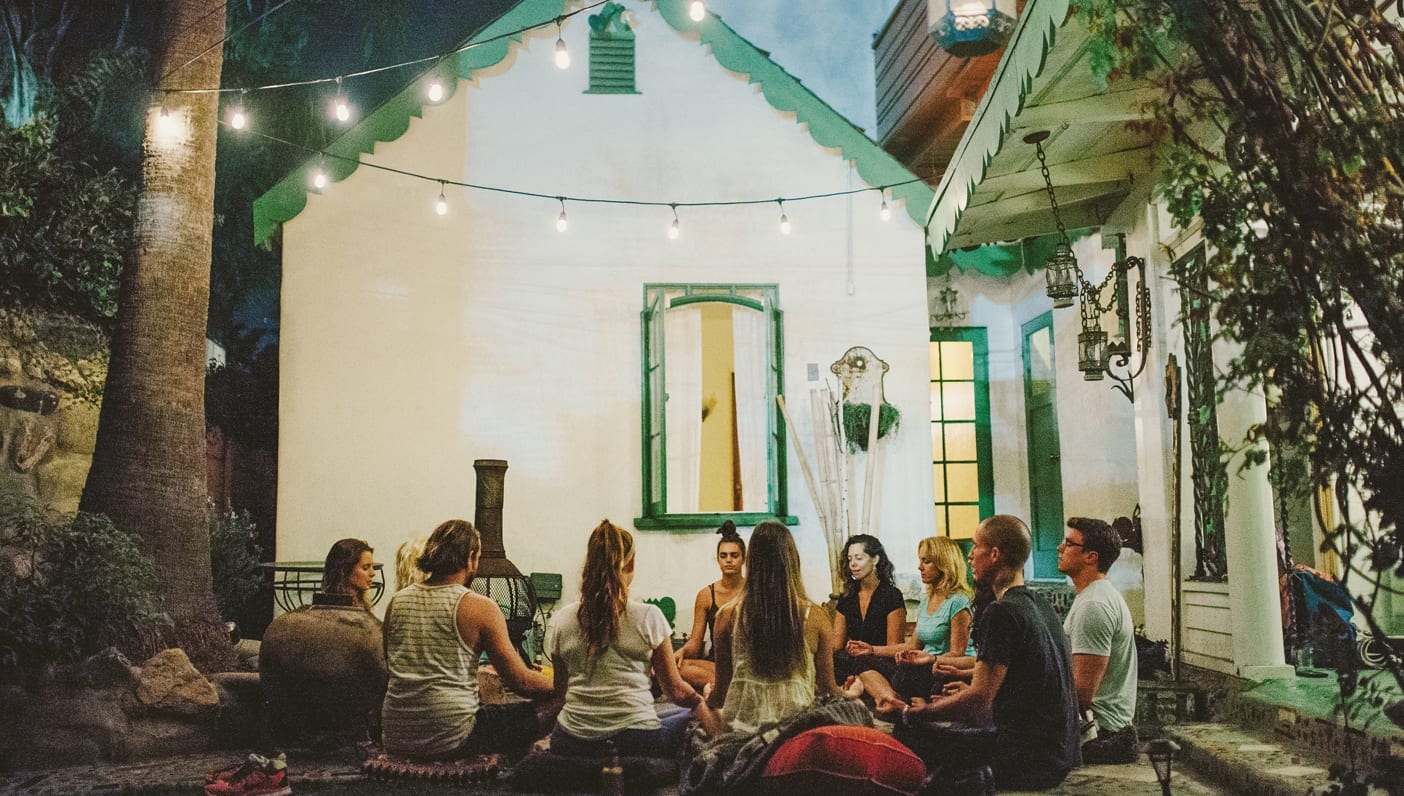 It is a Tuesday night in Venice, and the sun is just beginning to tuck itself into the gentle fold of the Western clouds. My roommate Aminda and I climb out of my Volkswagen with our cameras and yoga mats, searching for the address APSARA co-founder, Alicia, sent me in a private text invitation.
At this point the APSARA ceremony remains a mystery. From my conversations with Alicia, I've learned that APSARA Life is a conscious wellness movement that combines the ancient rituals of tea, yoga, and meditation in order to achieve healthy and mindful living. Alicia Henry and her co-founder, Molly Mitchell-Hardt, began APSARA in an effort to combine their passions and skills in order to create a special kind of ceremony that would instill a sense of peace. After my experience, I can comfortably say they are doing just that.
Aminda and I find the house, where we are escorted through the living room and into the backyard. Cushions are thoughtfully placed in a messy circle and Christmas lights connect the trees. Alicia scampers over cobblestones, lighting candles and gently tucking them into whatever little crevices she can find.
"This is just to help beautify everything a little bit," Alicia says, as she sneaks a candle into the firepit. It's hard to imagine that the backyard aesthetic could be heightened; it already looks as if we are in beach version of A Midsummer Night's Dream. But Alicia is determined to provide an exceptional evening. She and Molly are used to adapting various locations in order to fit the style of their ceremony; in addition to backyards, APSARA has been performed in community centers, office buildings, overseas, and at the Summit Series in Utah.
The ceremony begins just as the sun makes its final descent into the Western horizon. There are 10 of us sitting on the ground in a circle, 12 if you include Alicia and Molly. Alicia leads us into meditation, her voice sturdy and calm. The theme for this particular ceremony is "letting go," appropriately paired with the autumnal equinox. As the trees (okay, maybe not in California), release their leaves, we are reminded that is okay to let go of things and see the beauty in things ending.
Next we enjoy the tea. Already mindful from the meditation, the warmth from the cup is potent against the flesh of my palm. It's genius to have the activities paired so closely together; each activity becomes its own form of meditation. After a short discussion regarding our experience, Molly leads us into the restorative yoga portion of the evening. We are encouraged to listen to our bodies, even if that means moving off the mat and jumping around the room. Maybe we dance, jiggle, and explore. Maybe we let our wrists float into the sky as our waists rotate through the humid air. Freedom permeates the night.
This movement helps to elucidate the meaning behind APSARA's name. An Apsara is a female cloud and water spirit frequently found within Hindu and Buddhist mythology. The word Apsara, when translated into English, means "nymph" or "celestial maiden." It's perfect for the action taking place across our spiral of yoga mats. As we stomp our feet in this community of wild bodies, it's hard not to feel like a fairy.
And these ladies aren't limiting themselves to LA. Their Wild Wellness initiative is all about getting APSARA on the road. They recently returned from a road trip up Highway 1, where they took APSARA on a "roadshow," offering it for free among the communities of the various cities along the way.
"The goal of the Wild Wellness: California Roadtrip in particular was to launch the concept of touring our company," Alicia says. "We believe it is possible to create a safe space for people to feel fully self-expressed, heard, accepted, and loved."
A safe space, indeed. The combination of these rituals inspires a connection to the wild self (Women Who Run With The Wolves, anyone?), and Alicia and Molly are carrying out the project with grace. APSARA isn't just for fun; it's brainwork. By obtaining a sense of mindfulness, our perspectives are strengthened, and we are better able to show compassion to ourselves and those around us. That night, we were wild and aware. We were kind. We were apsaras.
APSARA Life is a conscious wellness movement creating a global community that embodies healthy living and mindfulness through nutrition and ancient rituals. To learn more about experiencing APSARA, visit their website or find them on Instagram.
—
Amanda Kohr is a 24-year-old writer and photographer with a penchant for yoga, food, and travel. She prefers to bathe in the moonlight rather than the sun, and enjoys living in a state of the three C's: cozy, creative, and curious. When she's not writing, you can find her driving her VW Bug, looking for the next roadside attraction or family diner. She also roams the internet via her blog at cozycaravan.com.