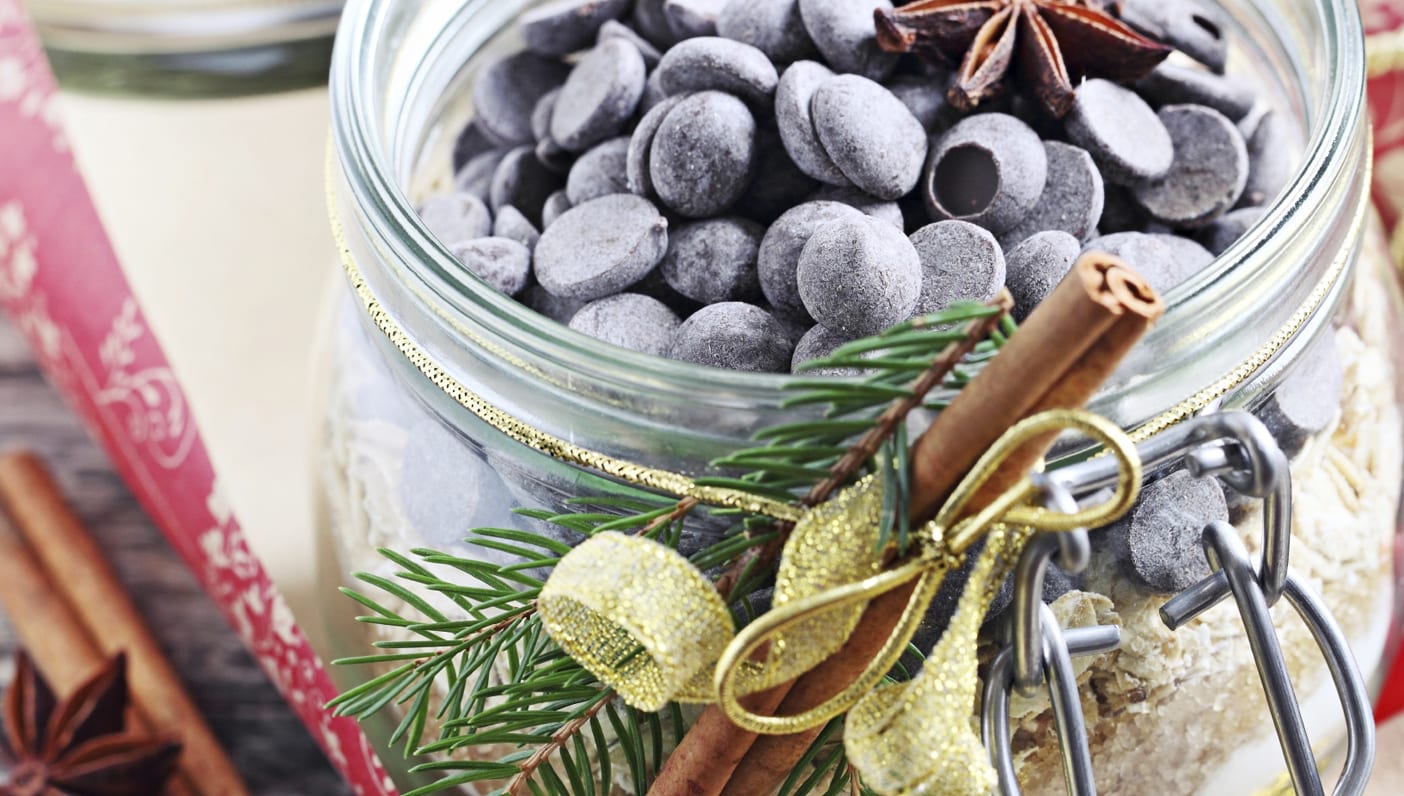 Around the holidays there are few things more precious than gathering in the kitchen to assemble a mountain of seasonal eats. These moments not only allow us to connect to our mealtime, but they also inspire lasting memories between friends, lovers, and family members.
Thus, we introduce the perfection of homemade holiday jar recipes. Not only do these gifts give your friends and family a meal, but they'll also receive the opportunity to come together in the most popular room in the house. That's a recipe for nourishment.
---
1. Healthy Protein Breakfast Cookies from Little Baby Watson
Cookies for breakfast? You bet. This mix provides everything you need to create a comforting breakfast for those frosty weekend mornings. Chia seeds, almond meal, chocolate chips, and dried cranberries come together in this stellar recipe to make a morning meal sure to satisfy both the mind and body.
2. Dal Tadka Lentil Soup from Vegan Richa
Hearty and healthy, vegan and gluten-free, this Dal Tadka soup mix provides ultimate comfort. The recipe is revered in Indian culture and makes a wonderful lunch or dinner for your loved ones, especially any couple or newlywed friends you might have. (Let's be real: there's little sexier than the mingling of Indian spices.)
3. Vegan Anzac Biscuits from Veggieful
These sweet biscuits originate from Australia, where the first recipes were used in care packages for soldiers. Somewhere between a cookie and biscuit, these sweet treats are perfect alongside a cup of tea or glass of sweet wine, and serve as a unique recipe for the vegan baker in your life.
4. Vegetarian Five Bean Soup from Back to Her Roots
Don't get me wrong; I love the buckets of chocolate that come along with the holidays, but a wholesome and healthy soup can be a nice change of pace after I've demolished my Advent calendar. Five bean soup is packed with flavor and fiber, and the spices for this recipe are likely ones that you already have on hand. If you really wanna go nuts, pair the jar with a loaf of homemade bread, and you've just gifted the quintessential winter meal.
5. Gluten-Free Brownies from Ari's Menu
A box of brownies is perfect for its convenience (I don't know about you, but my brownie cravings alway seem to pop up around 10 p.m.), but store-bought mixes are loaded with refined flours and weird preservatives. These jars give your friends the joy of spontaneous brownies in a homemade gift.
Decorating Your Jars
Part of the fun of these gifts is the presentation. Here are few more ideas to keep in mind when it comes to decoration.
Wrap it up with some festive ribbon or twine. For an extra special touch, add baby pinecones, cinnamon sticks, rosemary sprigs, or tiny ornaments!
Print and design labels and recipes for the jars. You can either write these yourself or go nuts with online fonts. Stick these bad boys directly onto the jar, string them along the wrapping, or place them in an envelope with a sweet holiday card.
Layer your ingredients. This is your chance to be a culinary artist. Pour the various ingreidnets to create aesthetically-pleasing patterns; the extra touch will make your friends feel extra special
What are some holiday recipes you'd love to transform into a jar mix?
Photo via iStock
—
Amanda Kohr is a 25-year-old writer and photographer with a penchant for yoga, food, and travel.  She prefers to bathe in the moonlight rather than the sun, and enjoys living in a state of the three C's: cozy, creative, and curious. When she's not writing, you can find her driving her VW Bug, looking for the next roadside attraction or family diner. She also roams the internet at amandakohr.com and through Instagram.