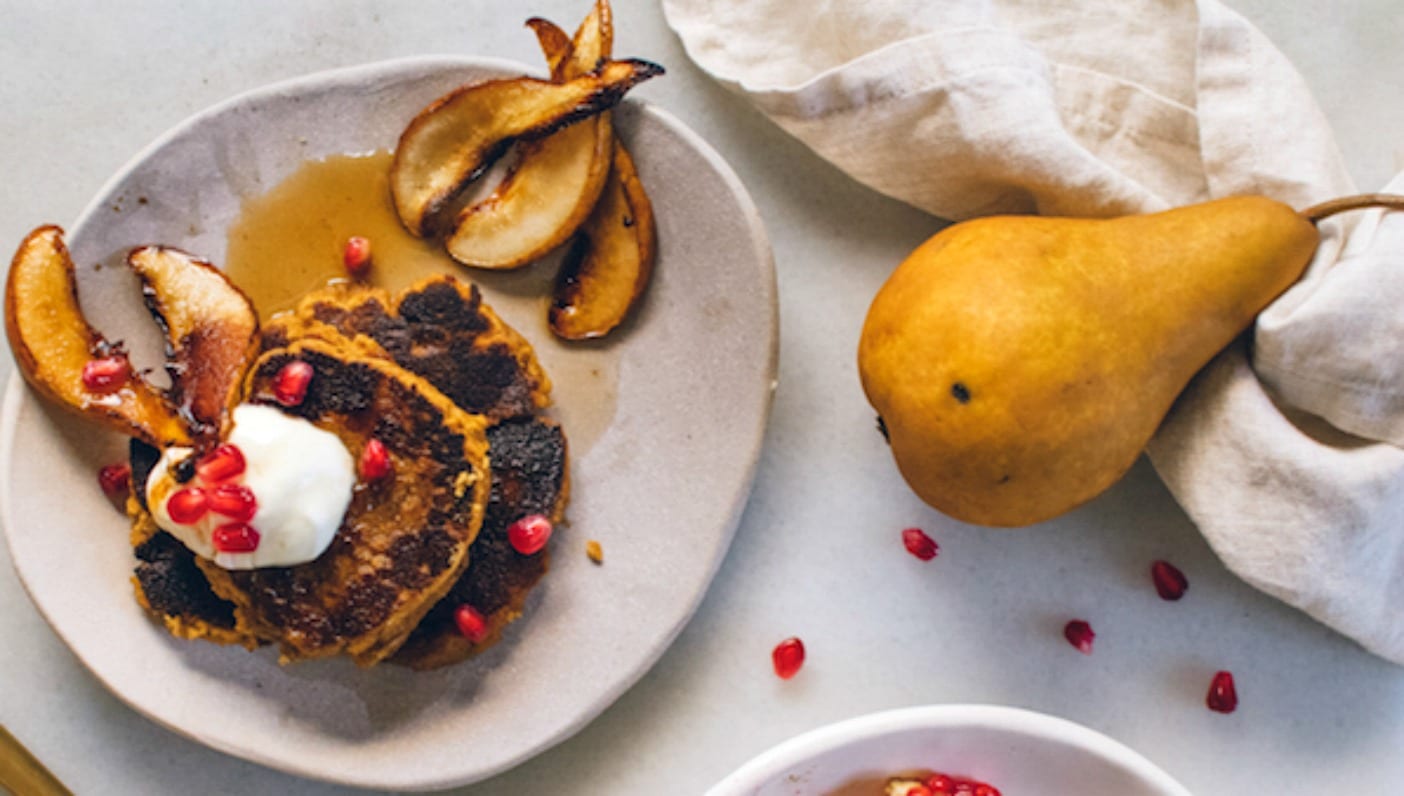 Photo courtesy of Lily Diamond
This piece is from our partners at Sonima. Find more like it here. 
---
There may be infinite ways to soothe a frazzled mind, an over-busied body, and a tender heart, but here's the truth: There's only one way that involves pancakes that taste like pumpkin pie, and maple caramelized pears. This is that way. Welcome to the paleo-friendly, gluten-free, dairy-free pancakes of your dreams. If these don't calm your world-wearied self, I don't know what will.
Cooking with coconut flour is unlike any other flour I've used—prepare for an unconventional experience that involves far less dry ingredients than you might imagine. The result is a light pancake, fluffy yet rich with flavor and a tender pumpkin crumb. You'll quickly forget you're eating low-carb pancakes and not a giant slice of pumpkin pie. And the maple caramelized pears? Don't even get me started.
Welcome to your new favorite breakfast.
Pumpkin Spice Pancakes
INGREDIENTS
Butter for frying pan (coconut oil for dairy-free option)
¼ cup + 1 tbsp coconut flour
¼ tsp baking soda
¼ tsp sea salt
⅛ tsp nutmeg
¼ tsp cinnamon
¼ tsp ginger
Dash allspice
2 eggs
¼ cup pumpkin puree
3 tbsp unsweetened almond milk
2 tbsp maple syrup
Extra maple syrup, butter, and yogurt to serve
DIRECTIONS
In a medium bowl, whisk coconut flour, baking soda, sea salt, nutmeg, cinnamon, ginger, and allspice until fully blended. In a large bowl, whisk eggs, pumpkin puree, almond milk, and maple syrup until completely incorporated. Whisk dry ingredients into wet, mixing just until fully blended.
Heat a non-stick or cast-iron frying pan over medium flame, adding butter to coat the pan. When butter sizzles to a flick of water, add batter in ¼-cup scoops, spreading into circles. Let cook two to three minutes. When bubbles appear, flip and cook a minute or two on the other side. Remove once appropriately browned. Remove from pan and keep warm in heated oven while you cook the rest.
Maple Caramelized Pears
INGREDIENTS
½ medium pear, cored and thinly sliced
1 tsp raw coconut oil
1 tsp maple syrup
Sprinkle sea salt
DIRECTIONS
Once all pancakes are done, wipe any crumbs from the pan, and add a teaspoon of coconut oil and a teaspoon of maple syrup to the pan. Swirl to mix and coat the pan. Place pear slices in a single layer in the pan, and let them sear and caramelize, about five minutes, or until caramelized and browned to your liking. Remove from heat.
Serve pancakes with caramelized pears, yogurt, and maple syrup, or as you like!
This recipe was originally created by Lily Diamond for Sonima.

—
This story was originally published on Sonima.com. If you enjoyed this story, check out these other articles: 
A New Approach to Finding Happiness
How to Make an Acai Bowl
16 Incredible Stories of Healing Through Yoga

Sonima.com is a new wellness website dedicated to helping people improve their lives through yoga, workouts, guided meditations, healthy recipes, pain prevention techniques, and life advice. Our balanced approach to wellness integrates traditional wisdom and modern insights to support vibrant and meaningful living.