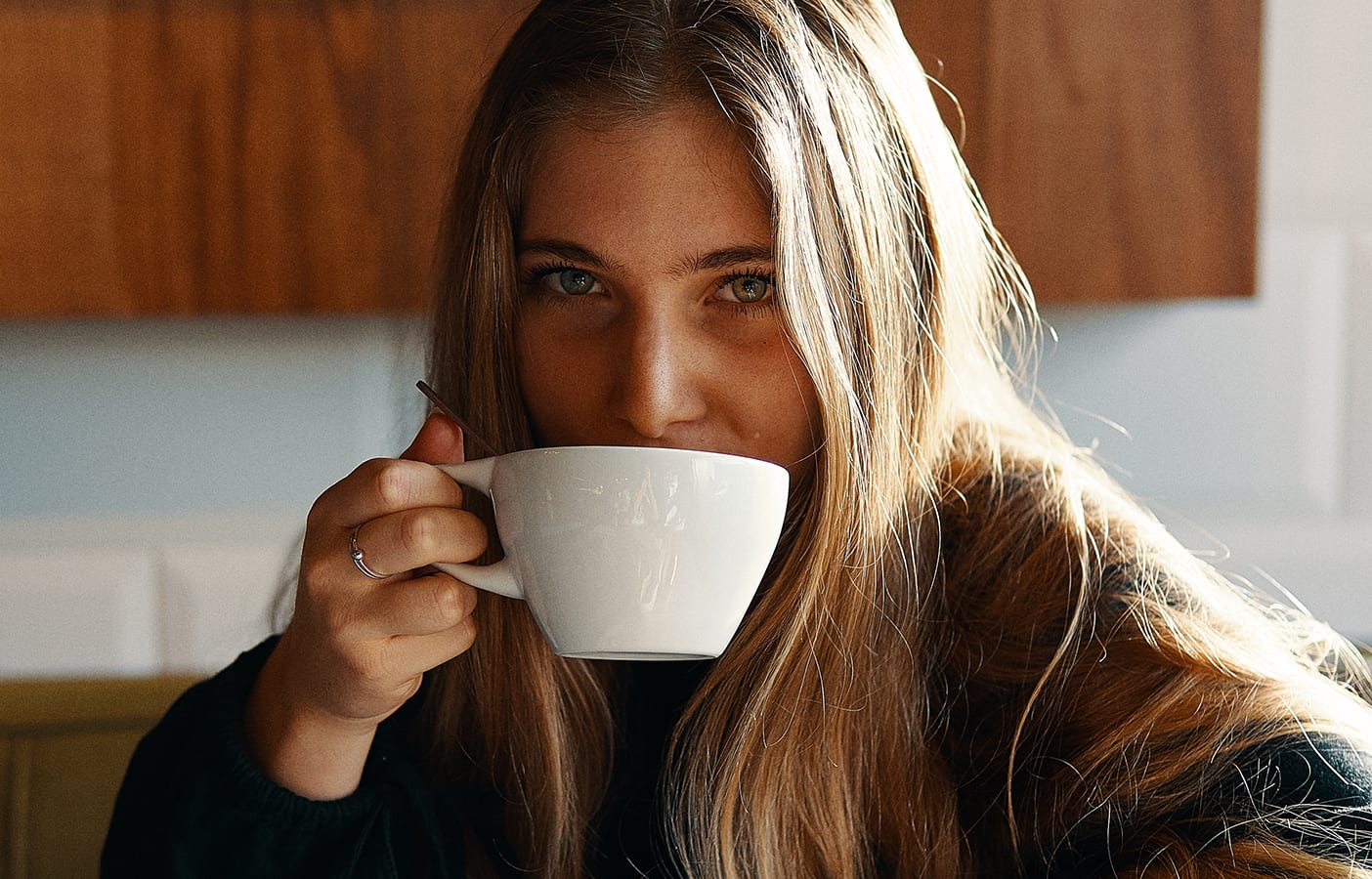 The cat's outta the bag: Collagen is one of the trendiest ways to maximize your health and now it can be one of the tastiest. Go beyond traditional collagen powder and amp up your intake with some of our fave ways to snag more of this special supplement.
Bring on the day with beauty water.
Start your day off right with a tall glass of collagen beauty water. Similar to something you might find in a spa, the beauty collagen from Vital Proteins mixes with water to create a gently flavored elixir chock full of grass-fed bovine collagen peptides, hyaluronic acid, probiotics, and organic fruits and herbs. Enjoy the Lavender Lemon alongside your morning meditation or savor Strawberry Lemon for a refreshing, post-vinyasa flow. (Psst… It's also fantastic mixed in with tea!)
Get your morning matcha.
Matcha is celebrated for its myriad of health benefits—so why not throw in some collagen and make it even better? Collagen is a great addition to matcha, as the powder blends in effortlessly to create a scrumptious and super-nutritious latte. Better yet, Vital Proteins has a collagen collection that's made specifically for matcha. It even includes a peach flavor! You'll never look at this powdered green staple the same way.
Swap out your broths.
If you've got digestion or immunity issues, you've likely been told to toss back some bone broth. This warm and simple broth is known to aid the gut, protect joints, maintain healthy skin, and more. It can be hard for some folks to sip it straight, so we recommend adding Vital Proteins chicken or beef bone broth as a substitute for the broths or stocks in your fave soup recipes. It's incredibly efficient (no dealing with bones for 2+ hours in your kitchen), and is crafted with the bones from grass-fed, pasture raised cows, simmered super slowly to extract maximum yummy nutrients. Make the swap and sip, sip, sip.
Creamy coffee.
There's nothing cozier than a morning cup of coffee—except maybe a morning cup of coffee made with collagen creamer. This product is super convenient (no refrigeration necessary!) and transforms black coffee into a smooth and luxurious caffeine experience. Available in vanilla and coconut, Vital Protein's coffee creamer also includes 9 grams of healthy fat from organic coconut milk powder, so you can expect to stay full as well as caffeinated.
Switch up your smoothie game. 
We can't neglect to mention this classic collagen-hack. In fact, it's so simple, you'd be crazy not to do it, especially when there are enough flavors for you to practically open your own collagen smoothie shack. Go for a post-workout chocolate protein smoothie, something heavy on greens, or a fruit smoothie celebrating the season's finest produce.
Take advantage of travel packs.
Whether you're backpacking in the Andes or lounging in a Hawaiian hammock, it can be hard to keep up your health regime when you're hopping from airport to airport. But that's only true if you haven't heard of collagen travel packs, or individual packets of Vital Proteins quintessential collagen products. Travel packs come in traditional collagen, bone broth, and creamer, so you can take all of the aforementioned food hacks with you on your grand adventures.
DIY your protein bars.
If you've never tried making your own protein bars, say hello to your new slow Sunday activity. Homemade protein bars taste way better than their store-bought counterparts. And because they can be made in big batches, they're also far more efficient than one might assume. Add collagen into the recipe with Vital Protein's Collagen and Whey Powder. The blend is specifically designed for athletic performance and comes in Vanilla and Coconut Water, Banana Cinnamon and Vanilla, and Dark Chocolate and Coconut, so you're pretty much guaranteed one of the best protein bars you've ever had. 
Feed your soul with popsicles.
Remember those smoothies and beauty water hacks we mentioned above? Make a big batch and freeze those puppies for superfood popsicles. In addition to providing all the iconic benefits of collagen, superfood popsicles will totally nourish your inner five-year-old, sending your brain back to a simpler time of late summer bike rides and staying up too late on a Saturday night sleepover.
Say hello to collagen sauces and stir-frys.
Sesame veggie stir-fry? Basil and eggplant marinara sauce? Spicy green curry? Yup, you can add collagen to that. We recommend Vital Proteins Beauty Greens and Veggie Blend, simple powders that pair essential vitamins and nutrients with collagen. For those struggling to make their daily produce quota, this is a great way to amp up those weekday dinners.
Stock up on supplements. 
Ah, supplements—how could we forget your ease and accessibility? If you're good about taking your vitamins and/or enjoy your supplement routines, don't forget that collagen supplements are a real and easy thing. Furthermore, Vital Proteins provides a few different types of collagen supplements (think Marine Collagen, Spirulina, and Beauty Boost), so that you can be picky about which type works best for your body. 
Regardless of your method, collagen supplements and products are one of the easiest (and most delicious) nutrition hacks. What are your favorite ways to enjoy collagen? 
Vital Proteins is the collagen brand for simple, whole food nutrition that boosts health and wellness from the inside out. The brand's collection of elixirs, blends, and capsules is thoughtfully created with high quality, all-natural ingredients that contain key proteins and nutrients needed to look and feel your best. Through their collection of great-tasting collagen-based nutrition, they maintain their mission to nourish those who wish to live a life without limits by providing a path to natural, youthful vibrancy.