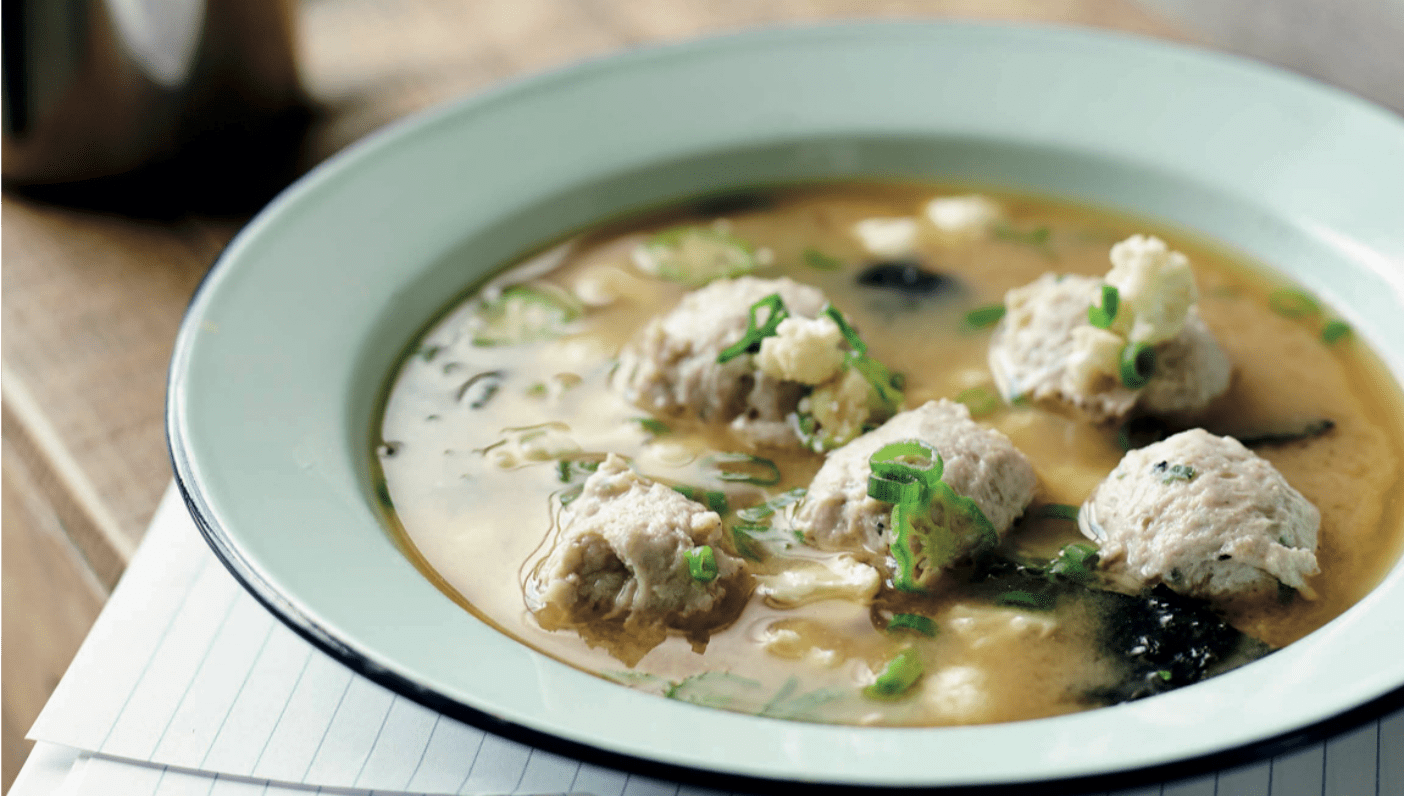 The following recipe is excerpted from The Complete Gut Health Cookbook: Everything You Need to Know about the Gut and How to Improve Yours by Pete Evans and Helen Padarin. It is published by Weldon Owen and launched this January. Start your year right and cook for your health with some recipes like the one below!
---
Here, I have taken the classic miso soup and swapped out the bland pieces of tofu (yes, tofu is about as exciting as watching golf on the TV) and replaced it with something that will please the whole family—meatballs! I use chicken, but any ground protein, such as pork, shrimp, or beef, will work well. You can even gently poach a fillet of fish if you prefer. You can also leave out the miso paste, if you like, so it becomes a simple chicken broth base.
Miso Soup with Chicken Meatballs
Serves 4
Meatballs
1 pound ground chicken
1 tbsp finely grated ginger
2 red Asian shallots, finely chopped
2 garlic cloves, finely chopped
 1 tbsp tamari or coconut aminos*
1⁄4 teaspoon fine sea salt
1⁄4 teaspoon freshly ground black pepper
Soup
1 quart (4 cups) Chicken Bone Broth
3 tsps dried wakame seaweed*
7 ounces cauliflower, roughly chopped 3 green onions, thinly sliced
10 okra pods, sliced (optional)
1⁄2 cup miso paste
1 tbsp toasted sesame seeds
Sesame oil (optional)
To make AIP (Paleo-living for autoimmune disease) friendly: 
Omit tamari, black pepper, and sesame seeds. 
Can also substitute: coconut aminos in place of tamari
Directions
To make the meatballs, combine all the ingredients in
 a bowl and mix well. Shape the meat mixture into 
18–20 balls, depending on how big or small you like your meatballs (a small ice-cream scoop is perfect for this).
To make the soup, bring the broth to a boil in a large saucepan over medium heat. Add the wakame and meatballs and simmer until the wakame has expanded,
8 minutes. Add the vegetables and cook for a couple of minutes. Add the miso—the best way to do this is to push it through a strainer into the pan (this evenly distributes it in the broth). Simmer until the miso has dissolved, stirring gently if required, 1–2 minutes.
Spoon the soup into warm serving bowls and nish with the sesame seeds (if using) and a drop or two of sesame oil.
—
A love of food saw Pete begin his career as chef and restaurateur at the age of 19, opening numerous award winning restaurants nationally as well as cooking in some of the finest restaurants globally. Pete has not only cooked for the general public, but he's also cooked a royal banquet for the Prince and Princess of Denmark, a private dinner for Martha Stewart, and even represented his hometown at the gala G'Day USA dinner for 600 in NYC. Pete's career has moved from the kitchen into the lounge room with many TV appearances including Lifestyle Channel's Home show, Postcards from Home, FISH, My Kitchen Rules, Moveable Feast, and his latest The Paleo Way… stay tuned for Food is Medicine which is in pre production now! It's safe to say he knows his stuff, with over 10 bestselling cookbooks inspiring individuals and families in their kitchens around the world.