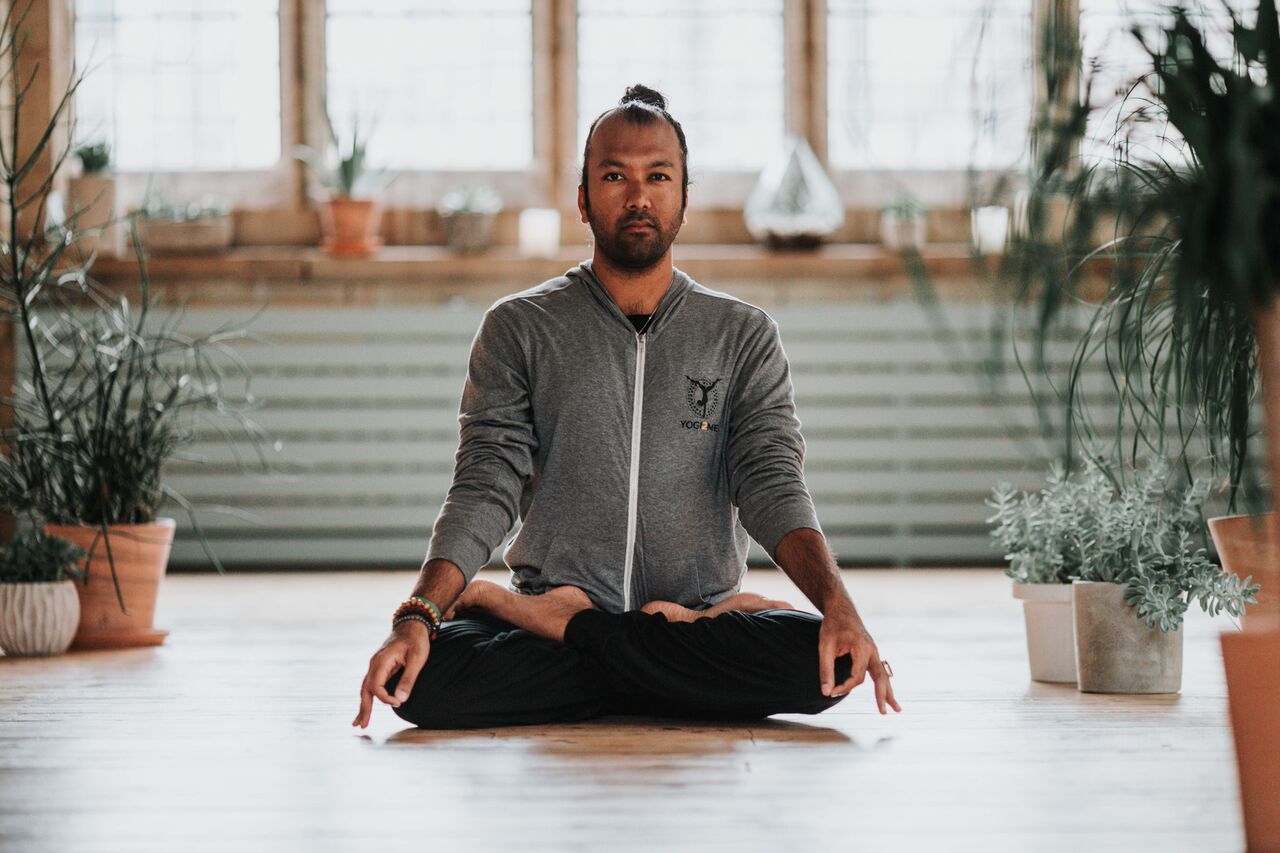 Dance, release and lighten up with Dirish Shaktidas Friday at 6PM UK on Wanderlust TV as he takes over the LIVE studio to host an upbeat, Prana-boosting Shakti Dance class.
Dirish is a London based yoga teacher immersed in the world of holistic healing. Internationally trained by world-renowned teachers he has been practicing yoga dance and meditation for over 10 years. Having grown up within a Hindu household with sacred mantras, Dirish combines his deep knowledge of movement, mindful meditation and sound.
---
How did Yoga enter your life? Was it love from the first sight?
I always wanted to do Yoga. A family friend was practicing Yoga and it always intrigued me. Also my 93-year-old uncle was a yogi and had been practicing for 50 years. So you could say it was passed down through my family. But I truly got into Yoga when I was traveling around Asia and stumbled across a Yoga Retreat in Thailand and it was a Big Fat YES!
I did a whole week and completely altered my attitude to myself and life. It was something that just filled in the gap for me. For so long working in Fashion and Design I was around so much stress and pressure I didn't have something that could give me the juice to reboot and relax me. 
What changes have you noticed in yourself since you began a steady practice?

Being true to myself, my life and others around me. Learning my boundaries, learning all aspects of myself. How to align with what feels authentic. Being a better listener to what goes on within me and without. I am calm, I am relaxed and empowered by all the different practices of yoga and meditation that have exalted me.
What is the intention you carry as you share these sessions online? What essence are you hoping is transmitted through the practice that goes beyond just watching someone on a screen?
I carry the intention to lighten and brighten the hearts of the people. Bring themselves into their full selves to remind themselves of their divinity.
Tell us a bit more about the story of Shakti Dance – how did you come up with the class?
I love it, people always think that I created it, which is a huge honor to uphold but Shakti Dance is the Yoga of Dance and it was created by my teacher Sara Avtar. The origins of this practice derive from Kundalini Yoga. It has eight specific phases to this dance: 
Intro –

Connecting with the Creative Source and Inner Guidance: t

uning in with a mantra that is usually used with Kundalini Yoga but it is uniquely led by combining movement and mudras (hand postures).

Warm Up – Opening Pranic Currents with Flowing Yoga Asanas: organic, rhythmic and flowing floor stretches/asanas, coordinated with the breath, open and deeply relax the body, releasing stress and blockages. Meditative, grounding and nurturing, this phase opens and increases the flow of prana-shakti through the body's energy channels (Nadis).
Flow Steps or Standing Exercises – Charging the Magnetic Field with Repetitive Standing Exercises: after opening up the pranic-flow, the class moves into energising, breath-related standing exercises that open the chakras, rebalance the five elements and charge the pranic body with increased vitality.  The standing exercises work with the body's natural geometry and mechanics, adhering to principles of harmonious movement, e.g. surrendering to gravity, giving impulse from the navel, lifting through the bandhas (body locks) and opening lines of stretch.
Free Dance – Spontaneous Movement Meditation: having calmed the mind and accumulated charge, you are now quite literally propelled into the free dance. In this stage, the innate creativity of each individual is given free rein.
Relaxation – Release, Relax and Rest: lying in Shavasana (corpse pose), the phase of relaxation calms, harmonizes and consolidates the stimulation of different qualities of energy in the previous phases.
Meditation – Mantra with Meditative Movement: these movement meditations align and balance your energy field. They may be done sitting or standing, and are generally practiced to a mantra. These meditations can be very profound, are enjoyable to learn, and create a powerful group matrix when practiced in a circle mandala.
Closing: A simple and specific mantra, combined with mudra movements is chanted at the end of the session, bringing inner and outer worlds into balance, while creating a protective auric shield around each participant.
Shakti Dance brings up so many different sensations. It's a release, it's a boost, it's a moment of letting go and letting be. Could you pick one feeling that is always present when you teach a class and you want students to take away?
It's hard to pinpoint a specific feeling, I would choose the feeling of Sacredness. We all want that reassurance of safety but sacred takes it to the next level. Before we bare our souls we want that security, especially if you are new to the form of Shakti Dance. I want students to take away the feeling of freedom to express their soul self and feel Lit on the inside and out.
What would be the one piece of advice you could give to the Wanderlust TV streamers to deepen the connection with a teacher and themselves during the online practice?

Do your best, stay present to all the sensations without judgment and trust the process.
If you could have dinner with an influential persona in the history of Yoga, who would it be and why?
I would say Mata Amritanandamayi aka Amma (The Hugging Saint). She has one of the most inspirational stories I have heard.  I would love to know how she processes living her life and how she has the capacity to hug and help thousands upon thousands of people, travelling the globe for decades and doing everything selflessly with the utmost Love and Grace. I would also ask the big questions: 
"What is the soul?"
"What is the purpose of the human experience?"
"How best do we handle uncertain times?"
"How do we handle 2020?!"