The Wanderlust Team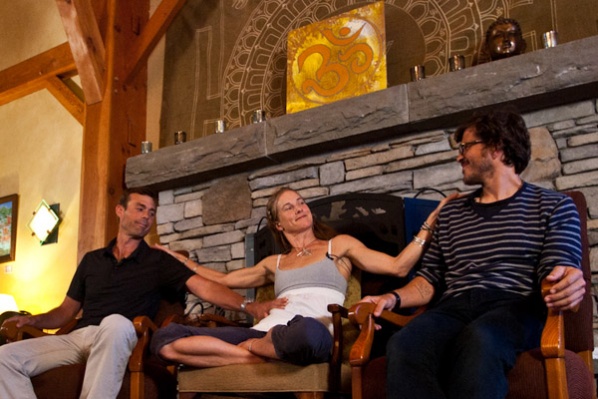 Wanderlust was created by three friends with a long and deep relationship:  the 20+ year husband-and-wife duo of Jeff Krasno and Schuyler Grant, and their mutual friend (and Jeff's business partner of over a decade), Sean Hoess. We all met back in college during the dark ages of the late '80s. Long before Wanderlust existed, we loved to throw a good party, and that hasn't changed much.
But Wanderlust is more than a party. While it's a great time, from the beginning we wanted to infuse it with meaning – to create an event that is fun but also based on underlying ideals, where attendees are actually participants, and where people left feeling better than when they came. We dreamed of an event that could be at least a good time and – at best – personally transformative.
Finding a clear purpose is a process both for a business and an individual. It's very hard to distill, and it can change. For Wanderlust, our core purpose is to create community around shared values, and it has been incredibly gratifying to see such a large community grow around the pillars of mindful living – yoga, the arts, personal spirituality, environmentalism, organics and conscious consumerism – and to know that Wanderlust is becoming a central gathering point for this community.
The cauldron of talent at Wanderlust never ceases to amaze us, and while we continue to seek out diverse and gifted teachers, speakers and leaders – it often feels like the festival is equally shaped by the power of its participants. The pop-up scholars, performers, acro yogis, hoopers, and artisans that have organically integrated into the event create an exchange of ideas and energy that could never be replicated by any traditional festival or concert experience.
Wanderlust continues to evolve to include a broader range of experiences, from hiking, biking, running and other outdoor activities to a more diverse array of lectures, expanded food and wine events, dance and photography workshops, and even a community garden project. Wherever possible, these new activities will involve interaction and interactivity, so our attendees can learn and create as part of the event.
This year, Wanderlust will be bigger and better than ever. There's a lot to do, and many more locations to do it at. We hope you can come take advantage of all of it, but don't plan too much. Always allow yourself wander, because life's most beautiful moments come in the spaces.
~ Jeff, Sean & Schuyler
Caitlin Milliken
Director of Event Partnerships
Chelsea Morettoni
IP Administrative Associate
Guillermo Italiani
Partner, Festival Director I Wanderlust Chile-Argentina
Jaimie Trotter
Partnerships Coordinator — Wanderlust Australia + New Zealand
Jennifer Canonico
Assistant General Manager
Jodi Blea
Senior Vice President of Integrated Partnerships
Jon Bingham
Sponsorship Operations Manager
Jules Spitzer
Ticketing & Guest Services Director
Katie LeVan
Associate Digital Account Manager
Nico Grae
Creative Director, Events