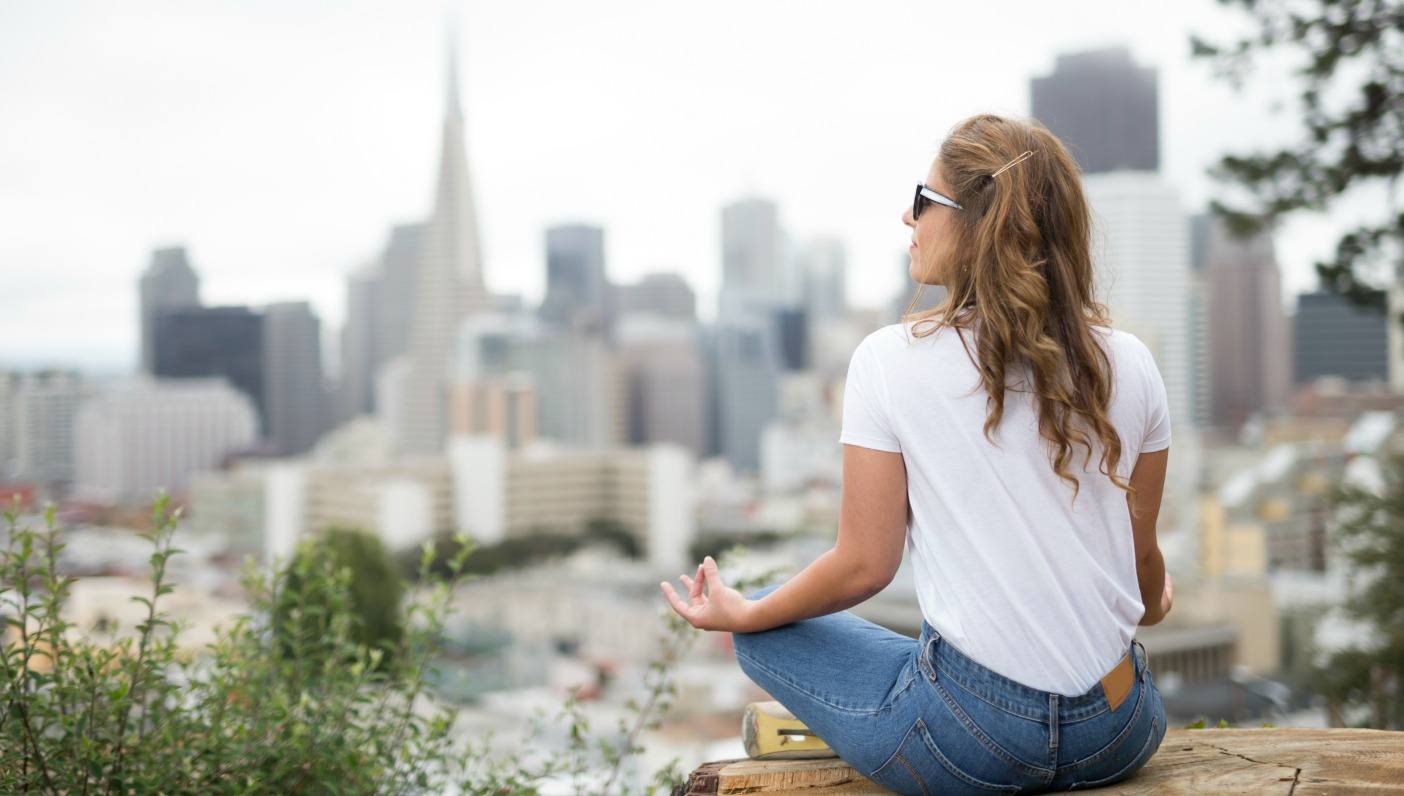 Want to attend a Wanderlust 108 in your city? Click here tickets, locations, and information. 
---
Welcome to San Francisco, the fabulous land of funk, fog, and fish markets.
You'll find more than the Tanner house in this iconic California city. With Victorian-style buildings lining the hilly streets, breathtaking landmarks dotting the horizon, and the smell of incense and dumplings wafting through the air, San Francisco creates a sensual experience that delights all of its visitors.
Yogi and wellness enthusiasts, beware: The city is a mecca for hippies, crystal shops, and farm-to-table restaurants. We can't guarantee you'll ever want to leave. For those who need a break from the fog, wine country is only a stone's throw away, and there's even a tropical retreat inside the California Academy of Sciences' rainforest dome. It's a city that keeps you on the edge of your seat, satisfied, yet always ready for more.
Where to Eat
Shizen Vegan Sushi Bar & Izakaya
370 14th St., (415) 678-5767
Out of all of San Francisco's quirks, vegan sushi might be our favorite. A top pick among locals, this luxurious hideaway is all about presentation, quality, and sustainability. The menu may look intimidating, but it's hard to go wrong. (Regulars love the garlic edamame, open invitation roll, andshoyu ramen.) But watch out for the "surprise ending," it's the Russian roulette of sushi, consisting of five tasty rolls and one stealthily-packed with secret spice.
Frog Hollow Farm Market & Cafe
1 Ferry Bldg., (415) 445-0990
This organic cafe is right on the water, offering you the opportunity to pair local fare with a sweet view. It's also home to the city's best avocado toast (as declared by NoCal natives), and a series of vegan and gluten-free pastries. The apricot and peanut butter pastry is especially divine, and perfect alongside a cup of hot coffee on a foggy morning.
Gracias Madre
2211 Mission St., (415) 683-1346
Steaming plates of gorditas, avocados dusted with salt, and the smell of freshly-pressed tortillas wafting through the air—it's for these reasons and more that we adore Mexican restaurants. Gracias Madre takes the cuisine to a whole new level, offering the cultural classics while using 100 percent vegan and organic ingredients. The menu is seasonal, determined by what's available from Be Love Farm over in Pleasants Valley, California. Cool down with a horchata and dive into one of San Francisco's most diverse and delicious menus.
Where to Sweat
Yoga Garden
286 Divisadero b/t Haight St. and Page St., (415) 552-9644
While San Francisco is bursting with yoga studios, it's hard to ignore Yoga Garden, located in the legendary Haight-Ashbury neighborhood. You'll find a wide range of classes and styles, including a Sunday night candlelit ceremony to help you unwind from a long week. To cap off the San Francisco experience, you'll be practicing inside a three-story Victorian house (Sounds like a storybook!).
Yoga Tree
97 Collingwood St., (415) 701-9642
A San Francisco favorite, Yoga Tree offers calming vibes and diverse classes, ensuring that everyone gets the yogi fix he or she is searching for. Keep in mind that the address listed above is just one location; there are six other studios as well as a learning center, so visit Yoga Tree's website to find one that fits your travel plans. The various studios include Vinyasa, power flow, prenatal, Hatha, Kundalini, Yin, therapeutic, and even astrology yoga.
Yoga to the People
2973 16th St., (917) 573 9642
For a view of the city paired with your practice, consider Yoga to the People, a donation-based studio with a location in San Francisco (and another just outside the city in Berkeley). The interior brick and high ceilings create an airy and inviting vibe, and the fifth floor-location encourages a brief warm-up before you fold into down dog. Locals report that while classes aren't as hot as Bikram, visitors can still expect healthy sweat and some post-class drippage.
Where to Shop
The Love of Ganesha
1573 Haight St., (415) 863-0999
Get ready for some of San Francisco's famous quirk with The Love of Ganesha, a New Age paradise of fair-priced crystals, jewelry, clothing, tapestries, incense, and clothing. As if that weren't enough, there's a meditation room in the back of the store. Snag some sage, take a seat, and reflect on the beauty of your San Francisco experience thus far.
Epic Way to Spend a Saturday
Ferry Building
1 Ferry Building, (415) 291-3276
There's always something delicious going on near and inside the Ferry Building. One of the best ways to sample the multitude of flavors in the city is at Ferry Plaza Farmers Market. The pandora's box of funky flavors, the Ferry Building Marketplace offers a little something for everyone, from the famous Blue Bottle Coffee to local honey to sustainable juices.
Favorite Outdoor Hangs
Dolores Park
19th and Dolores St.
The birthplace of AcroYoga, Dolores Park is a green oasis of San Francisco flavor. You can visit the place a million times and always see something new, whether it's circus folk busking for a few extra dollars, a group yoga class, or people selling refreshing beverages in coconuts. Swing by a local market for some fresh fare, grab a blanket, and block off your afternoon to savor some of the city's best sights.
Grandview Park 
14th Ave. b/t Moraga St. and 14th Ave.
This park lives up to its name by offering "grand views" of San Francisco sunsets, the Golden Gate Bridge, and more. Fitness enthusiasts will relish in the trying climb up the stairs, while all you herb-loving folk will delight in the tangles of fauna that line the path.
Night Out on the Town
Anchor Beer Co. 
1750 Mariposa St., (415) 863 8350
More than just a local brewery, Anchor Beer Co. is dedicated to curating an intoxicating (pun-intended) and educational experience. Visitors are given the option to take a tour and witness the creation of the beloved brew, but can also swap the walking experience to snuggle up for a tasting. Tours tend to fill up quickly, so it's not a bad idea to make reservations beforehand.
Traveling this fall? Check out our complete list of Wanderlust city guides.