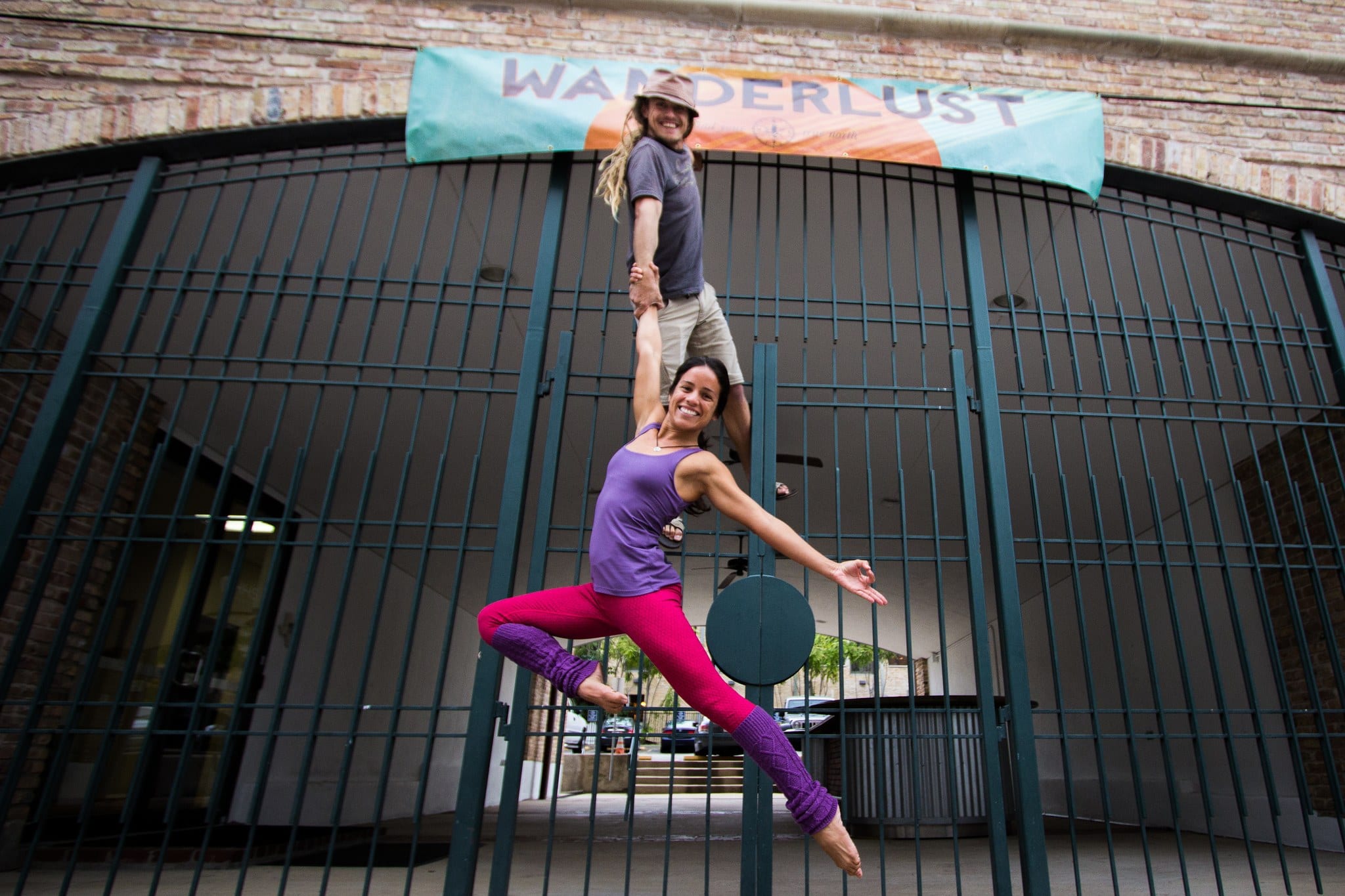 The YogaSlackers, Sam and Raquel, in Texas, 2014. Photo by Jake Laub
Tradition dictates that a 10-year anniversary is celebrated with aluminum; modern norms have ditched the tin for diamonds. As we begin celebrating 10 years of Wanderlust in 2019, we think the diamond is apropos: Over the years, we've certainly refined the proverbial lump of mindful coal into what we consider a shining beacon of the promise of wellness for all.
It's been a journey—and there have certainly been plenty of bumps along the road. But one of the things that hasn't changed (and of which, full disclosure, we're pretty darn proud!) is our great relationship with world-class teachers. Every year we bring you a roster of renowned talent to help you find your true north. In this series, we'll highlight some of those teachers who have been with us over the years—and how they look back at their relationship with Wanderlust over the past decade. This week: Sam Salwei and Raquel Hernández, aka the YogaSlackers. 
Don't miss your chance to be a part of this very special 10-Year Anniversary! Join the global mindful movement at a Wanderlust event this year.
---
The YogaSlackers rock Wanderlust Vermont in 2011. 
Tell us about your first Wanderlust experience.
YogaSlackers has been part of Wanderlust since their first festival in Squaw Valley 10 years ago. At that time YogaSlackers were only 5 teachers sharing the love for Slackline Yoga, a practice that they simply stumbled upon in 2005. Our goal then was to share that we can practice yoga on and off the yoga mat or in unconventional spaces. Wanderlust invited us in with open arms, and our lives have never been the same.
Sam's first experience at Wanderlust encompasses a collective memory of over 40 Wanderlust festivals. His first festival was probably Wanderlust Squaw Valley in 2010. Although he remembers the most Vermont in 2011 as in that event the weather was a catalyst for connection. Most new teachers were supposed to camp during the event but it rained a lot and it was really cold. Wanderlust put them all in the Ski Chalet which became a nomad teacher's haven. A place to connect, play, combine our practices (hammock yoga) and make friendships that would last for a lifetime.
Raquel's first experience was 2012 Wanderlust Copper Mountain in Colorado. As a recently certified YogaSlackers teacher, I worked the event as an assistant for the YogaSlackers. It was my first time in Colorado, in high altitudes and at a yoga festival. I did not know exactly what to expect. The days went by fast, between teaching, taking as many yoga classes as our schedule allowed us, going on hikes, listening to wonderful music and being star struck by all the yoga teachers I never expected to meet. Everyone there were down to earth people, saying hello, giving hugs and truly interested in connecting.
That year, I was told that MC Yogi wanted us to do a slackline performance during one of his songs. We had about 5 hours to practice! I had 5 hours to make sure I could walk a human line—a slackline supported by people. It was a live event and I have only been slacklining of a little over 6 months, you can image my nerves! I think that was the moment in which I truly understood what Wanderlust will mean to me and many students that venture into these weekend events: A place to face your true nature surrounded by people that can see your potential and are willing to support you in one way or another as you walk your chosen path.
The YogaSlackers hosted an Adventure Race during Wanderlust O'ahu, 2014. 
What does Wanderlust mean to you?
Sam: As a full-time nomad Wanderlust as an event and word have become synonymous with home, as it encompasses all the attributes of home I crave: open minds, inclusivity, community, desire to explore and connect. The key aspect for me is that even though we are obviously all the same species our ideas for the future can be similar or maybe they are not. Regardless, this community promotes conversation, communication and exchange of information in the hopes to create a better future.
Raquel: The word wanderlust means to me, that feeling you have when ever you are home and you would rather be traveling—exploring, discovering, connecting—while at the same time whenever you are traveling you are constantly searching for the feeling of being home everywhere you are. Wanderlust Festival embodies this definition, allowing us to travel, to connect with different people, explore different practices, discover different parts of who we are. This is a place of gathering, for those of us that want to connect and reconnect with our true nature. A place to connect with a community that is spread around the world, of people with similar views, aspirations and paths. A place to find home on other communities, on other points of view and—most importantly—within.
In 2015, the YogaSlackers did an extraordinarily special project with their Peace Love Car called "The Road to Wanderlust." For the complete journey, see here (and forgive the old website formatting!) Below, a sampling of our favorite videos.
The PeaceLoveCar, Episode 1: "On the Road, Together"
The PeaceLoveCar, Episode 3: "The Teachers Become Students"
The PeaceLoveCar, Episode 5: "Living On Your Own Terms, By Your Own Rules"
How has Wanderlust been a part of your journey?
Officially we travel to many Wanderlust events every year to share our practice, to teach people how they can find yoga in everyday activities, in different practices and on different looking yoga mats (people and slacklines to name a few). Usually you are at a Wanderlust event because you share a love for nature, traveling, music, yoga and connection or because someone that you love shares some of this views and invited you there! It is a great place to connect with people with whom we share one or more common interests and where we can explore how to become happier people.
This ability to connect with others has allowed us to expand our horizons, to create new friends, new connections and new work opportunities. As nomadic teachers, it also provides a place that truly feels like home! It is so wonderful to get to connect with people through the years, to see them grow, develop and expand as humans in all ways. Wanderlust have also provide us with countless opportunities to develop as individuals. We are in Wanderlust as teachers, yes, but we are mainly there as students and participants.
Each year, after each event, we leave feeling revitalized, connected and encouraged to continue working towards a greater good that speaks to us. We live in the 'real world' just like everybody else. We go through similar struggles and moments of insecurity and wonder if we are on the correct path. After connecting with students, teachers, old friends and new friends, we gather the forces to continue spreading the our love for the practice and to encourage people do what they love, and what will truly bring happiness to their lives.
Wanderlust has become the oasis we visit to connect, gather vital energy and continue exploring.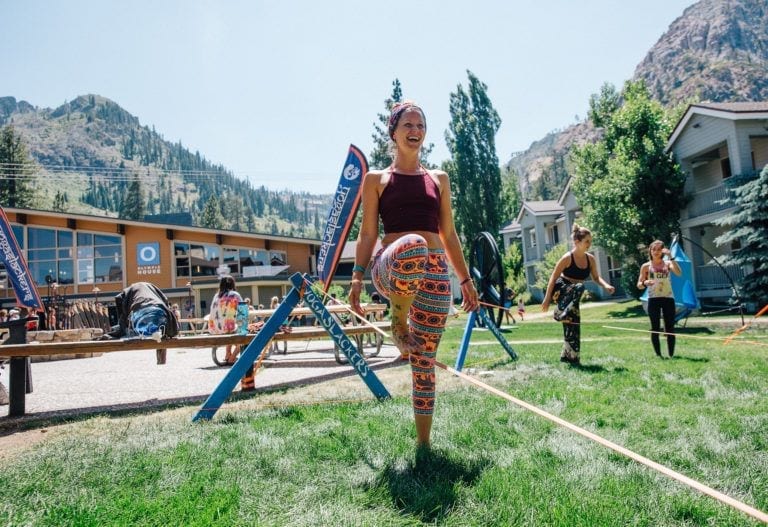 Catch the YogaSlackers at Wanderlust O'ahu, Wanderlust Snowshoe, and Wanderlust Stratton in 2019! For tickets and more information, click here.