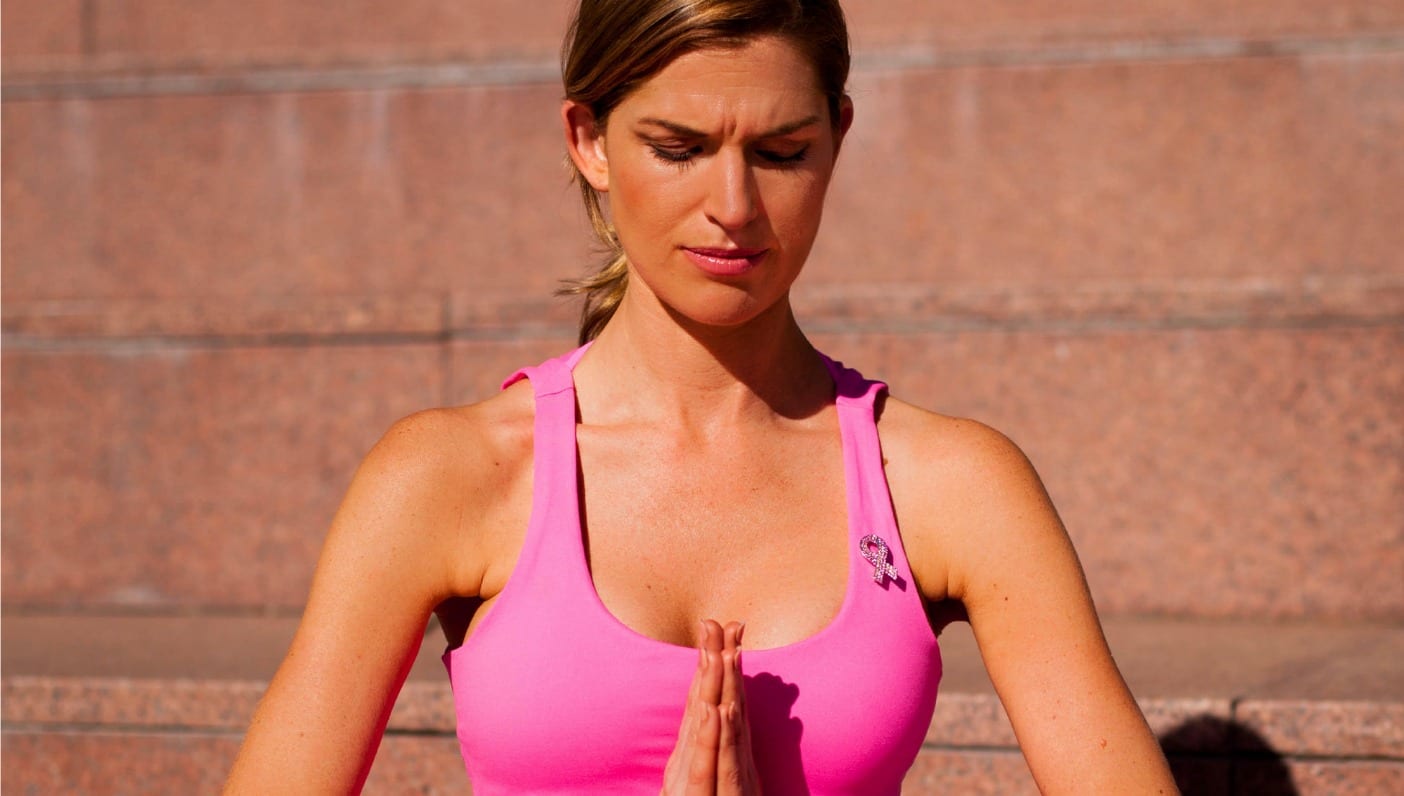 Photo via iStock
The known and proven health benefits of yoga are seemingly endless. From the psychological: helping to combat anxiety and depression; to the physical: building muscle strength and flexibility—many of us have experienced the good that yoga can do. When it comes to breast cancer, however, the yoga-healing connection isn't as charted of territory. But more studies are being conducted on the topic, and more women are coming forward to help bring to light the ways in which yoga can aid those fighting (and recovering from) breast cancer.
Often, women affected by breast cancer are looking for ways to return to feeling well and "normal" as soon as possible. They are usually trying  to cope with the side effects of treatment and heal from surgery. Yoga has become an excellent resource for women with breast cancer, from diagnosis, to treatment, to recovery.
Looking at Research
According to a study conducted by the University of Texas M.D. Anderson Cancer Center, quality of life can be improved for breast cancer patients while undergoing treatment by participating in yoga classes.
As stated in a news release by the M.D. Anderson Cancer Center:
After just one week of yoga and radiation, the patients reported significantly increased physical function, as well as general health, compared to the control group [who were offered yoga post-treatment]. The study participants also reported marginally better social functioning, significantly lower levels of sleep-related daytime dysfunction, as well as marginally lower levels of fatigue overall.
The results of this study complemented a piece of research included in the Journal Of Clinical Oncology. Yoga's Impact on Inflammation, Mood, and Fatigue in Breast Cancer Survivors notes that yoga has the ability to provide consequential benefits to the health of cancer patients, lessening symptoms of both fatigue and chronic inflammation. The research also found that "more frequent [yoga] practice produced larger changes."
Yoga can help women affected by breast cancer move forward on their path to healing. It can provide strength throughout treatment and recovery. But beyond the physical, there can be psychological benefits as well. According to the Boston Globe, for one breast cancer fighter, Kristin Sinclair, yoga's benefits were impossibly clear, and for her, yoga's healing properties reached well beyond the physical level. This is something her husband, DJ Arnold, took note of, as he told Boston Globe reporter Susan Kushner Resnick: "The meditative process changed the way she viewed what was happening to her."
Taking It to the Mat
With the realization that yoga classes can have an immense amount of benefits for those living with, or with a history of, breast cancer, more and more yoga studios and organizations have begun to provide programs specifically geared toward these women. One such organization is the nonprofit bodhi & mind yoga, which was actually started by Kristin before her passing. Formed to help bring healing to breast cancer patients and survivors through meditation and yoga, bodhi & mind yoga offers free one-on-one sessions, as well as group classes to help build the support community. Organizations such as this one take care to make sure their instructors are well-versed in the physical limitations that can come as a result of a patient's treatment regimen or surgery. It is hugely important, however, to remember to first consult with a physician or oncologist before pursuing a yoga practice.
Based in New York City, yoga4cancer, LLC (y4c) is a specialized yoga methodology developed by cancer survivor and yoga instructor Tari Prinster. The y4c company offers private and group classes, as well as retreats, to cancer survivors and patients. They also offer specialized teacher trainings to help yoga instructors learn more about cancer, treatments, and side effects so that they may apply this knowledge into their practice. Modifications and special considerations are put in place to assure a safe, accessible, and considerate practice. All of y4c's classes are free, though pre-registration is required and recommended as there are sometimes studio changes. They have partnered with about five studios in NYC to offer these services, including Sacred Sounds Yoga and World Yoga Center.
Finding Peace and Healing
In an article for Huffington Post, Peggy Nolan spoke candidly about her battle with breast cancer, undergoing surgery, and finding herself back on her yoga mat in the midst of it all. She credits her "inner yogini" for her ability to get back on the mat, modified poses and all, to find peace and strength through her practice. Nolan wrote: "Through chemotherapy, my inner yogini quietly coaxed what little my body could give. She made me dig deep and helped me discover the place within myself where the Divine resides and where I am at peace."
Like Peggy, breast cancer survivor (and now yoga instructor) Mahala Grant-Grierson also spoke to yoga's healing benefits when battling her disease. Mahala found camaraderie and comfort in joining a yoga class for survivors, stating in a piece for Breaking Muscle: "It was like a mini support group, and the love that I felt there helped me immensely. I was able to make only small movements, focusing on my breathing and relaxing on my yoga mat, but it meant the world to me."
Whether it's one-on-one private sessions or group classes, yoga proves to be an outlet for mending the body, spirit, and mind.
This piece has been revised from its original version.
—

Maggie is a New York native, writer, and sufferer of insatiable wanderlust. An avid endorphin seeker she has a constant need to be moving, seeking adventure in all she does. She is a lover of travel, daydreaming, fitness, thunderstorms, and her dog, Finley. Despite the fact that she has to take medication daily due to a thyroidectomy, Maggie still believes that laughter will always be the best medicine. Follow her musings on Instagram and Twitter.